August 14, 2015
A Tradition of Swimming and Comradery at Island Beach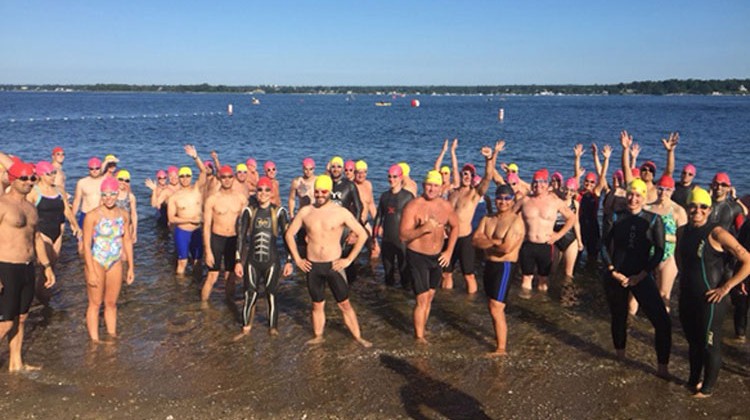 By Cheye Roberson
Sentinel Correspondent
Last Saturday, the Island Beach ferry brought swimmers out to the starting point of one of the most popular athletic events of the summer: the Island Beach 2-Mile Swim. The annual race has been a Greenwich tradition since 1927.
"It's probably one of the oldest events in Greenwich," said Jon Harnett, chairman of the Greenwich Swim Committee.
The swim, from a mile off of Island Beach and back, had over 100 participants ranging in age from 20's to 70's. Overall, the winner was 31-year-old Eric Bugby, West Point (N.Y.), who crossed the finish line with a time of 39:24. The time was the fastest on record for the Island Beach swim.
Not far behind was the fastest female of the race, 38-year-old Jessica Dowling, from Old Greenwich, who finished with a time of 41:52.
Winning the bronze were Josh Glantz and Morgan Scarth, who both finished in 42:06. Glantz is from Scarsdale (N.Y.), while Scarth is from Redding.
Rounding out the top five was Ulyanenko Sergy, swimming the unusually choppy course in a time of 42:11.
Many of the swimmers involved in the race use it as training for even more challenging contests.
"My buddy Pete is training for an Iron Man," said Tom Flaherty, referring to a full-distance triathlon. "I had just done an Iron Man, and he was going to swim it. And he asked me [to swim this one], and I said yes."
Although the race is a Greenwich tradition, people come from all over the tri-state area to take part in the race, with its picturesque backdrop of Gatsby-like houses and vividly green trees and lawns.
Flaherty moved from England to New York six years ago and enjoyed his swim in the Sound.
"For a start, you feel really good afterwards," he said. "You know, it's fitness, so you get that fitness buzz. But I actually think it's more about the great people that do it. You get to meet some interesting people. You're all fairly like-minded, because you've got this in common."
Sure enough, like-minded people were all over the beach, smiling, laughing, cheering, and reacquainting themselves with one another. The feeling was infectious. Although the race was competitive, it also focused on supporting friends and family to achieve their goals.
One tightly knit group of friends was the self-proclaimed "Birds Dogs," whose motto is "Fly like a bird. Work like a dog. Swim like a Bird Dog."
"We've been doing this since… forever," said Herve Hamond. "Sixteen years since the first time I've been doing this. All these guys have been my dear friends for quite a few years and we have friendly competition, and Ken [Conover] takes it today. He beat me. Last year I got him. We have a very good friendship."
When asked how Ken Conover feels about beating his friend this year, he had a simple reply.
"Good," he said.
The gang of Bird Dogs broke out in laughter.
"I swim for the Westchester Masters, and I think we have more people here than any other group," said Dr. Martin Healy. "There's at least 12 or 15 of us and we love this race. It is a special place and it's well run. Greenwich Swim Committee does a terrific job at it. And I got a chance to swim with all my buddies."
The 2-mile course went from Byram to Island Beach until 1993, but was switched to the current course in 1994 because of heavy boat traffic. The American Red Cross was on hand for the safety of the swimmers.
The race is dedicated to the original founders of the swim.
"We have a trophy," said Harnett. "This race is dedicated to Elliot Schofield, whose family started this race back in the 1920's. And the large trophy is something that commemorates them."
Trophies were given to the first three finishers in both the male and female categories, and medals were awarded for the first three in each age group.
Here are the top three finishers in each age group, going by place, age and time (some divisions had fewer than three finishers):
19-Year-Old and Under Female Division:
1. Isabelle Hart, 17, 64:54
20- to 24-Year-Old Female Division:
1. Morgan Scarth, 21, 42:06; 2. Fanny McHale, 21, 61:12.
20- to 24-Year-Old Male Division:
1. Samuel Belkin, 20, 56:41.
25- to 29-Year-Old Male Division:
1. Ansel Hillmer, 28, 43:06; 2. Frank Driscoll, 28, 44:52 and 3. David Mohney, 29, 50:38.
25- to 29-Year-Old Female Division:
1. Erin Morrison, 28, 44:32; 2. Tara McWilliams, 29, 45:22 and 3. Nicole Ogrosso, 28, 46:31.
30- to- 34-Year-Old Male Division:
1. Eric Bugby, 31, 39:24; 2. Ulyanenko Sergy, 32, 42:11 and 3. Kevin Wisniewski, 34, 46:37.
30- to 34-Year-Old Female Division:
1. Erika Hoke, 33, 51:07; 2. Jody Neuhauser, 32, 52:51 and 3. Venessa Grievas, 32, 66:26.
35- to 39-Year-Old Male Division:
1. Mike Altrogge, 39, 54:27; 2. Alexandr Rousseau, 38, 57:49 and 3. Hao Pan, 36, 59:41.
35- to 39-Year-Old Female Division:
1. Jessica Dowling, 38, 41:52; 2. Kelly McPherson, 37, 46:01 and 3. Chanterelle Sung, 36, 46:38.
40- to 44-Year-Old Male Division:
1. Thomas Waniewski, 44, 45:25; 2. Willy Org, 41, 68:12 and 3. Ben Marcus, 40, 69:12.
40- to 44-Year-Old Female Division:
1. Ashley Beeman, 43, 47:03; 2. Shauna Simpson, 43, 48:46 and 3. Diane Benke, 42, 53:58.
45- to 49-Year-Old Male Division:
1. Josh Glantz, 47, 42:06; 2. Greg Pinchbeck, 47, 46:08 and 3. Joseph Kaufman, 47, 47:56.
45- to 49-Year-Old Female Division:
1. Heather Gold, 45, 48:50; 2. Jennifer Feeley, 45, 52:18 and 3. Lisa Suter, 46, 58:35.
50- to 54-Year-Old Male Division:
1. Sebastian Moll, 50, 45:31; 2. Chris Samuel, 54, 48:39 and 3. Frank Salvo, 54, 49:57.
50- to 54-Year-Old Female Division:
1. Maura Puckett, 52, 54:12; 2. Heather Mitchell, 50, 56:49 and 3. Michelle Dion, 50, 60:13.
55- to 59-Year-Old Male Division:
1. Philip Gormely, 55, 55:09; 2. Edward Riley, 57, 52:51 and 3. Michael Kelly, 55, 53:31.
55- to 59-Year-Old Female Division:
1. Laura Nattress, 55, 68:02.
60- to 64-Year-Old Male Division:
1. John Needham, 61, 47:01; 2. Stephen Shine, 61, 49:40 and 3. Robert Heiss, 62, 53:16.
60- to 64-Year-Old Female Division:
1. Gaile Greenwood, 63, 53:55; 2. Sally McHale, 61, 61:18 and 3. Laura Griswold, 61, 66:11.
65- to -69-Year-Old Male Division:
1. Kenneth Conover, 66, 59:16; 2. Paul Epstein, 69, 64:19.
70-Years-Old and Over Male Division:
1. Martin Healy, 71, 60:26; 2. Joseph Zelson, 74, 61:57 and 3. Scott Heimer, 72, 79:09.
Tags:
greenwich
,
Greenwich Swim Committee
,
Island Beach
,
Island Beach 2-Mile Swim