August 1, 2015
Mianus River to be Dredged Next Year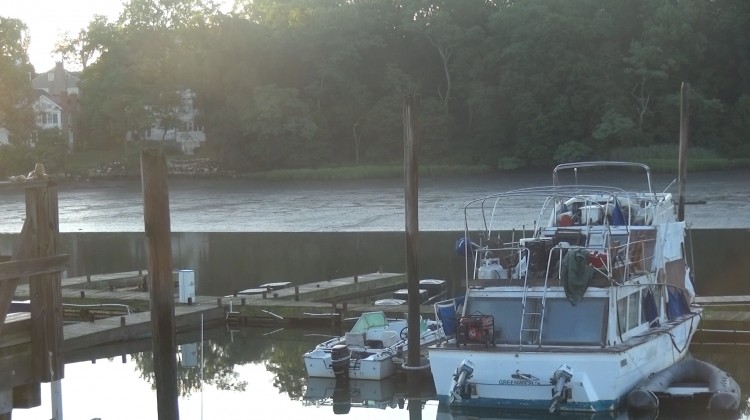 [jwplatform ThJJDPKb]
I'm standing along the Mianus River in Cos Cob and as you can see, the water is very shallow at low tide. In fact it is so shallow that the U.S. Army Corp of Engineers plans to dredge 60,000 cubic yards of the river bed to make it easier to navigate for boats.
Greenwich received a total of $3 million from the state to dredge the Mianus River from about the Riverside Yacht Club all the way up to the Route 1 bridge.
"We are pleased that the state has funded through two bond authorizations the money that is required for this dredge," said First Selectman Peter Tesei.
"Parts if the channel are alright, but other parts are not very good. It's designated by law to be a six foot depth at low tide. There are some places where it's about two feet, three feet. The upper part of the river really is the worst part," said Frank Mazza, the Chairman of the Greenwich Harbor Management Commission.
The dredging will begin in October of 2016 and will last two to six months according to a notice from the Corp of Engineers.
"It will truly make the Mianus River channel a much more useable water course, and improve access for not only boaters, but for commerce in the area," said Tesei.
Although there isn't much commercial use of this channel, it is constantly being used for recreational purposes.
"There's one fishing boat that goes out a couple times a day, but it's mostly pleasure boats. That's all part of the economy. It's important for our economy to be ablate keep the pleasure boat and marina business running," said Mazza.
And you might be asking where all that silt will go- the Army Corp says it will be dumped about six miles away in the Western Long Island Sound.
Tags:
army corps or engineers
,
dredging
,
greenwich harbor
,
greenwich harbor management commission
,
minus river