July 19, 2015
Greenwich Legion Outlasts Shelton, Awaits Waterbury in Round of 16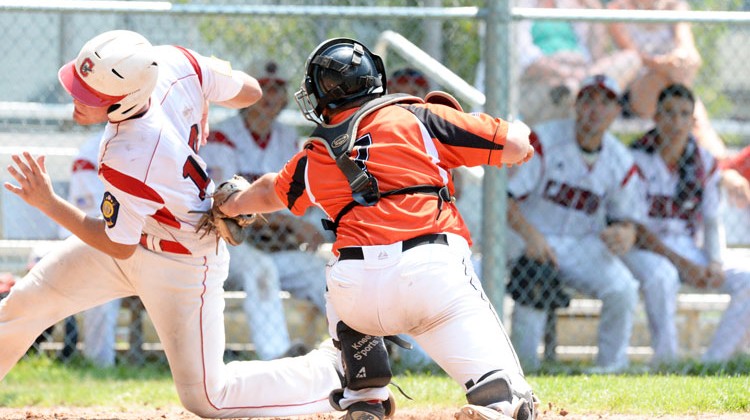 It wasn't easy, but the Greenwich American Legion senior baseball team can breathe a sigh of relief.
Coming off a 4-3 victory against Oakville, the Cannons were in another close battle with Shelton Sunday afternoon. A Will Salomon single in the 10th inning drove home the game-winning run, gave Greenwich the 1-0 victory and helped Mike Genaro preserve the gem he threw on the mound.
"It feels great right now," Greenwich head coach Mike Abate said. "That was a battle. Both teams played great games. Their pitcher at the beginning came out and threw a lot of sliders and we were battling. We had some opportunities early in the game, but we couldn't come through. It took the whole team to get the win today and I couldn't be more proud of them for what they did today."
With the win, Greenwich moves on to play Waterbury starting Wednesday in the round of 16.
While the nearly unbearable heat and humidity was blasting Hevemeyer Field, Greenwich starting pitcher Mike Genaro was a cool customer on the mound. Although Genaro had some pitches that Shelton took for a ride early on, he settled down and dominated the rest of the way.
"In the beginning I didn't feel that great and they were able to hit balls to the warning track, but I adjusted and warmed up a little more and found my stuff," Genaro said. "I hit my spots and the defense did their work for 10 innings. My fastball was working today and the curve ball was better than it usually is, but the change-up was a problem because I didn't have that today. I had to spot the fastball and get the groundballs. Believe it or not I actually like the heat. I saw the forecast and was actually kind of excited and helped my arm stay fresh."
In 10 innings of work, Genaro gave up six hits, struck out five and walked only two batters. From the third inning on, Genaro had 12 outs that were made by the Greenwich infield.
"I can't say enough about Michael Genaro keeping this team in the game today," Abate said. "Mike's been lights out all year and this was another game he kept the opposing team in check."
With Genaro firing on all cylinders, it was time for the Greenwich bats to pick up the pace.
After going quietly in the ninth inning, Greenwich came on strong in the 10th inning. Alex Loparco led off the inning with a slow roller that the Shelton second baseman was unable to scoop up and reached base on the error.
Up next stepped Billy O'Malley, who lifted a single to right field. Loparco, who was charging hard to second base, took advantage of a slight bobble by the right fielder and darted safely to third.
That proved to be costly for Shelton, as Will Salomon was up next. With two strikes, Salomon calmly smacked a single a few inches to the right side of the third base line. With the roar of the Greenwich crowd behind him, Loparco trotted home for the game-winning run, the lone run of the contest.
"I was just trying to find a good pitch to hit," said Salomon, who was mobbed by the entire Greenwich team near first base after Loparco crossed home plate. "They were throwing me a lot of offspeed today, so I went up there thinking they were going to throw me that."
For Salomon to even be on the field is a testament to his dedication to the team. Not even recovering from an illness would keep the Greenwich catcher away from the field.
"He was battling the heat and he was catching 18 innings in the last two days," Abate said. "For him to keep battling and come up with the winning hit is phenomenal."
Greenwich had a few chances to open the scoring throughout the game, but every time Shelton came up big when it mattered.
In the fifth inning, designated hitter Hunter Frantz belted a double to right to start things off and moved to third when JT Hintzen hit a single to center. Despite runners on the corners, Shelton was able to get the next two batters to strike out and got the third out to fly to center.
An inning later, Salomon got a one-out single and both Kevin Woodring and Colin Kelly reached to load the bases with one out. Frantz hit a deep fly to right and it appeared Salomon would be able to tag and score on the out, however the Shelton right fielder threw a dart to the catcher, who tagged Salomon for the third out.
In the seventh, Greenwich had its best opportunity to score. Hintzen led off with a single and immediately stole second. With one out, an infield single by Ryan King moved Hintzen to third and a walk by Loparco loaded the bases. But a roller where the shortstop threw to the catcher for the fielder's choice at home and a line out to the second baseman ended another Greenwich threat.
"We've been working so hard all year," Salomon said. "Usually we've been coming up really clutch in those spots all year. Today we came really close and to finally get it done felt great. We needed to get [Mike Genaro] runs today because he pitched unbelievable out there. It was the best I've seen him pitch all year. To get him the win felt great."
For Abate, missing those opportunities in such a crucial game was something that worried the Greenwich head coach as the game progressed.
"You know that your opportunities to score against good teams are going to be limited," Abate said. "We weren't doing the little things in certain innings. We had second and third a couple of innings and couldn't push the runner around. We had first and third with no outs in one inning and couldn't get the runner in. These guys kept fighting and they had the will and passion to win. It's an exciting thing to watch."
"It's so nice," Genaro said. "That feeling is unbelievable. Not having to go out there for an 11th time was nice. It was a lot of fun to win it the way we did."
With the victory, Greenwich advances from the play-in round and will travel up to Waterbury for the best of three series with overall the Zone 5 champs and overall top seed.
"It feels great," Salomon said. "As long as I've been with the Cannons, this is the first time we've been to the double-elimination round. I am really pumped to see how far we can go."
The Cannons will be in action Wednesday afternoon at 3:30 up in Waterbury.
"This means a lot," Genaro said. "Last year we lost a tough one in the same round and didn't get to go to a series, so I know how important this was to us. Now we get to play Waterbury, who we saw last year, and I think we are all excited to go in their yard with confidence."
Win or lose, Greenwich will be back in Waterbury Thursday at 2 p.m. If a third and deciding game is needed, it will be played 30 minutes after the Thursday game ends.
"It's an awesome feeling to get here," Abate said. "Now it's double-elimination. It's a series with one team and they have to beat us twice. Hopefully we can get the job done and get to the final eight. Defensively and pitching are great and they are keeping us in every game we play. When the time comes, we are also able to get the timely hits."
Tags:
Alex Loparco
,
Billy O'Malley
,
ctalbb
,
ctbase
,
greenwich
,
Greenwich American Legion
,
Greenwich Cannons
,
Greenwich Senior Legion
,
Hunter Frantz
,
JT Hintzen
,
Mike Abate
,
Mike Genaro
,
Shelton
,
Waterbury
,
Will Salomon
,
Zone 4