June 19, 2015
Stars Shine Bright at Greenwich High Hall of Fame Event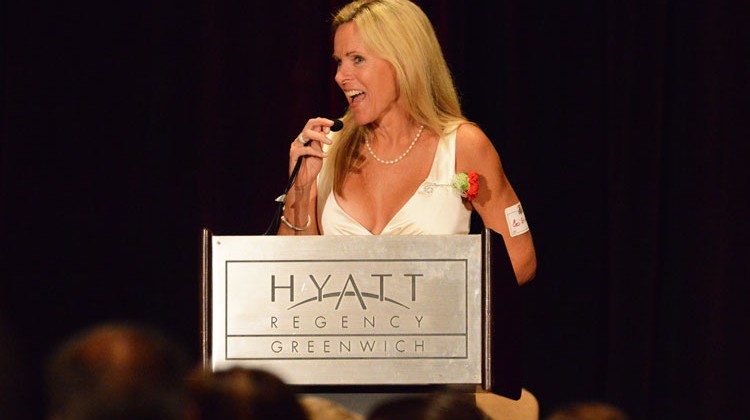 The Greenwich High School athletic community celebrated its past while looking toward the future during last Wednesday's Hall of Fame induction ceremony at the Hyatt Regency.
"This is quite the event," former Greenwich High School football head coach Mike Ornato said. "It's great to see all these people here. All the former players are here. It's incredible. It's really terrific. I haven't seen a lot of these people in years. There's a lot of baldness going on and fattiness going on, but seriously, it's great to see these guys. I had really good young boys come here and all I promised their parents was that they leave as really good boys and that we weren't going to harm them."
After last year's successful inaugural event, the Greenwich High School Hall of Fame and chairman Pat Mediate staged the second annual GHS Hall of Fame induction ceremony this season. To say it was a big event is an understatement.
In addition to Ornato being inducted into the hall of fame, Donald Ward, Ceci Hopp, Charlie Luce, Ken Bell, Jeff Stiling, Anthony (To To) Deluca, Sam Rutigliano, Ting Vanneman, Charlie Hotetz, Kim O'Gorman Menges and Sandy Pendergast were inducted into the Hall of Fame.
In addition, two undefeated teams, the 1980 girls' track and field team and the1962 football team, were honored.
One of the many highlights of the night was hearing from New York Giants head coach Tom Coughlin, who introduced Ornato.
Coughlin is no stranger to Ornato and his success on the gridiron. The Super Bowl-winning head coach played on Ornato's first team at Waterloo High School in Waterloo, N.Y., after Ornato left Ithaca College. Ornato was Coughlin's head football coach for three years.
Coughlin said Ornato is a tremendous coach who was able to have fun and achieve success at he same time, winning a league championship.
"I've never had the chance to thank him publicly for what he did for all of us," Coughlin said. "When I graduated high school, the very next year he was gone and went to Port Chester and then on to Greenwich. So I've never had the chance to do anything except shake his hand as a young man and thank him, but this gives me a chance tonight to really tell people what I feel about Mike Ornato."
Another honoree who saw great success at Cardinal Stadium was Ken Bell. Whether it was on the grass for football or running around the field with the track and field team, Bell was celebrated. He went on to play for the Denver Broncos from 1987 to 1989 and competed in three Super Bowls.
"This is a great event and I am just honored and blown away by the whole thing right now," Bell said. "I'm still trying to wrap my arm around some of this stuff, seeing folks that I haven't seen in 30 years and getting the chance to come home and see friends and family. It's an incredible honor. This gives the opportunity to get together and show the spirit that we have for the community."
While Bell was a force as a member of the 4 x 100-meter relay team, his best memory came while wearing the GHS football helmet.
"The one great memory is the county championship game on Thanksgiving Day," Bell said. "We were down, and I ended up scoring. On the outside looking in, it was a great run for the game-winning score. It is my fondest memory."
Hopp, like Bell, was a graduate of the class of 1981. She dominated the track program, competing on the cross-country, indoor track and outdoor track teams, and still holds several Greenwich High and state records.
"This is so fun," Hopp said. "I live in California, so I don't get back to Greenwich very often. I just have fond memories of Greenwich."
Another state record holder for Greenwich was Jeff Stiling, who was a leader for the GHS swim team during his two years at the school. Graduating in 1979, Stiling was the top high school butterfly swimmer in the country, and his 100-yard butterfly performance was a school record for over two decades.
Transferring from Ohio to Greenwich during his junior year, Stiling left his mark on the program. He had six event state champions, held a CIAC state record five times, was an All-American six times and won the Amann Cup Away from most outstanding performer at the state open championship his two years at the school.
"I live in Portland, Ore., and I get a call to come to Greenwich," Stiling said. "I no longer have family here, but I kind of do because I have a lot of friends that are still around. It's an honor to come back and really represent my family, friends and teammates. This is more about them than about me."
Rutigliano coached the Big Red football team for three seasons starting in 1959. From there, he went on to coach at both the University of Connecticut and University of Maryland as an assistant coach.
After being an assistant with the NFL's Denver Broncos, New Orlean Saints, New England Patriots and New York Jets, Rutigliano went on to be the head coach of the Cleveland Browns and was named Coach of the Year in 1979 and 1980.
Another standout three-sport athlete at Greenwich High, Vanneman, class of 1963, was solid in football, basketball and track. In 1962 he was on the undefeated GHS football team and was named All-County tight end. In track, he set records for the discus and shot put.
The common goal for all the honored guests was to make sure they attended the event, whether they lived across the street from the hotel or on the other side of the country.
"My whole family is here," Ornato said. "I have four kids, three boys that played for me and my daughter. I have 10 grandchildren and one great-great grandchild here. It's really important to have my whole family here."
"This is very important," said Hopp, who resides in California. "There are a couple of coaches in this room that really put me on the map and were great coaches. It's really fun to see them again. I'm so impressed with the energy of putting together a high school hall of fame like this. Greenwich High School is a pretty special school."
"I feel that being honored like this is something you don't take lightly," said Stiling. "It's something that you want to represent other people as well in the process. These things don't come around that often and don't come around for very many people. I respect the school. I respect all the people as a part of the process. And as a part of that respect, I want to be here to show it."
In addition to honoring its induction class, Mediate and the GHS Sports Hall of Fame have an additional motivation. This year, Hall of Fame is working with the Greenwich community to raise funds for rebuilding an outdated Cardinal Stadium.
The bleachers have seen better days and there are no bathrooms, only portable bathrooms. There's also a small concession stand and scoreboard that need improving.
"I think this is great," Coughlin said. "What you're talking about is tradition and long-lasting opportunities for the young to get to know the old."
Tags:
Anthony (To To) Deluca
,
Ceci Hopp
,
Charlie Hotetz
,
Charlie Luce
,
CIAC
,
FCIAC
,
GHS
,
GHSHOF
,
Greenwich High
,
Greenwich High School Hall of Fame
,
Jeff Stiling
,
Kenny Bell
,
Kim O'Gorman Menges
,
Mike Ornato
,
Pat Mediate
,
Sam Rutigliano
,
Sandy Pendergast
,
Ting Vanneman
,
Tom Coughlin