June 15, 2015
Greenwich Cal Ripken 12's split weekend game at Districts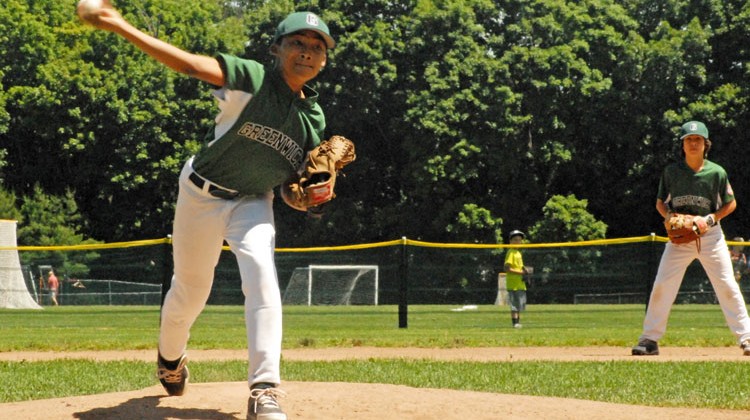 During the opening weekend of the District 1 Tournament, the Greenwich Cal Ripken 12-Year-Old All-Stars split the weekend, beating Norwalk but falling to New Canaan.
In the first round of the tourney, Greenwich took care of Norwalk 5-3.
In that game, Greenwich scored four runs in the top of the first after two outs on a walk and three straight hits, then a passed ball. That was all that Greenwich needed, although Norwalk made it close by scoring three runs in the first inning due to defensive miscues.
On the mound to start the game for Greenwich was A.J. Barber. The Greenwich pitcher went five innings and gave up three runs, one earned run on three hits while striking out five.
Jake Mondschein pitched the sixth inning and Greenwich ended the contest on a beautiful 4-6-3 double play from Daniel Perez to Chris Genaro to Barber who was at first.
At the plate, Barber was just as strong, going 2-for-3 with a double and single. Zack Alza went 1-for-2  with an RBI single, while Mondschein, Genaro and Hunter Gruenstrass each went 1-f0r-3. Mondschein smacked a double and scored two runs, while Genaro and Gruenstrass each added a single and run scored. 
Not to be outdone for Greenwich was pinch-hitter Miles Langhorne, who went 1-for-1 with a single.
The Greenwich Cal Ripken team ended its weekend with a loss to New Canaan, falling 8-4 despite the valiant comeback attempt.
In that game, Genaro was solid on the mound in relief, throwing three innings and giving up two runs, no earned runs and two hits while striking out two. 
At the plate, no one had a better day than Jack Zola for Greenwich, as he went 2-for-3 with a home run, a single and two runs scored. Daniel Perez went 1-f0r-2 with a single and walk, while Robbie Roth and Mike D'Arcangelo each went 1-for-1 with a single. Roth's single drove home a runner.
Gruenstrass finished the day 1-for-3 with a single and run scored, while Barber also went 1-f0r-3 with a single.
Tags:
Cal Ripken League
,
District 1 Tournament
,
greenwich
,
Greenwich baseball
,
Greenwich Cal Ripken