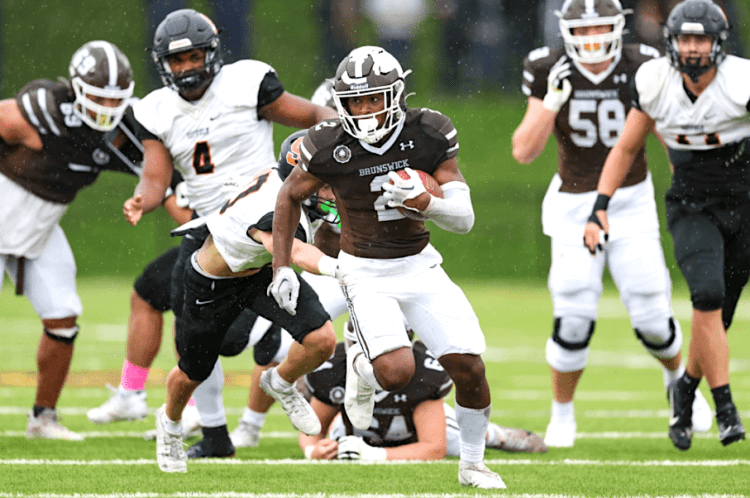 By David Fierro
Brunswick School's football team certainly set the tone early in its home game against Suffield Academy on Saturday.
And doing so resulted in a happy Homecoming for the Bruins.
Scoring touchdowns on its first three possessions, Brunswick cruised to an impressive 31-18 win over Suffield Academy in a Northeast Prep League matchup at rainy Cosby Field.
The Bruins, who celebrated their Homecoming, put the breaks on a two-game losing streak, while improving their record to 2-3 overall and 2-2 in the Northeast Prep League.
Senior running back Bryce Davis propelled the Bruins to their first score. The elusive Davis took a handoff from senior quarterback Elijah Cromartie and sprinted 36 yards for a touchdown on the Bruins' first possession.
On Brunswick's next possession, Cromartie threw a touchdown pass to junior wide receiver Tyler Lloyd. The scoring play covered 35 yards.
Brunswick also traveled to the end zone on its third possession of its Homecoming game. This time, Cromartie connected with junior wideout Jaylen Noisette for a 14-yard scoring strike.
The visiting Tigers responded by putting some points on the scoreboard to cut into the Bruins' lead. Yet the Bruins regained control of the game and were able to seal the win.
In the second half, Cromartie threw a 33-yard touchdown pass to Davis, who found his way to the end zone for the second time on the day. Junior Oliver Reynolds showcased his strong leg, kicking a 37-yard field goal for the home team in the second half.
Brunswick's defense turned in another stellar performance before the Homecoming crowd.
Senior co-captain Tommy Pope registered eight total tackles and intercepted a pass. Junior co-captain E.J. Perez sacked Suffield's quarterback three times and senior George Fugelsang recovered two fumbles to highlight Brunswick's highly effective defensive effort.
The Bruins travel to Phillips Andover Academy on Saturday for a 3 p.m. Northeast Prep game.