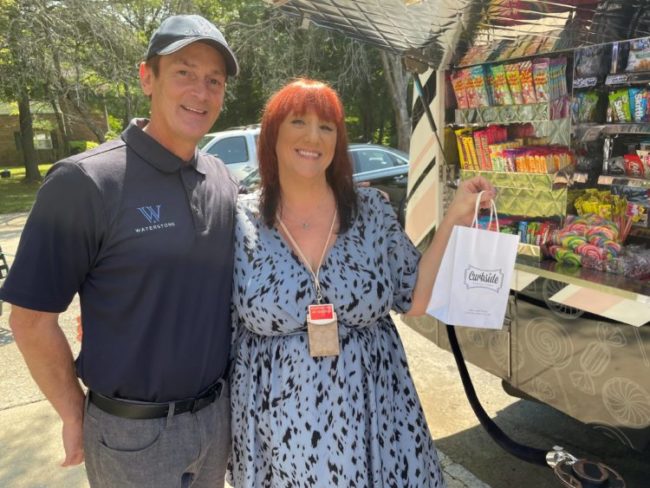 Staff at five rehabilitation centers in Greenwich and Stamford received a sweet thank you from Waterstone on High Ridge with a surprise visit from Curbside Confections.
The senior living community, Waterstone on High Ridge, in Stamford run by Epoch Senior Living wanted to let physical and occupational therapists and recreational and dietary staff know that they were doing a great job taking care Waterstone residents who visit their facilities for treatment.
Workers at Greenwich Woods and Nathaniel Witherell in Greenwich and Ark Rehabilitation, Villa at Stamford and Waveny Rehabilitation, all in Stamford were treated to candy and ice cream from the Curbside Confections truck.
"I think it's great that the staff receive appreciation from people who they don't see who are helped by their work,'' said Yaacov Kramer, an administrator at Greenwich Woods. "I love the positivity.''
Jeanie Ricci, Senior Advisor of Waterstone on High Ridge, said, "The care our residents receive is very important to us. They deserve the best, and so do their caregivers.''
About Waterstone on High Ridge
Waterstone on High Ridge is the latest best-in-class independent senior living community created by leaders in the field. EPOCH Senior Living is the owner/operator and National Development is the owner/developer. EPOCH Senior Living operates 16 senior living communities in the Northeast.
For more information about Waterstone on High Ridge, visit www.waterstoneonhighridge.com or call 203-361-9717.