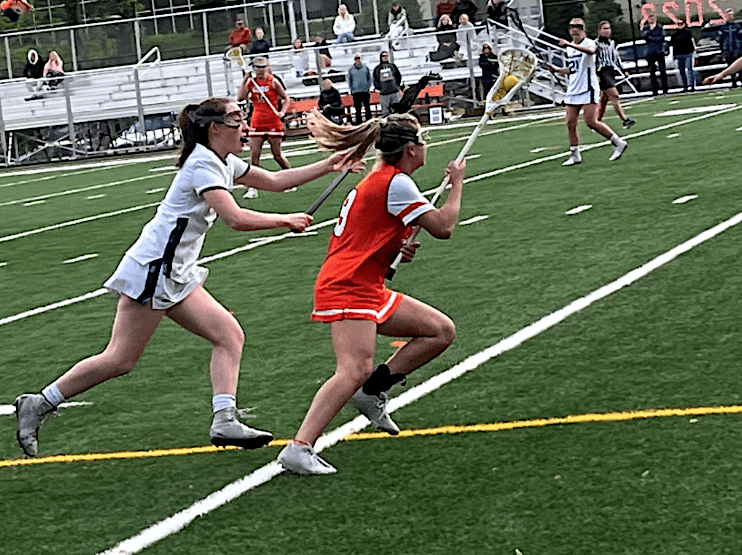 By David Fierro
After advancing to the semifinal-round of the FAA Tournament and finishing with an impressive record in 2022, the Greenwich Country Day School girls lacrosse team is enjoying another successful season and is primed to again, make its mark in the postseason.
The Tigers sport a 6-3 record, with their latest victory coming in their final home game, which included a special theme.
It was Senior Day on Monday for Greenwich Country Day School's girls lacrosse squad and the six seniors on the squad were honored by their teammates prior to the team's matchup against visiting Millbrook School. Once the game began, the seniors each played pivotal roles in the Tigers' success before their home crowd.
Senior Saedi Gibbs recorded a hat trick in Greenwich Country Day's decisive 11-7 Senior Day win over visiting Millbrook School. Junior Maxine Silverman paced the Tigers' offense with four goals, while Ella Wilner, also a junior, tallied three times in the winning effort.
Gibbs, a member of the varsity team for several seasons and one of the Tigers' leading scorers, appreciated the Senior Day ceremony.
"It was a lot of fun," Gibbs said. "We didn't know what the underclassmen were doing for us. It was really cute to walk on to the field."
Of course, the final result made Senior Day all the more memorable.
"We had a pretty good game, we came out with the win, which was great," Gibbs noted. "The season is going good. We've definitely been putting in the work with morning practices and we are starting to work off each other better, with new players on the team, so it's been fun."
Currently, GCDS has a record of 3-2 in the Fairchester Athletic Association. They are in third place in the league, behind Greens Farms Academy and School of the Holy Child. Rye Country Day School is also 3-2 and the Tigers play RCDS next week in their final league matchup. That should determine the No. 3 and No. 4 seed in the FAA Tournament.
The 2022 season saw Greenwich Country Day make it to the FAA Tournament semifinals, where as the No. 1 seed, it lost a home game to Holy Child.
Claudia Citrin, a senior co-captain, registered one goal in the Tigers' triumph against Millbrook in the team's final home game of the season.
"I would say the keys to our win were communicating, our team chemistry, talking to each other and going for the ground balls," Citrin said. "We didn't play our best, but there's always room to do better and we are going to keep improving. They were a pretty good team, definitely."
Senior goalie Gabriella Gianastasio produced a strong performance in goal for the Tigers, making seven saves. Wilner scored the game's first goal 15 seconds into the game after GCDS controlled the opening draw.
Millbrook scored two straight goals to take a 2-1 lead, but Greenwich Country Day went ahead, 3-2 on tallies by Wilner and Silverman. Silverman's goal came off a catch-and-shoot with 16:42 remaining in the first half.
Coached by Caitlin Copelan, GCDS took a 4-2 edge on a goal by Wilner off a dodge at the 16:19 mark of the opening half. Millbrook closed to within 4-3 by scoring with 15:25 remaining in the first half, but the Tigers seized a 6-3 advantage on consecutive goals by Silverman – the second of which occurred with 6:55 to go in the half.
Gibbs' goal with just 19.5 seconds left in the first half, put the home team on top, 7-4.
The visitors cut Greenwich Country Day's lead to 7-5 by tallying the first goal of the second half. However, the Tigers' stretched their lead behind key goals from Gibbs and Silverman. Meanwhile, GCDS' defense and goalie play was impressive.
"I'm very happy we came out with the win for Senior Day," GCDS senior co-captain Carmie Zuniga. "There were some rocky yellow cards that we need to work on, but other than that, I thought that our communication was good on the field and our overall energy was really good, especially on the sidelines and that talks to our team dynamic especially, on a special day like Senior Day."
Brooke Andrews-Peden, Citrin, Brittany Dorf, Gianastasio, Gibbs and Zuniga were the six seniors the team paid tribute to on Senior Day.
"Our senior captains are great kids and respected by everybody," Copelan said. "Their personalities are great. They lead by example and they are easy to follow on and off the field."
Caroline Cabrera had four draw controls, while Skylar Matusz had three and Citrin had one for the victors.
Indeed, the team ended its home schedule in style, coming up with the non-league win in solid fashion.
"It's been awesome to be a part of this team and I'm reflecting on it during Senior Day," Gibbs noted. "It's been amazing being here with coach Caitlin. It really does go by fast."
The Tigers travel to Canterbury School on May 8, then visit FAA foe Rye Country Day School in a significant league game for seeding in the league tournament. The FAA Tournament commences in two weeks.
"Ultimately, hopefully we'll do well in playoffs and make it as far as we possibly can," Gibbs said. We're going to continue working hard in practice to get there."
"I'm excited about the playoffs, but I'm really sad," Zuniga said. "This is my last two weeks to be on a team and be with all my friends."
Copelan is expecting her Tigers to round into top form as they head into the postseason.
"We just have to go back to finding out who we are as a team and get back to playing with each other and for each other," Copelan said. "We just have to get everyone on board to keep this season going."