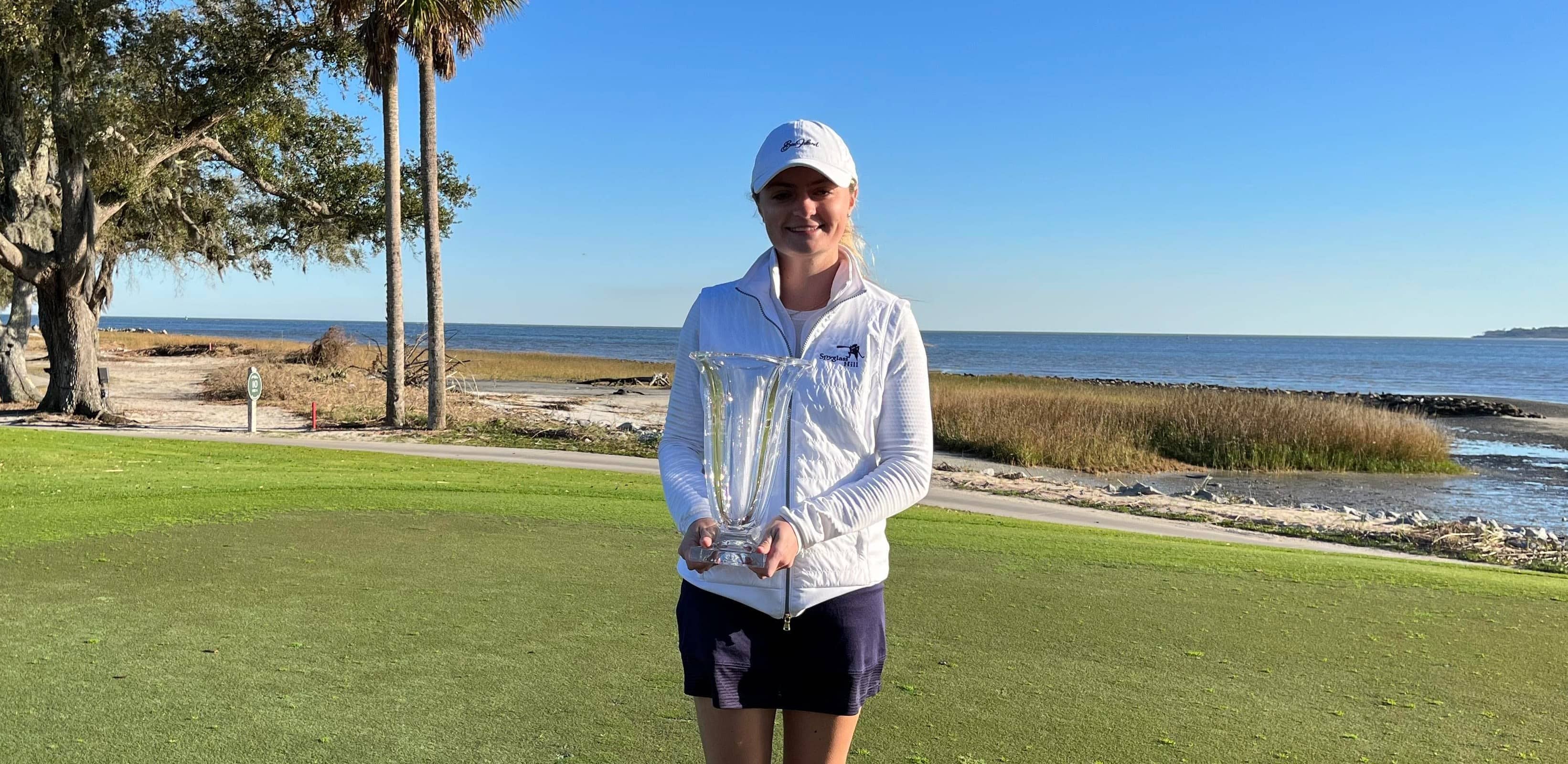 Catherine McEvoy of Greenwich has once again proven her golfing prowess by winning the Women's Open Division at the third annual National Club Championship earlier this month.
The 2022 PGA National Club Championship began at Sea Island Resort in Sea Island, Georgia, where the Women's Divisions competed from Feb. 4-6 across the Seaside, Plantation and Retreat courses. The championship featured three divisions: Open (any age), Senior (50+ years old) and Champion (60+ years old).
In the Women's Open Division, McEvoy (Innis Arden Golf Club, Greenwich) recorded rounds of 76-74-69 to finish at 5-over-par 219 and clinch a one-shot victory.
The 2021 Women's Champion Ali Mulhall (Round Valley Golf Club, Morgan, Utah) finished in second place at 6-over-par 220, followed by Blakesly Brock (The Honors Course, Ooltewah, Tennessee) at 10-over-par 224 in third.
McEvoy entered the final round tied for second and five strokes off the lead but that deficit didn't last long as she collected five birdies and posted the field's lowest score of the day.
"I'm still in a little bit of shock," said McEvoy, after her victory on Feb. 6. "I knew it was going to be a good challenge and I played against some really good girls. I stuck with the basics and I hit the ball really well all three days, which is really important and put me in a good position."
Following bogeys on the Plantation Course's par-4 1st and par-5 4th holes, McEvoy birdied the par-3 7th and par-5 8th.
"That was a good momentum booster," said McEvoy. "Going into the back nine, I knew things were going to get tight among the people at the top. I hung on with a bunch of pars and finished strong at the end with a few birdies, which closed it out for me."
McEvoy focused on making pars while battling high winds during her opening round on Seaside. She tallied 11 pars en route to a 6-over-par 76, which led the field after the first round. Her strong ball striking continued at the Retreat Course, where she recorded a 2-over-par-74.
"It's been really fun to meet people from all over the country," said McEvoy. "I played with some great people all week. Sea Island was an awesome place to play. It's definitely a special place."
This recent victory adds to McEvoy's already impressive golfing record.
The 2016 Greenwich High School graduate was awarded Player of the Year four times in a row and won states as a team twice and a couple of times individually while at Greenwich High School. Marie Shimchick, her former coach said at the time, "It's easy to be proud of Catherine's accomplishments, but I think inspired would be more accurate," explaining that, "She never gives up, in addition to the consistency in her swing and her mental game being formidable."
Since then McEvoy has been doing what she does best, winning tournaments.
McEvoy recorded a final round 3-under-par-69 to win the PGA Club Championship Women's Open Division. Lin Culver (Hammock Dunes Club, Palm Coast, Florida) registered a 5-over-par-75 to capture the Women's Senior Division. Joan Gardner (Mount Vernon Country Club, Alexandria, Virginia) posted a 7-over-par-77 to finish atop the Women's Champion Division.