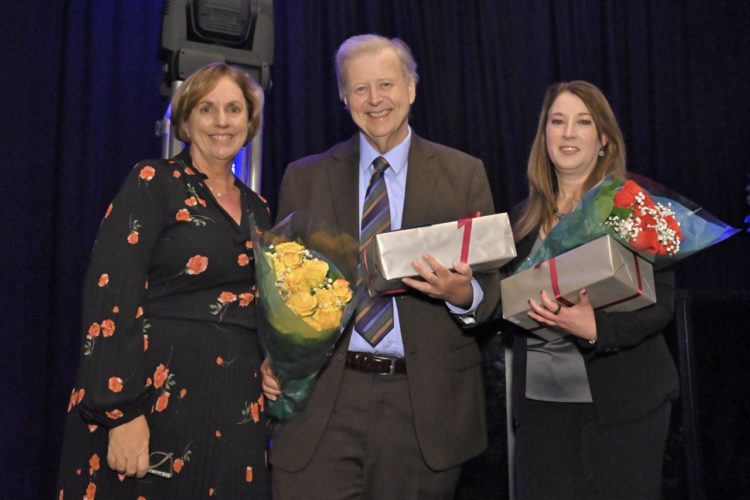 Greenwich Hospital finance duo – Gene Colucci, chief financial officer, and Diane Saul, finance director – were named employees of the year for 2022 and 2021 respectively for combining compassion, humor and expertise to keep the organization financially healthy.
The pair received the Marian Nowak Award, presented each year to an employee who embodies the best of hospital's values. The two have worked together for 25 years.
"These two colleagues epitomize the qualities of hard work, kindness, friendship, loyalty and humility," Diane Kelly, DNP, told the audience at the Hyatt Regency on Nov. 9.
Colucci said his 34-year career at the hospital has been "extremely fulfilling" thanks to working with "many kind people who exemplify what Greenwich Hospital stands for." He discovered early in his career that he could combine his love of math and desire to be part of a caring environment by working in the healthcare field.
Known for her dry humor and calming presence, Saul said she was humbled to receive the award and thanked her colleagues for their support.
The event honored 75 employees celebrating 25 years to 55 years of service milestones in 2021 and 2022. Among those honored was Evelyn Franco with 55 years of service. Franco is a 1957 graduate of the Greenwich Hospital School of Nursing. Andrea Daur, Outpatient Pediatric Clinic and Brigitte Foscante, Community Health, were recognized for 50 years of service.
The Marian Nowak Award was established in 1990 in memory of the Holocaust survivor, who exemplified the qualities of excellence during his 41 years at Greenwich Hospital.