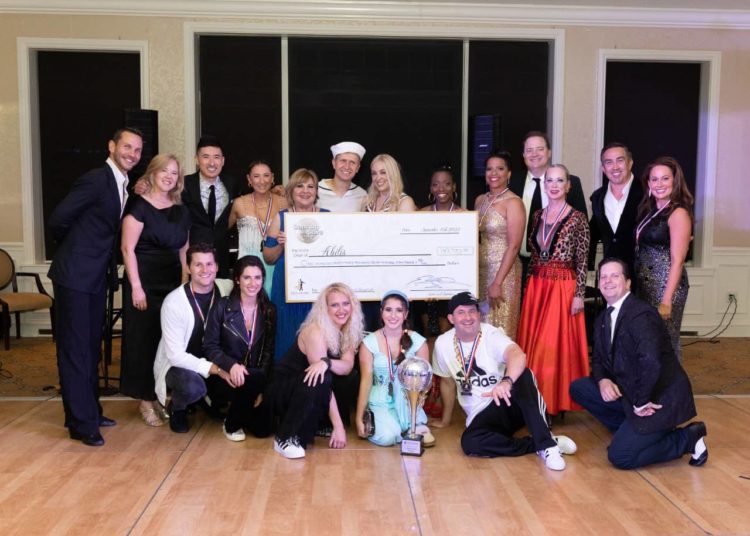 By Liz Leamy
Last Saturday, the Abilis organization hit the ball out of the park with its fourth annual Dancing Stars of Greenwich Charity Gala event that was held at the Tamarack Country Club.
This celebrated annual ballroom-themed fundraiser drew more than 160 attendees and 11 teams that featured one or more local residents who faced off against one another to help raise funds for the venerated Abilis organization based in town that provides more than 800 individuals with developmental disabilities and their families in the Fairfield County area with life services programs, therapy and advocacy, among other vital things, and was a runaway hit on all counts.
Hosted by the Fred Astaire Dance Studio of Greenwich and Brendon and Afton Fraser, all of who are dedicated supporters and advocates of the Abilis organization, this event, with its competitive format reflective of the famous 'Dancing With the Stars' television show, featured highly skilled contestants who kept the audience on the edge of their seats with their entertaining Swing, Cha Cha, Paso Doble, Foxtrot, Rhumba, Tango and Charleston programs.
Along with the dance competition in which the winners, 13 year-old Carly Samalin and her Fred Astaire of Greenwich dance partner, Matthew Ames received a mirror-ball trophy for their fantastic 'Aladdin' routine, this year's Dancing Stars of Greenwich event also featured a champagne reception, meet and greet session with contestants and judges, silent auction, gourmet dinner with hors d'oeurvres and live music provided by the Hot Cat Jazz Band.
Adding to the excitement of this event was the fact that the judging panel featured Brandon Fraser, star of the 1990s blockbuster film hits, 'The Mummy' and 'George of the Jungle' who recently made international and domestic headlines for his stellar acting in the film 'The Whale;' Meg Tolin Piper, the esteemed Broadway actor who was featured in 'The Sound of Music' and 'Show Boat;' and Eric Shoji, renowned dj and co-host of Lifetime TV's 'Dance It Out.'
Ali Wentworth, star and co-executive producer of the Starz TV network series 'Head Case' and former correspondent of 'The Oprah Winfrey Show,' meanwhile, did a terrific job as the event's emcee and entertained the crowd with her hilarious, fun and witty narrative.
Collectively, the energy of Wentworth and the judging panel coupled with the involvement and support of the crowd in regard to all of the dancers designated this as a night to remember in all regards.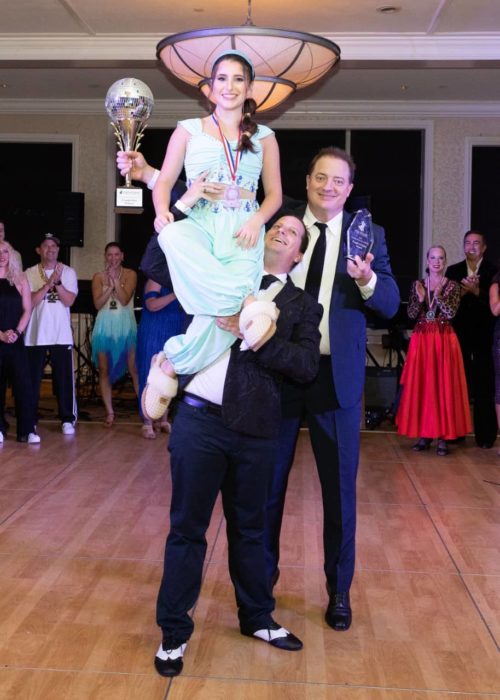 "It's so exciting to be here and be part of this event," said Afton Fraser, who did a dynamic dance number to Frank Sinatra's 'I've Got the World On a String' and whose son, Griffin, also did a terrific interpretation to Harry Styles' 'Watermelon Sugar' with performers from the Fred Astaire of Greenwich studio. (It was also Griffin's 20th birthday and upon finishing his routine, the whole crowd sang 'Happy Birthday' to him.) "Everyone is committed to helping to build Abilis and you can see and feel that everywhere you go here."
Afton Fraser, whose was also featured in such film hits as 'George of the Jungle,' 'Reality Bites' and 'Fried Green Tomatoes,' further pontificated on the significance of this event.
"Each dance is different and every dancer has a story to tell, which is so interesting. This event is all about the strength of people and about the community coming together for a cause," said Afton Fraser. "There is such strength, hope and optimism here and a feeling about coming together to help build a world of goodness, purpose and happiness for everyone."
Others concurred.
"This is such a wonderful and important event for Abilis," said Mitchell Cohen, Chair of the Abilis organization's Board of Directors. "The commitment of everyone here, especially Brandon and Afton Fraser and the Fred Astaire Dance Studio of Greenwich, who came to us a few years ago with the idea for this event, has been incredible. It's such an exciting night for everyone and it just keeps getting better and bigger every year."
Cohen added that this event also reflects much of the strength of the whole Greenwich community.
"Greenwich is a great community with such dedicated people working together to help one another," said Cohen. "You can see that happening here and it is something to be a part of."
Certainly, the strength of community was evident throughout the evening, as the crowd cheered on the dancers with loud applause as judges gave them positive and informative feedback in regard to their work.
"Dancing is all about confidence and energy creates energy," said Brandon Fraser to the dancers during the competition. "You told the story."
Without a doubt, the incredible storytelling on the dance floor rendered results that ought to certainly help benefit Abilis, as this event helped raise nearly 144 thousand dollars for this organization, one that has been growing in the Fairfield County at an impressive rate over the past few years. (Last year, Abilis opened Coffee for Good on Maple Avenue in town, a cafe at the Greenwich Library and managed the snack bar at Island Beach, among other significant things.)
For those involved with this event, it was all about doing an optimal job in order to continue to help this organization grow.
"This event is great and a lot of fun. Everybody here is so involved and that is everything," said Elmar Schmidt, professional instructor and owner of the Fred Astaire Dance Studio of Greenwich who approached Abilis several years ago with the idea for this event. "It's a unique fundraiser and we want to do whatever we can to keep it growing. It's all about being part of the community and doing whatever we can to give back to the community."
Amy Montimurro, the dedicated President and Chief Executive Officer of Abilis shared similar sentiments.
"It's an amazing event and something we all look forward to every year. Everyone is so dedicated and excited to being involved with Abilis and it is such an incredible experience to be here," said Amy Montimurro. "It's a very important event as we want to do everything possible to continue to help build opportunities for those in the community. That is what we're here for."