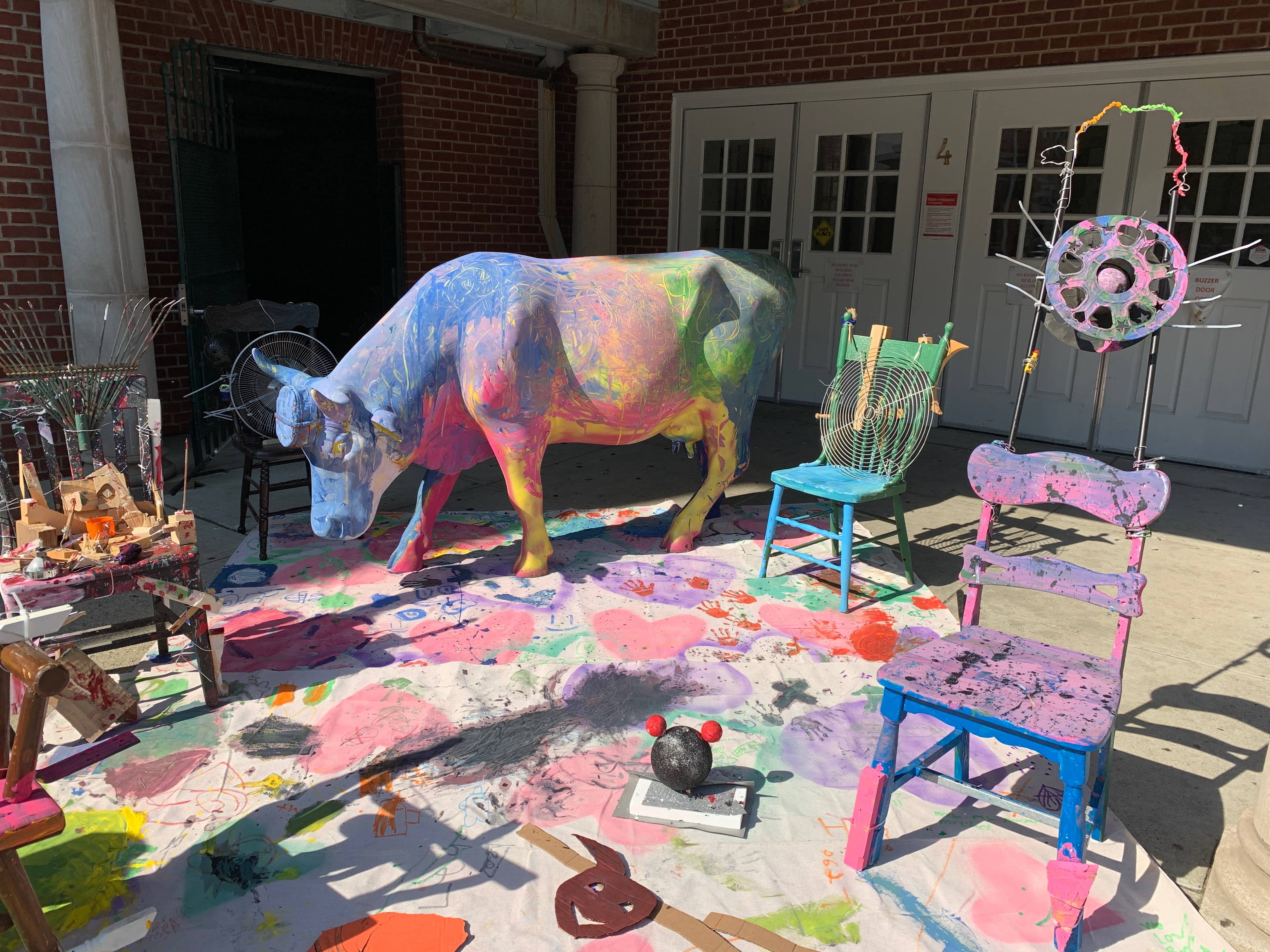 By Claire Moore, A Member of the Greenwich Sentinel Foundation's Student Journalism Institute

The Developing Artist Program hosted the Spring Arts Day at the Boys & Girls Club of Greenwich Friday, June 4 from 4:00 to 5:30 p.m.. Micheal Manning and Ben Quesnel, local artists and educators along with the association's founders, held the session to allow children to express their creativity through a variety of mediums. In compliance with COVID-19 protocols, Arts Day participants congregated in an empty parking garage, which was transformed into a colorful space filled with numerous art pieces.
Friday's activities consisted of collaboration between professional studio artists Jacob Rhodes, Kris Racaniello, Antony Zito, and Leslie Cober-Gentry and young students to design creative art pieces. A large pool of kids gathered around a ceramic cow and covered the structure with vibrant paint and drawings while others created a solar system model with styrofoam balls and wooden sticks. There was also a lively mask-making station in addition to a cardboard box which served as a mural medium for students. Ms. Cober-Gentry discussed her involvement in the day's festivities as well as the importance of art as a vehicle for self-expression.
"I created two murals on tarps for the kids to paint. I drew hearts and the kids painted faces and all kinds of other things around them while I was teaching them about mural painting and drawing. Art gives young people an opportunity to have a certain kind of freedom to be who they are when they're creating and to really express themselves and be themselves when working, so it's really important for kids to be creative."
The use of non-traditional materials during Spring Arts Day allowed students to explore installations, murals, photography, and video art with complete creative freedom. This practice aligns with the Developing Artists Program's mission of promoting an interdisciplinary approach to art that draws connections between academic classes, personal interests, and art history. Mr. Quesnel's goal for the session was to create a diverse variety of stations with very different types of art that students would not typically be exposed to in a classroom. He hopes to expand the program further to give more artists the chance to work with aspiring artists and see those children find mentors in these professionals.
"We founded the program to introduce students to living contemporary artists that would give them an understanding of what it is to be an artist today and how artists use a variety of materials and mediums to create. We bring contemporary artists into different programs throughout Greenwich, whether they're performance artists, video artists, or makeup artists to bring out the creativity in students. I really like to see how artists interact with students but also how students interact with artists. They get very excited to learn that they're working with artists who have been in museums and galleries and it's just interesting to see that dynamic."
Early exposure to art has numerous benefits for young children as the Spring Arts Day featured artists discussed. Not only does art broaden a child's understanding of the world, it gives them a way of interpreting their emotions, feelings, and different events in their lives as a vehicle for self-expression. Art also helps kids explore a creative outlet that will remain applicable in adulthood and regardless of which career path they chose. Ms. Racaniello discussed art's continual relevance along with how refreshing the excitement of students was throughout the day.
"Thinking creatively is applicable in any profession, whether it's in medicine or engineering. Today, I've loved how extraordinarily enthusiastic the kids have been. It is easy for me to forget how extremely excited kids can be about art and I feel very revivified thinking about how much energy they have. The kids just dove in as soon as we gave them the materials and wanted to work with them."
Cordelia, a senior at Greenwich High School, further explained why programs like Spring Arts Day are so important for children.
"Art is important because it allows kids to let out their creativity and I've really seen that today with everyone painting on the cow, painting chairs, and creating masks. This freedom opens up so many doors for kids and they might discover a love for making sculptures or creating new art projects with recycled materials. I've especially loved watching these students paint the cow. It's fun to see all the different colors and designs we were able to create."
In addition to holding events such as Spring Arts Day, the Developing Artist Program sponsors field trips to art studios, galleries, museums and brings artists into school across the county. The overarching goal is to spark a lifelong passion for art in students while providing a broader understanding of the possibilities to become artists through exposure to the different organizations that support this career choice. The foundation is funded by the Greenwich Alliance for Education with additional support from the Connecticut Office of the Arts and the National Endowment of the Arts.
Ideally, Mr. Manning would like to transform the Developing Artist Program into a self-sustaining nonprofit organization to continue his mission of fostering a passion for art in students and giving them an idea of how professional artists work.
"A lot of the artists we bring into the program teach things that aren't always covered in art curriculums because of different constraints, so we're trying to give students a bigger idea of what the art world is all about. My background as a studio artist guides my approach to teaching and with this program, I bring that atmosphere into the schools to transform classrooms into a studio where students are problem-solving, figuring out how to work with materials, and transferring the ideas in their heads onto paper."