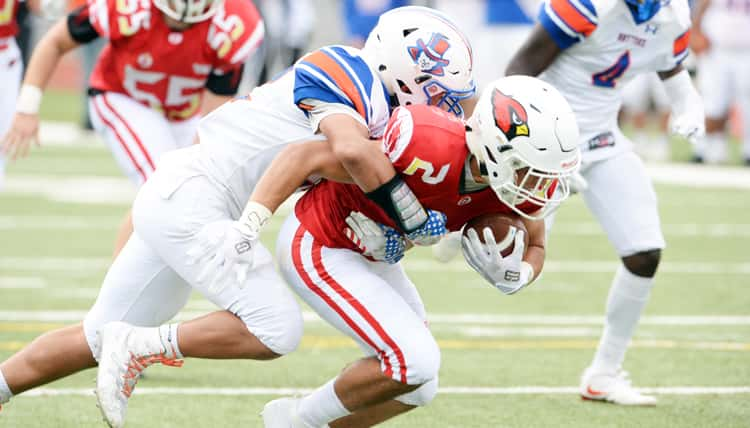 By Paul Silverfarb
Although the Greenwich High School football team, started the first quarter sluggish against Danbury High School, the defending CIAC class LL champs were able to regroup and dominate the rest of the way. The Cards built a 28-3 halftime and cruised to a 49-3 victory Saturday afternoon.
"We were happy with the end result," said head coach Anthony Morello. "It's the first week of the season and it's hard to judge your team, or any team, on just a single game. What I was most pleased with was that last year we committed 21 penalties in our opening game of the season. This year we had five penalties for 40 yards. So I was really happy with our kids staying under control and to play within themselves. There are things that we need to work on, but the fact that the kids were able to focus, keep the common goal in mind, and not lose control was the most positive of the game."
For Morello, Saturday's game at Cardinal Stadium meant that it was finally showtime. With the offseason and preseason prep work in the rearview mirror, the head coach led the Cardinals onto the turf at Cardinal Stadium to open the 2019 regular season. Morello replaced John Marinelli, who guided Big Red to the class LL state championship victory last year but joined the University of Arizona football team's coaching staff a few months ago.
"It was incredibly exciting," Morello said. "For it to be home at Cardinal Stadium, where I played my first ever high school football game, was a very emotional moment for me. To be surrounded by friends, family and alumni was amazing. It was a surreal moment to walk on field and it was something very different than in year's past."
And to say Morello wasn't amped would be a massive understatement. However he was equally fired up to get the first win under his belt.
"As excited as I was for the game, I was even more excited for it to be over," Morello said. "It's only been two months, roughly, since I took over. But I came in during a really busy time with a lot needing to be done. Just to be able to move forward and sort of get into the actual season was an actual relief."
Junior James Rinello had some big shoes to fill to start the season as he replaced standout quarterback Gavin Muir, who is playing football at Dartmouth. In his first game at the varsity level, Rinello was strong. The junior QB went 13-for-18 for 177 yards and threw for three touchdowns.
"James played really well," Morello said. "He had a great preseason. If there was any player that I was most concerned with when it comes to pressure, it would be with James at in that quarterback position. He's replacing an amazing quarterback in Gavin [Muir], who accomplished so much the past two years. My goal for James was to ease him into it and make sure I was calling plays that were going to make him feel comfortable. He did a great job controlling that offense and had everybody on the same page. He executed very well for his first game at the varsity level."
The duel threat combo of juniors Kobe Comizio and A.J. Barber was nearly unstoppable. Barber was lights out for the Cards, grabbing four receptions for 61 yards and added two touchdowns.
"He does a great job and makes spectacular plays," said Morello. "He's a human highlight reel. He does it all. When he's not the main target, he blocks well and runs well. He does his job on every play."
Not to be outdone was Comizio. The slot receiver, who also sees a good amount of time on defense because of his stellar speed, finished with six receptions for 81 yards and a touchdown.
"We use him in a lot of different ways," Morello said. "He has a great work ethic, is very well conditioned, is a great vocal leader and was able to get the edge on a lot of our quick pitches. It looks like a jet sweep, but it's a toss from the quarterback and goes down as a pass. He had six receptions, but four of them were inside the tackle box. He's going to be a great player for us."
Although Greenwich handled the Hatters with ease, it didn't start that way. After a scoreless first quarter, a 40-yard Danbury field goal early in the second gave the visitors a 3-0 lead, much to the surprise of some of the GHS players and the stunned Cardinal Crazies.
"I told the kids not to panic and not to worry," Morello said. "It's about the four quarters of football. It's not about just one quarter. Our goal, early on any ways, is to wear out the opposing teams, we want to see formations and we want to find out that what we are practicing is what is happening in the game. The first quarter we moved the ball well but committed a few mistakes that actually were expected from the guys taking their first reps in a varsity game. I think Danbury has a lot of kids that are playing both sides of the ball and eventually with the way we move the ball with our tempo that we play, they got tired. We don't try to play kids both ways and try to avoid that all cost because we want to be fresh for all four quarters."
Knowing his team needed something to help get them rolling, Morello went up to his special teams after the field goal and told them that Big Red could really use a spark. Mission accomplished. On the next kickoff, Spencer Hartley gained possession of the ball at the Greenwich 11 and bolted down the sideline 89 yards for the touchdown.
"The kickoff return team really answered the ball and it gave us that jolt of adrenaline and confidence that the kids needed at that point," Morello said. "From there we started executing pretty much in every level."
While it's easy for people to believe that Greenwich's slow start was because of the pressure being the defending class LL state champions and top team in the state last year. Morello believes that it wasn't the case.
"I tell the guys not to worry about that," Morello said. "It's not fair to this year's senior class to talk about last year. We are a different team. The foundation has been laid and the culture has been changed in a positive way, but every season is a new season. We won't be able to creep up on anybody anymore, but at the same time we still need to execute, do our work on and off the field to prepare. I'm sure there is added pressure on the kids, but for me I know the high expectations in this town, and they are always going to be high."
Looking back at the contest, Morello said that there were certainly things the team needs to improve on in order to prepare for Trumbull High School on Friday night. However, the head coach said that the players aren't the only ones that need to put in the hard work.
"There are things that I need to work on because it's the first time that I called a game since I called a freshman game back in 2014," Morello said. "It was five years since I called any real live game action. I know watching the video over again, there were a million things I would have done differently on a coaching standpoint."
And Big Red will be entering Friday's night game at McDougall Stadium with some extra motivation. Back in 2015, Greenwich traveled up to THS and were defeated 28-23. Morello was an assistant with Big Red for that game, remembers the feeling, and is not ready for that to happen again.
"That bus ride I took back from Trumbull High School was one of the worst bus rides with a football team that I have ever had," Morello said. "We will be motivated. I am really looking forward to playing them. Trumbull has a great program and they are always big and strong. It's a really tough place to play and their fans are great. So it should be a lot of fun."