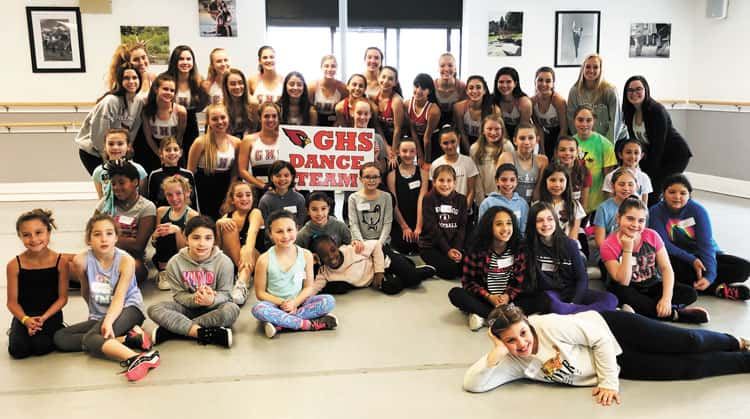 By Michelle Moskowitz
Sentinel Correspondent
The Greenwich Cardinal Dance Team hosted a Young Dancers workshop this past Saturday at Allegra Dance Greenwich, a dance school offering a variety of classes since 1972 including ballet, contemporary, hip-hop and jazz.
An impressive turnout of young, avid students attended the workshop, designed for dance enthusiasts in grades 3-8.
Participants had the chance to meet members of the Junior Varsity and Varsity teams, learn about being a part of the GHS dance team, and witness first-hand their dance styles and techniques, incorporating both hip-hop and jazz elements in their choreography.
Students started off with a warm-up routine, performed turns and kicks, and learned some of the choreography which team captains craft themselves, starting with an idea and seeing it through to execution.
"We know that we have a lot of young dancers in our community who have a great passion for dance, and we want to keep our dance team strong by cultivating that passion in our youth," said Kathleen Steiner, Varsity coach and mother of a professional ballerina who attended GHS.
Eighth grade students were able to inquire in detail about tryouts, skills and techniques as they plan for their auditions as they become Freshman, which are held in September each school year. This past September turned out a record of 80 dancers at tryouts.
Team members perform at the high school pep rally, homecoming, as well as at football games and at half-time at both the girls' and boys' basketball games.
In addition, the team participates in three dance competitions and is one of the few schools in the state that has a JV dance team.
In addition to creating awareness and sharing their love of dance with elementary and middle schoolers, a portion of funds raised from the workshop were donated to the Make-A-Wish Foundation in memory of Greenwich's Steven Sudell, who, at age 14, passed away after a valiant battle with cancer last November.
"Dance is a sport, we tend to forget that," said Steiner. "It takes strength, endurance and flexibility, but the beauty of the execution truly expresses emotion."
"The dance team provides these girls with such a healthy connection and I'm so proud of their skills, their talent and the cohesive family until they have built by working together."