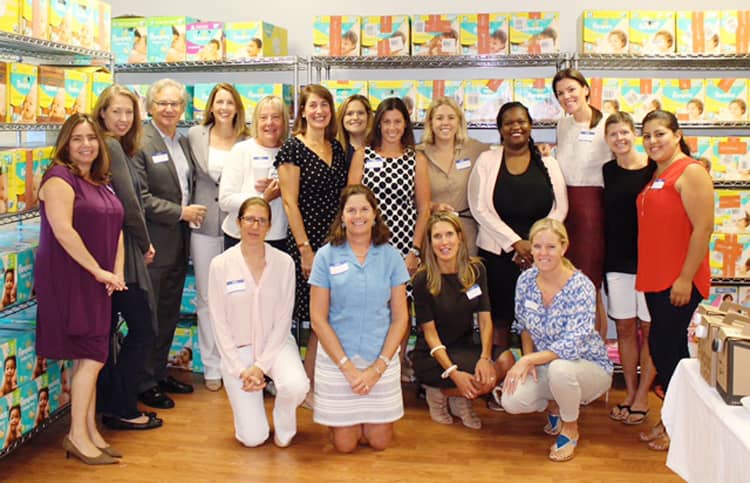 Since 2011 Mothers for Others has served over 1,000 families, mostly from Greenwich and Stamford, through donations for children from birth through age five. Last year the volunteer run group restructured their efforts to focus on supplying diapers and expanded their reach. In an effort to promote these changes the group of 25 local moms will organize several events in the coming months to raise awareness and funds.
Kicking off the year will be a "Share the Love" campaign to raise funds, a Mother's Day campaign and an event to mark National Diaper Need Awareness Week, Sept. 25 to Oct. 1. In addition, monthly diaper drives will be hosted at local preschools in the area.
"We encourage all to participate in these events by either making a monetary contribution or donating unopened boxes of diapers and wipes that will go towards assisting Mothers for Others in providing lower income Fairfield County families with the supplies they need," said volunteer Brooke Bohnsack.
According to the National Diaper Bank Network (NDBN) a baby or toddler will use over 250 diapers per month, or more than 3,000 per year, totaling up to approximately $1,000 per child on an annual basis, a cost that is beyond the reach of millions of families across the country.  This unmet need directly impacts the health, education and well being of low income families as children are denied access to child care centers or preschool without diapers, limiting a parent's ability to work and provide for their families.
"Given the ongoing struggle that many families face, Mothers for Others is pleased to offer its clients a regular supply of diapers." said Cathy de Graaff, President of Mothers for Others. "We would not be able to do this without the tremendous support of our community partners and donors. Together we hope to alleviate some of the burden that the rising costs of raising children in our community places upon local young families."
Donations may be dropped off during the day (Monday to Friday) at the Mothers for Others sorting room on the 2nd floor of Second Congregational Church, 139 East Putnam Ave. For more information please visit mothersforothers.com
About Mothers for Others:
Founded in 2011, Mothers for Others is run by a group of twenty-five active mother volunteers and based in Greenwich. In March 2016, Mothers for Others has concentrated its efforts on collecting and distributing diapers and wipes and is now operating as a diaper bank for lower Fairfield County families with children from birth through age five. With the help of Family Centers, Inc., YWCA Domestic Abuse Services, Kids in Crisis and Greenwich Social Services, Mothers for Others is able to identify and assist local families that have immediate needs for items that will help their children thrive and grow.