[jwplatform E9swo6gS]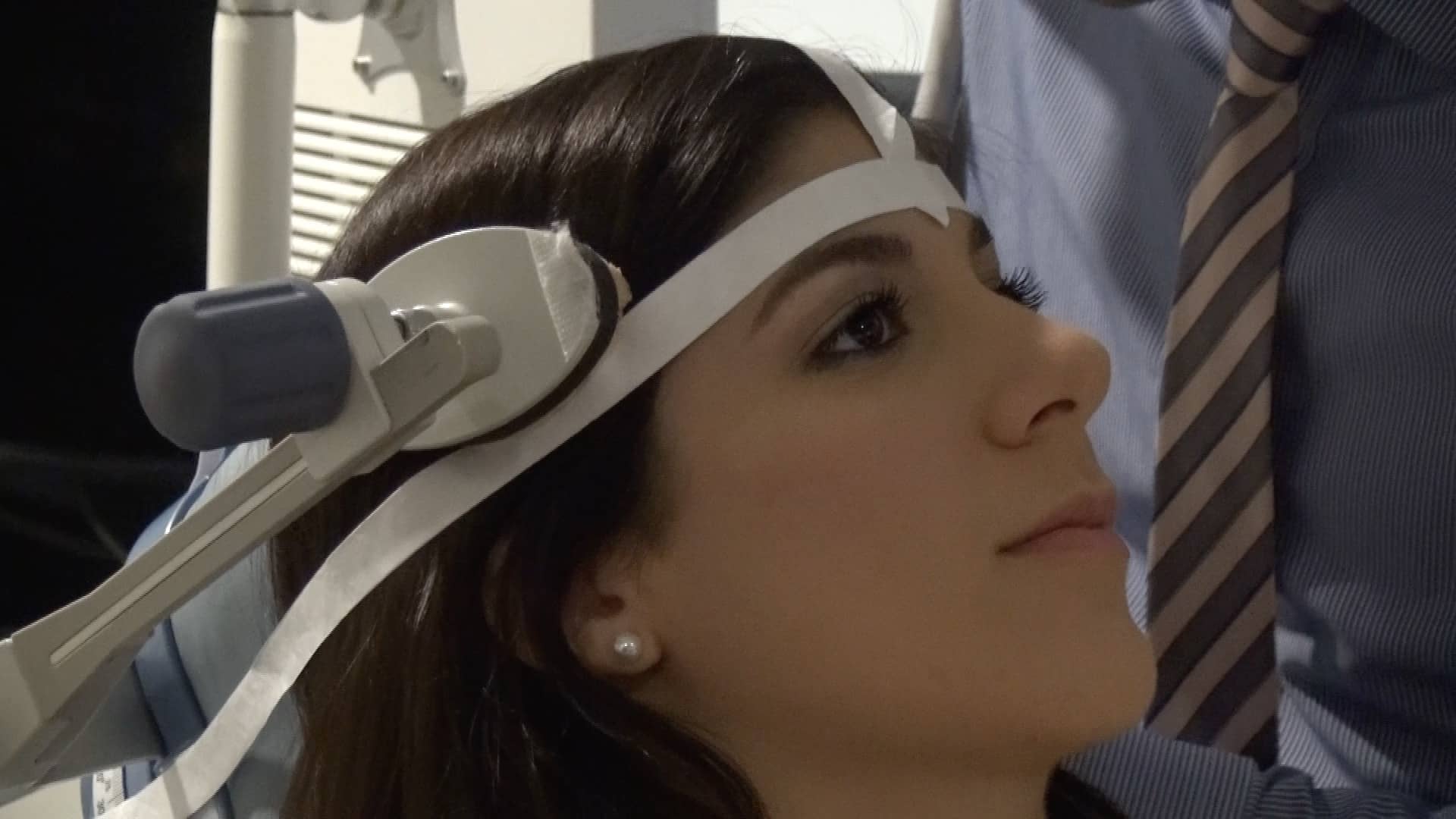 Dr. Tarique Perera is a board psychiatrist with an office in Greenwich. Contemporary Care is a full service psychiatric practice, and he says this office has performed the most TMS Therapy treatments in the country.
"TMS is when you get a magnetic coil, you put it over your head, and you create a pulse that directly targets the part of the brain that is under active," said Perera.
"No pain! It feels like someone's finger is tapping you on the head,' said Camrey Dicrosta, a patient at Contemporary Care.
Perera says TMS, or Transcranial Magnetic Stimulation, treatment has been approved by the FDA since 2008 for adults, and it is safer to use than a cell phone. During the first apportionment, the patient is assessed and then returns five days a week for six weeks for the treatment. Nerves is the brain are activated by TMS, and eventually the activation becomes permanent, says Perera.
"It works very fast. People who have been depressed 10, 20 years start feeling better in about three weeks and get completely better in about six weeks," said Perera.
Patients who have tried four antidepressants with no improvement to their mental state can be approved by most insurances in including Medicare, according to Perera, who has done research on TMS at Columbia University and is the founding President of the TMS Society. He says about 70 percent of his patients get well after one six week TMS treatment.
"Our goal is to get them to have normal functioning. It's not about making people artificially happy, that's getting people high. If you are able to have normal moods and respond appropriately to what's going on, and have normal functioning, that is what we call wellness. We get there a lot better and quicker and safer with TMS than medications," said Perera.
Perera says this treatment can also be helpful to patients who don't want to use medications, like Dicrosta. She was treated at Contemporary Care for anxiety and depression.
"Part of my anxiety was health anxiety, so it made me anxious to take pills. I like this because there's no side effects," said Dicrosta.
But for patients who do use medications, Perera says they will continue taking them through TMS treatment. And he says TMS is essentially safe for every person to try, except for those with magnetic metal in their head.
"The amount of times that people who have gotten better with TMS have told me 'if I didn't get better, I would have killed myself' is scary," said Perera.
Perera says TMS can also be used to treat PTSD, OCD, and bipolar depression, but the FDA still needs to approve it for these practices. You can learn more at www.contemporarycare.net and www.contemporarytms.com.