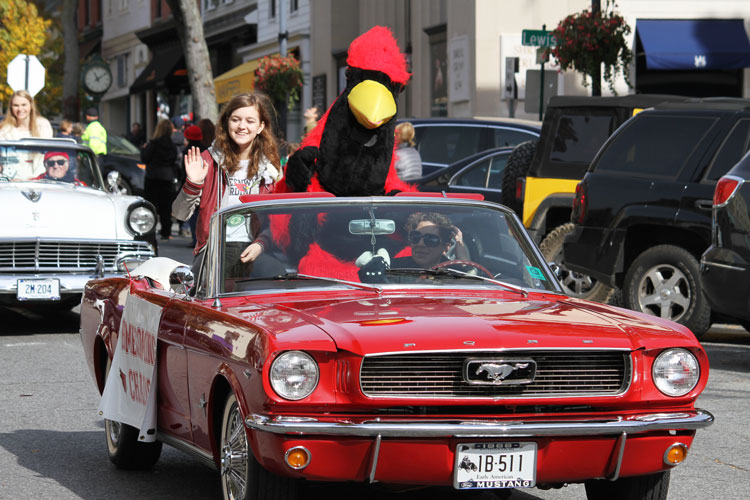 Editor's Note: Greenwich Sentinel reporter Evan Triantafilidis contributed to this article. Also, for photos from the Greenwich High School Homecoming football game against New Canaan, check back here on Sunday.
The Greenwich High School football team had its chances against New Canaan High School during Saturday afternoon's Homecoming game at Cardinal Stadium.
Big Red's defense came to play and senior captain Luke Beinstock couldn't be stopped at times. However, it was the Rams that were able to build the quick 14-0 lead and hold on for the 24-14 victory.
"I am really proud of them today," Greenwich High School head coach John Marinelli said. "We run the same offense and they did a good job. They did things early and our kids were tentative. It's stinks that we gave up those two quick ones, especially on the screen pass. But once we settled down we started to play. Offensively not being able to punch it in really hurt us, but our kids really played their asses off. So I am proud of them."
The Rams, which have been averaging just over 50 points per game this season, only were able to muster 24 points against Big Red. However New Canaan always seemed to put points on the board when it mattered most.
"I think we have a pretty good football team," New Canaan head coach Lou Marinelli said. "At times I thought we showed it today and other times we didn't. We have some areas of improvement. I look at this as one of the best things that could have happened to us. Our first team offense and defense never played more than a half. All of a sudden we had to play a whole game and it was a game until the game. I am proud of my son and what he did. It was a hell of a game."
While it was Homecoming at Greenwich High, it was also the first time that first-year head coach John Marinelli's team took on his father, legendary head coach Lou Marinelli's New Canaan program.
For the GHS head coach, he approached this contest as just another game.
"I get it," John Marinelli said. "There's a lot of hoopla about the Marinelli Bowl and everything else. But I went to work every day and I made sure that I got my kids ready. I kept the emotion out of it. I'm sure their practices were all about me and for my kids, they don't know that about me. They don't know my New Canaan side. They know that I'm in Greenwich. I'm so happy to be here and so happy with how the kids played. I am fully a Greenwich kid now."
Although the Rams got the victory, this game wasn't so enjoyable for the elder Marinelli.
"Not fun at all," Lou Marinelli said. "I would rather not play against him. It's a no-win situation. I am proud of him. I thought he did a hell of a job. If we didn't score early, it might have been a whole different deal. I thought he did a tremendous job against us and I thought those kids played hard for him. I'm glad we got out of here. It's over. I don't have to worry about it until next year."
However, getting out of Cardinal Stadium with the victory wasn't as easy as many thought it would be. Aiding in New Canaan's victory was its quick start. Before Big Red could blink, the Rams were up 14-0 and silenced the raucous Homecoming crowd.
New Canaan got the ball first and two plays in were able to capitalize, as quarterback Mike Collins connected on the screen pass to Matt Cognetta. Cognetta bolted up the middle of the field, outran the GHS defense and scored on the 50-yard touchdown only 26 seconds into the game.
After the Cards went three-and-out on its first possession, the Rams started on the Greenwich 46. Three plays later, it was Collins who stepped back and found James Freyre all alone between the hash marks at the 10-yard line. Freyre ran it in the final 10 yards for the 14-0 lead with 9:23 to play in the opening quarter.
From there, Greenwich's defense kicked it up a notch and made things a lot more challenging for the Rams. New Canaan turned it over on downs on its next drive and was intercepted by Greenwich's Joseph Lanni on the first play from scrimmage after a GHS punt with 4:22 left in the quarter.
In total, Big Red's defense came up huge several times. They forced the high-powered Rams to punt four times. In addition to Lanni's interception, Collins was picked off by Greenwich's Connor Langan and Langan had a fumble recovery early in the fourth quarter.
For John Marinelli, the improvement with the defensive unit was a simple, but important, fix.
"We communicated," John Marinelli said. "It's amazing. One thing about New Canaan is that they have guys everywhere that are open. It's all misdirection and the spread. So if we stay on hits, force them to make passes and force them to compete on balls, that's going to help you. I thought our secondary did a great job coming back off of last week and really did something. They got after it this week."
With the defense clicking, it was time Greenwich's running game stepped up. Leading the way was senior Luke Beinstock, who was stellar on his final Homecoming game. He finished with 23 carries, ran for 124 yards, netted 41 receiving yards and rushed for one touchdown.
"We knew this week that this was a pivotal game," Beinstock said. "We really wanted to come out and our linemen really stepped up and really cleared the way for me. I was really trying to attack their defense and was trying to juke guys over. It was a really physical game."
Even the passing game got into the act and was key to Greenwich's first touchdown. Getting the ball to start the second half, and trailing 21-0, GHS quarterback Frank Alfano went to the air three time during the six play drive.
After throwing to Tyler Ferris for nine yards and Lanni for 10 more, Alfano darted out of the pocket and found Ferris for the over the shoulder catch in the right corner of the end zone for the 29-yard touchdown reception.
Alfano finished the Homecoming game going 15-for-22 for 195 yards.
With time winding down in the third, Big Red kept the air attack going strong. Starting out on its own 19-yard line, Alfano found Lanni in stride for a 47-yard completion.
Lanni finished with three catches on the day for 75 yards and that touchdown that made the score 21-7 with 8:43 left in the third.
Beinstock took the handoff on the next play and sprinted 30 yards. Three plays later, it was Beinstock again taking the handoff and plowing up the middle for the 1-yard touchdown that cut the New Canaan lead to 24-14 with 1:22 left in the third.
"We had a good running game," John Marinelli said. "Our line really does a great job. Luke Beinstock is incredible. Basically we were just giving him the ball. You look in his eyes at halftime and he said 'coach, give me the ball.' We did that in the first two drive of the second half and made it a game."
While Greenwich was defeated by 10, there were several chances for the game to turn around. On Big Red's final drive of the first quarter, they had a first down and goal from the New Canaan 8, keyed by a 41-yard reception by Beinstock, but were one yard short on fourth down.
Big Red's next possession was a 13-play drive that started at the Greenwich 15, however a fumble that New Canaan's Andrew Jahans picked up ended the threat.
It looked like Greenwich had a chance to capitalize, as Langdon netted the interception on the Rams next drive, however Alfano was picked off by Ryan O'Connell with 1:11 left in the half. Six plays later and with 9.4 seconds to play, the Rams scored on an 8-yard touchdown completion to make the score 21-0 at the break.
After New Canaan connected on the 32-yard field goal to make the score 24-7 midway through the third, Greenwich, highlighted by a Alfano to Scooter Harrington completion for 14 yards, had the ball on the New Canaan 43 with a third down and one.
However, two false starts and one delay of game penalty turned that one yard into 16 yards. GHS punted two plays later.
Despite the outcome, Beinstock was pleased with Big Red's performance.
"We are starting a new program," Beinstock said. "What Coach Marinelli has done has been absolutely incredible. In the Trumbull game, we made too many mistakes. A loss is a loss, but we knew we should have done better, so we wanted to come out here and prove something to the state. We really care about our coach and really wanted to prove to him that we were appreciative of him coming over here."