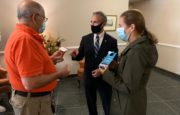 The final push to complete this year's census is on, as local and state officials are making rounds to encourage residents to get counted before the Sept. 30 deadline.
On Monday, Lt. Gov Susan Bysiewicz joined Greenwich First Selectman Fred Camillo, and State Reps. Harry Arora (R-151) and Stephen Meskers (D-150) to knock on doors at Greenwich Close Apartments across from Town Hall.
Tyler Fairbairn, the town's Director of Community Development and the head of Greenwich's Complete Count Committee, was part of the group, too, along with Greenwich Communities Executive Director, Tony Johnson.