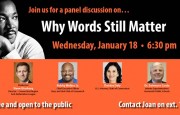 Each year, to honor the legacy of Dr. Martin Luther King, Jr., YWCA Greenwich holds an event to spotlight issues that Dr. King dedicated his life to addressing. With the recent rise in hate speech and hate crimes across the country, the 2017 event will focus on "Why Words Still Matter" in the context of building a community without hate. The 2017 event will be held on Wednesday, Jan. 18, from 6:30 to 8 p.m. at the YWCA Greenwich, 259 East Putnam Ave., and is open free for all members of the Greenwich community. read more...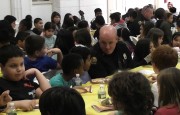 There were a lot of smiling faces and full bellies at the Boys and Girls Club of Greenwich Tuesday night. Nearly 400 of them to be exact.
"I like that everyone comes and serves us food just to make us happy!" said Kyle, a BGCG member.
The Club celebrated their 13th Annual Thanksgiving Dinner with a lot of help from community.
"It is a great time for the kids, not only for all of us to be together but to be thankful for what this club brings to the community," said Bobby Walker Jr., CEO of the Boys and Girls Club of Greenwich.
And for the 13th year, Watson's Catering took care of the Turkey Day essentials free of charge.
President of Watson's Catering Susan Scully said, "Especially now with funding being cut everywhere, it is nice for us to be able to do something. And for a lot of children, this might be their only Thanksgiving dinner so it make me so happy to know that we are doing it for them."
Current and alumni members say the Thanksgiving feast is a special time at the Club.
"It's really cool because I get to be with all of my friends and eat this big dinner. Everyone here at the club is a family so you can't be alone," said Carlos Flores, a BGCG member.
Kathy Castellanos, a BGCG alumni now works at the Club during the week. "It's nice to have this type of this provided for the kids who really don't get a lot. It shows that the community is coming closer every year so it's nice seeing stuff like this happen."
"It really reminds me of what this club means to the community. I think that is the thing I am always reminded of," said Walker Jr. "You see how many people willing give of their time, their energy and their personal resources and you understand that a lot of people get that this club has a place in our community. It is one of those places where when you walk through those doors, everyone is a club kid!"
read more...