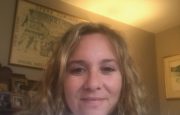 There is a part of me that feels like I am on an airplane right now. We are flying through
thunderstorms, diverted to a different airport, and experiencing intermittent turbulence. The
pilots are focused on flying the plane, they have little time to get on the intercom and assure us
we will be alright, and the flight attendants have been instructed to sit down. Other passengers
are nervous too. We look to each other for comfort, but it feels fleeting.