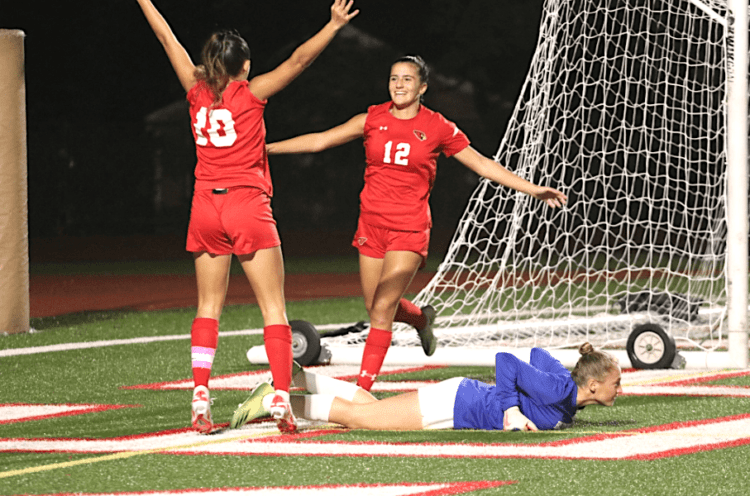 By David Fierro
The unbeaten streak has reached seven games for Greenwich High School's girls soccer team, which has sharpened up its play and built significant momentum with each matchup.
After playing formidable Staples and Trumbull to a draw and defeating Danbury, the Cardinals added another win to their ledger Friday night, thanks to a splendid second half.
Three second-half goals powered Greenwich to a 5-2 win over Darien before a big crowd on Youth Night at Cardinal Stadium. The victory raised Greenwich's record to 5-1-3 overall and put them at 4-0-3 in their past seven games. Darien (4-4-1) held a 2-1 lead late in the first half, but GHS scored in the half's final minute, before seizing control in the second half.
Sophomore Harriet Franks scored two goals, while seniors Emma Abbazia, Julia Acosta and Brooke Wilkowski added one goal apiece for Greenwich, which is in third place in the eight-team FCIAC West division with 18 points and is in prime position to qualify for and make their mark in the FCIAC and state tournaments.
"I'm very impressed with how we played," said Acosta, a forward/quad-captain. "We came out with very high intensity and played really well as a team and connected the ball. Even though we were down at one point, we took that as an opportunity to push hard to get a goal lead. And once we got into the second half we really showed them who Greenwich is."
A goal by senior tri-captain Caroline Aponte off an assist from junior Keeley Fox gave Darien a 2-1 advantage with 5:21 remaining in the opening half. Acosta tied the score at 2-2, scoring off a well-executed pass from Abbazia with only 34 seconds left in the first half.
"It was a counter attack, they had a corner and Emma was dribbling down the middle," Acosta noted. "She played a great through ball behind all the defenders. I took a touch and placed it bottom left."
Cardinals coach Simon Rumbold emphasized the significance of his squad tallying the equalizer before halftime.
"The goal before halftime really changed it," Rumbold said. "The girls' energy in the first 10, 15 minutes of the second half is really what got the game in our favor."
Capitalizing on opportunities was the theme for the Cards in the second half against the Blue Wave. Abbazia gave GHS the lead for good at 3-2 when she tallied off a pass from Acosta with 37:30 to play in the second half.
"We struggled as a team before to get in that final third and finish the ball, but today we really demonstrated who we are as a team and that we could get goals in," Acosta said of the Cardinals' offensive performance during the second half.
In the game's 47th minute, senior midfielder/quad-captain Brooke Wilkowski padded the home team's lead, tallying off a nice set-up by Acosta, making it 4-2.
"Julia had a great cross, we all attacked the ball to the middle and it's just about who gets on top of it," Wilkowski said of her goal.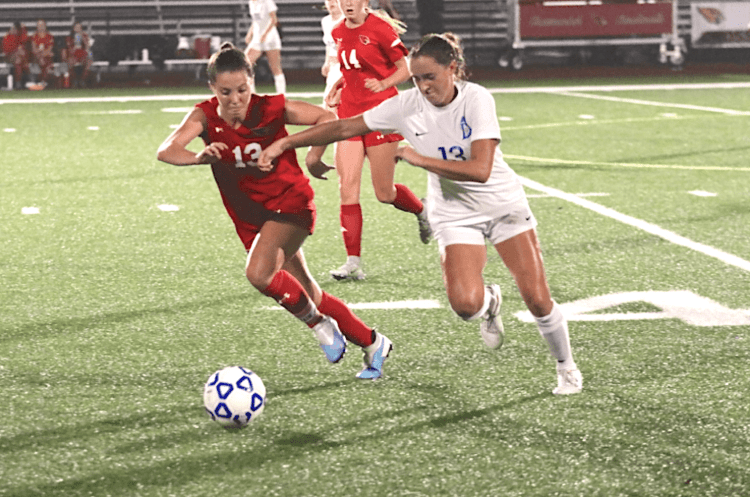 Franks sealed the game's scoring, converting a shot off an assist from Abbazia, at the 24:56 mark of the second half.
"I thought it was one of our best games," Wilkowski noted. "We have been improving a lot over the season. With the energy of youth night, we brought it out."
Said Rumbold: "We were able to manage the game really well the last 20, 25 minutes. It was a great team performance."
Frank put the Cardinals on top, 1-0, with a goal off a nice assist from junior midfielder Anna Martschenko in the 28th minute. The Blue Wave knotted the score on a goal by sophomore Anna Von Kennell with 6:39 to play in the opening half.
Junior Lauren Huang was solid in goal again for Greenwich, whose lone loss so far this season is to undefeated St. Joseph. Senior captains Adriana Jones and Meghan Ross helped fortify the defense against the tough Blue Wave.
"Darien is a really great team, they have a lot of speed up top, but we were able to control possession and capitalize on our opportunities," Jones said. "It was very intense out there, but we calmed it down. We were able to maintain our emotions."
Indeed, the Cardinals' defenders helped ignite each line.
"We helped set the tone for the game and for the rest of the team," Ross said. "If we're solid in the back, it sets the foundation to build out of and that's what we did today. We passed it around and got Darien out of position and it allowed our offense to play really well."
Abbazia, Acosta, junior Taylor Carrescia and Franks helped spark GHS offensively, while Rumbold credited Anna Lenschow for being "outstanding" at her center midfield position.
During the seven-game unbeaten streak, the Cardinals have outscored their opponents, 21-5. They have allowed two goals or less in each game and have recorded four shutouts.
"I think this win will propel us to better games in the future," Wilkowski said. "With the team unity and the team being together and having good friendships throughout – I think it's really positive."
Greenwich hosts Stamford tomorrow at 4:30 p.m., then travels to Ridgefield on Thursday for a 6 p.m. game under the lights.
"We have Stamford and Ridgefield coming up, which are going to be tough competitors," Ross noted. "But every game we're building up, we're building on our technique and skills. So, if we continue on our path, it should be solid from there."
"I'm very excited and I'm very proud of us," Acosta said. "We've come a long way and we've demonstrated how good we can be."