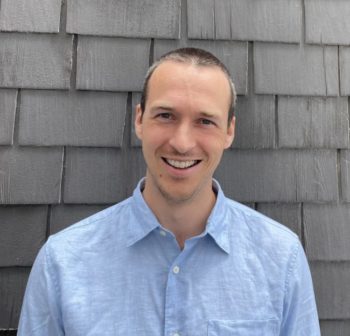 Christ Church Greenwich announces the hiring of a new clergy member, Deacon Tim Hamlin. He will be the Assistant Rector of Congregational Life and is in transition to become a priest in 6-12 months.
"We are thrilled to have the Rev. Tim Hamlin joining the Christ Church Greenwich clergy staff," said the Rev. Marek Zabriskie, Rector of Christ Church Greenwich. "Christ Church has been blessed to have scores of new members and young families join us over the past five years, plus we have over 100 children in our preschool. Tim will not only broaden the access to priests for everyone, he will also help us connect more deeply with young families and involve them in ministry, worship, and service."
Tim grew up in upper Manhattan. He was a member of St. Michael's Episcopal Church on West 99th Street, where he was baptized, confirmed and sang in multiple choirs. He graduated from Pitzer College, one of the Claremont Colleges in California, and was sponsored for ministry by the diocese of Los Angeles. He worshiped at St. Mary's Episcopal and attended Episcopal Divinity School at Union Seminary in New York. Tim is married to Henley Cox and they have a two-year-old son, Silas, with another child due in October. A newly ordained deacon, he looks forward to being ordained to the priesthood in January and is delighted to be joining the staff at Christ Church.
About Christ Church Greenwich:
The Sunday Forums at Christ Church Greenwich are a continuing series of free talks, bringing important conversations to the Greenwich community.
Christ Church is a lively community of faith composed of people with diverse backgrounds, circumstances, and spiritual journeys, bound together by God's love for all people everywhere and united in the common mission to seek and serve God in all persons. We fulfill this work through the dedicated ministries of over 300 volunteers annually, who serve on more than 40 commissions, committees, guilds and task forces. In addition, the church hosts and supports more than 20 community meetings per week including 12-step programs, choral and music groups, neighborhood groups, and children's programs. The Christ Church Preschool is a regional leader in early education, and our bookstore, Dogwood Gifts and Books, is a thriving resource of both faith-based and secular books. Their 40-year partnership with Neighbor to Neighbor allows them to serve those in Greenwich who are in need of food.
The Mission of Christ Church Greenwich is to be a vibrant Episcopal community proclaiming God's love for every human being, no exceptions. Following Jesus' teachings is their compass for personal growth, community outreach and harmonious living. Its vision is to seek and serve God in all people through inspiration from the Bible, worship, community outreach, music, and art in our sacred historic home.
Questions? Bobbie@christchurchgreenwich.org