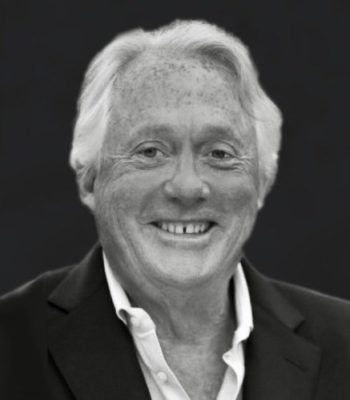 Theodore Augustus Bell III, known as Ted Bell, of Greenwich, CT, passed away peacefully at age 76 on January 20, from an intracerebral hemorrhage. He was born in Tampa, FL.
Ted was the devoted father of Byrdie Bell. He was predeceased by his parents, Mary Trice Bell, Theodore A. Bell II, stepmother Sally Bell, his brother Pendleton Bell and stepbrother Mitchel Stiles. He is survived by his sister Sally Powell (Stephen), many nieces, and a nephew.
Ted graduated from Randolph-Macon College in Virginia with a B.A. in English and was a former member of the college's Board of Trustees. Ted held an honorary Doctor of Fine Arts from Kendall College in Michigan and an honorary doctorate from Florida Southern College, where he was the Adjunct Professor of English Literature.
Ted Bell was a leading talent in international advertising, winning seven Clios, three Cannes Gold Lions, and the prestigious Grand Prix.
Ted began his advertising career at Doyle Dane Bernbach, New York, in 1976, as a junior copywriter and became the youngest vice president in the storied history of the creative powerhouse, DDB. In 1982 he joined Leo Burnett Co., Chicago, as a creative director. He was named President and Chief Creative Officer in 1986 at age 40. In 1991 Ted joined Young & Rubicam, London, as Vice Chairman and Worldwide Creative Director. After ten years at the creative helm of Y&R, then the world's largest ad agency, Ted retired in 2001 to write full-time.
A New York Times best-selling novelist Ted Bell wrote ten consecutive bestsellers: eight from his Alex Hawke series of spy thrillers, plus two from his young adult adventure series Nick of Time and The Time Pirate. His work has been translated into 17 languages.
Ted was a member of the Defense Orientation Conference Association and of the Board at George Washington's Home at Mt. Vernon. He also served as an advisor to the Undersecretary for Domestic Relations at the U.S. Department of State.
In 2011-2012, Sir Richard Dearlove, former Chief of MI6, sponsored Ted to become a Visiting Scholar at Cambridge University. Ted was named Writer-in-Residence at Sydney-Sussex College, Cambridge, a setting known for its connections to the intelligence community. In 2013, Ted gave the inaugural lecture for the exhibit Spy: The Secret World of Espionage at the Reagan Library in California.
Ted was known for his creative talents, intelligence, wit, and sense of humor. He was a true southern gentleman. He was loved by all his friends and family. He will be truly missed and always be remembered.
A memorial service will be held at Saint Barnabas Episcopal Church, 954 Lake Avenue, Greenwich, on February 16, at 11am.