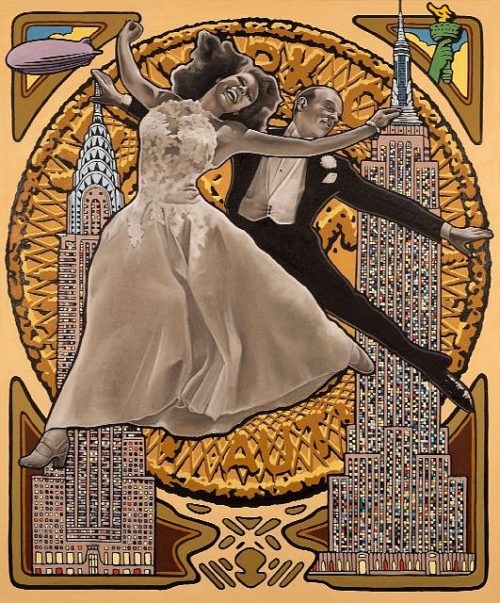 Cavalier Galleries presents Pretty, Desirable, Delightful, Dangerous, a solo exhibition of new works by William Nelson. An opening reception with the artist will be held in the Greenwich gallery from 5-7pm on Thursday, September 22.
This latest body of work invites us into a dynamic world of glamour and mystery, rich with symbolism, history, and intriguing narratives. In this exhibition, Nelson takes us on a tour of New York City and beyond, revisiting icons of film, pop culture, and architecture as he merges illustration and portraiture in his signature style. In a painting titled 51st and Lex, Audrey Hepburn as seen in Breakfast at Tiffany's reclines with effortless elegance along the bottom edge of the painted picture frame, set in black-and-white glory against a richly colored background depicting the 1931 General Electric Building's Gothic Revival crown. A nod to the Lexington Avenue landmark's origins takes the form of lightning dancing in the midnight blue sky. The skyscraper's pinnacle is framed by a large circle and bordered by a pastiche of Art Deco-styled stained glass, and comic-book-inspired gargoyles.
Each of the canvases in this exhibition are similarly dense with references—constructivist both in their creation and their interpretation, unique to the individual experiencing the work and their personal histories. Nelson's own history plays a role in his visual repertoire, recalling his childhood spent devouring the Sunday comics, and frequently visiting the movie theater to escape the Florida heat. His avid consumption of the images surrounding him—drawings, films, the sculptural elements of the landscape and built environment further expanded when he moved to New York City as a young adult. Today these images and memories come together as Nelson sets the stage in each work, bringing disparate characters together with a vibrancy that commands our attention much in the same way as the big screen has always captured his own.
William Nelson graduated from the School of Visual Arts, in New York City in 1993, and has since exhibited in notable contemporary institutions throughout the country. His work has been showcased at prestigious art fairs such as Art Miami, Palm Beach Modern + Contemporary, The Palm Beach Show, and Art New York, as well as annual exhibitions with Cavalier Galleries in New York, Greenwich, Nantucket, and Palm Beach.
For more information: (203) 869-3664 | art@cavaliergalleries.com | https://www.cavaliergalleries.com/exhibition/219/press_release/