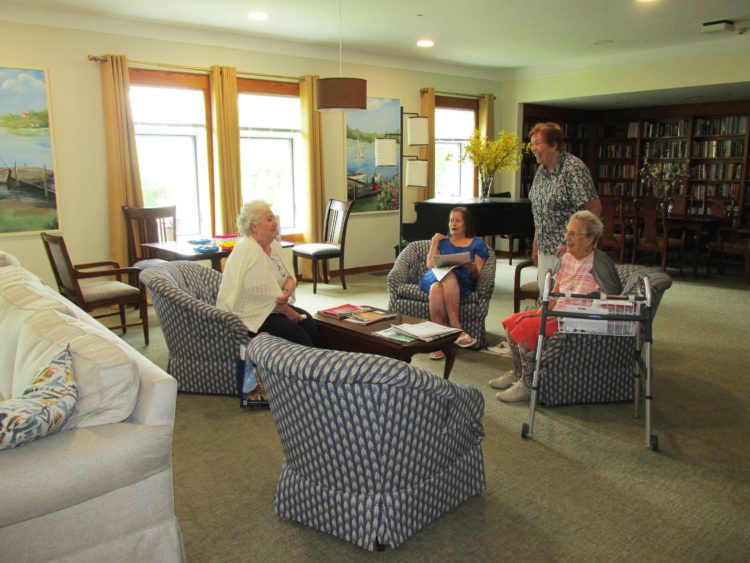 By Anne W. Semmes
On Riverside Avenue there's a place of grace, charm, and generosity called Hill House (HH) that sits astride the Mianus River and houses 66 senior residents of middle and fixed income. Take a stroll through the gracious community room, and spacious dining room, and you'll see residents gathered in friendly groups perhaps sharing their watercolor classes, the stories they wrote about their life in a writing class, or what they enjoyed on the Town's weekly "Cruises to Nowhere" around the Greenwich coastline.
But what is especially plain to see this week are those handsome filled-to-the-brim bags about to be delivered to 200 seniors living in public housing so recommended by the Town's Department of Human Services. "We'll be loading the bus for certain areas like Quarry Knoll and Armstrong Court and Vinci Street," says Lisa Crowley. program director at Hill House.
This is a story of seniors helping seniors. "And why this is such a special project," notes Crowley, "is that those seniors who are on SNAP benefits (Supplemental Nutrition Assistance Program ie food stamps) cannot buy personal items like toilet paper, shampoo, and deodorant with their SNAP cards. This is coming out of their social security check or whatever."
Here's where Hill House resident Marilyn Machi stepped up with a plan. With their generous Christmas Gift Card giving to these same seniors in town, they learned from a Town questionnaire of those seniors their preferences for personal gifts. "The number one thing they wanted was toilet tissue," said Machi. "And it went down from there – shampoo, soap, deodorant, and hand cream. "
Machi proposed her plan in a residents meeting. What if they would each give $5 for four months to gift these items to the 200, and Machi would go to the Dollar store to pick up those five personal items. By the time she rounded up funds from some 42 residents (with some paying more than $5), "The Dollar store had increased their pricing by a quarter," says Machi. She needed to raise $250 more.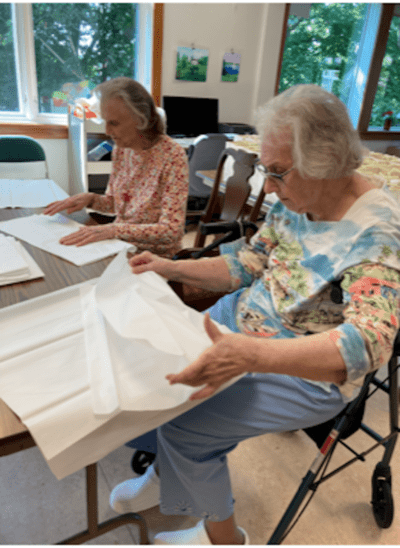 Perhaps she could get help from Neighbor to Neighbor (N2N) on where to get toilet paper. "Duncan Lawson, (Food Resource & Operations Manager for N2N) had just purchased two pallets of toilet tissue," Machi says, "And he agreed to sell me 200 packs (four in each) of them at his costs." Putting a contributions jug in the Hill House entryway brought additional funds. To top it all off, she adds, "The [HH] board underwrote the cost of the packaging. They took care of the bags, the stickers, the ribbon. It was like whoa!"
Lisa Crowley has praise for that HH board. "It is a group of people who are so dedicated. Just the quality of life of this place that they give to the residents is unbelievable. They're not on the board to sit and just say they're on the board. They're on the board to work."
Crowley speaks of coming out of a career in housing placement. "I've worked with people at risk for homelessness….and I never knew about this place. I got somebody in here, and that's how I got hired. I had no clue – but I will live here one day!"
"Hill House is considered to be the best kept secret in Greenwich," agrees Machi, who became a resident six years ago. "I'm a transplant from Pittsburgh," she tells, luckily with a son who lives in Darien and knew of Hill House.
Machi came to Hill House with her "scooter" as she's had mobility issues for years that only became more confining during her time at Hill House. But she manages well in non-assisted living Hill House.
A skid would be essentially a pallet. Duncan had just purchased 2 pallets of toilet paper and agreed to sell me 200 packs (packs are of 4 rolls each).
"So, residents come along like Marilyn, willing to take the amount of time she has put in here and do it on her own and get everyone involved," says Crowley. It's all about, she adds, "Let's do this project…Let's rally around our neighbors, or our peers who aren't as lucky as us to be in a place as wonderful as this. Let's do this."
And Crowley has more to cheerlead about. "These [HH] seniors come in and they have a long, rich history of work experience, of life experience, of intelligence, and humor, and grace. And when you put them all together in a room and give them the opportunity to do something like helping other people, they're coming out of generosity of themselves and give back in such an important way." She cites resident Maureen Van Deusen – "She's now running a watercolor class. They don't have to do this, but they've got experience, they've got the strength behind them to offer it up to the other residents and that's what makes us such a unique community."
For more information on Hill House, visit www.thehillhouse.org or call 203-637-3177.