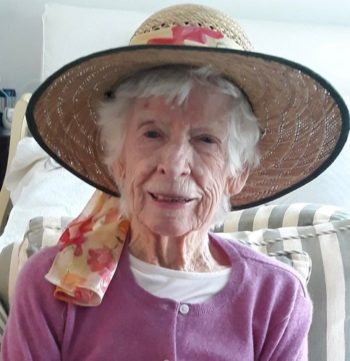 Elizabeth "Lilly" Stevens, 98, passed away peacefully at home in Washington Depot, CT on June 5, with her children by her side. She joins her adored husband of 68 years, David F. Stevens, her infant daughter Diane, her parents John and Catherine O'Keefe, and five sisters and a brother. Lil leaves with love her seven children: David Stevens (Cindy); Diane Stevens; Doug Stevens; Denise Arturi (Peter); Dawn Stevens (William); Dona Yasser (Ed) and Deborah Stevens, 16 grandchildren, six great-grandchildren and many nieces and nephews.
A Greenwich native, Lil was a 1942 graduate of Greenwich High School. During WWII she made airplane parts at the Old Greenwich Electrolux factory, moved on to accounting positions and later had a successful career in real estate.
Yet her most rewarding job was "CEO" of her large family. She recognized the unique qualities in each of her children, encouraging their strengths and guiding them to find their own paths. She taught that equal love for each child, never picking a favorite, and making sure they loved each other built a strong family. As a testament, her children have raised their children with the same beliefs.
Lil's innate understanding and appreciation of individuals drew people to her. The door was always open to anyone who needed nurturing and counseling, and many found warmth in her words.
Lil drew strength from her Catholic faith, in particular Mother Mary "because she was a mother." Lil would like everyone to remember that the most important thing in life is love and our job is to embrace it, show it and share it. In her memory, say a kind word today and donate to the charity of your choice.
The family would like to thank RVNA Hospice for their support and care. A private service is planned.