By Stephanie Dunn Ashley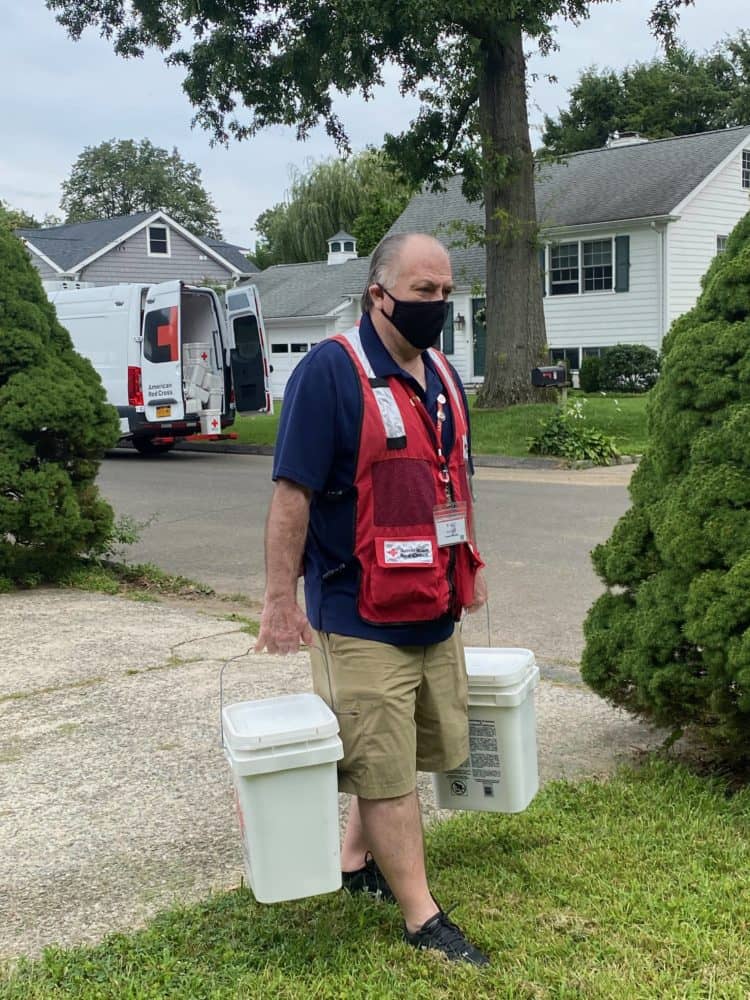 The volunteer spirit of the American Red Cross is one of the things that drew me to the organization's Metro NY Chapter, headquartered here in Greenwich, in the spring of 2020.
Community service has always been an important part of my life — from my time as a kindergartener helping with bake sales and clothing drives, to benefit local need-based organizations, to my current work as a volunteer firefighter and EMT with the Cos Cob Fire Police Patrol.
Volunteers make up 90% of the American Red Cross workforce, and our mission to provide humanitarian relief and lifesaving safety education would simply not be possible without them.
National Volunteer Week, April 17-23, provides an opportunity for us to honor and thank these selfless individuals who do everything from teaching emergency preparedness to supporting our military communities to assisting with donations at our Greenwich headquarters' new Jill and John Coyle Blood Donation Center — in addition to offering humanitarian aid after disasters.
Since joining the Red Cross, I have seen firsthand the professionalism and compassion of our volunteers at the scenes of multiple emergencies in the communities we serve.
Last winter, when I arrived at an apartment-building in Yonkers after a massive fire, residents who'd been forced to flee their homes — some with just the clothes on their backs — were out in the street. One particular conversation that night caught my attention and stuck with me. An elderly woman who had been rescued by ladder from her fourth-floor apartment was discussing her ordeal.
"As soon as I got off the ladder," she said, "I saw this woman in her Red Cross coat and she gave me a blanket."
The woman in the red coat was one of our mental-health volunteers, someone who gave of her time to help her neighbor at a particularly trying moment. And the blanket was just the first line of support. Our disaster relief includes emotional support, as well as help with emergency housing, food, clothing, and health needs, just to name a few ways we offer hope.
The Yonkers incident was just one of the 140-plus emergencies the Metro New York North Chapter of the American Red Cross responds to annually in Greenwich, Westchester County, and Rockland County. This includes home fires, building collapses, and the Hurricane Ida flooding last September that upended so many lives.
Last year, volunteers from our area also answered the call to help far from home, offering compassion to those impacted by tornadoes in Kentucky, wildfires out West and hurricanes on the Gulf Coast.
I'm inspired by the passion each volunteer brings to his or her role, as well as the dedication to the Red Cross mission and connection they have with fellow volunteers.
We're so grateful for the superstars who have volunteered with our chapter for decades — including one who recently completed 64 years of service! — and also for the new team members who joined during the pandemic.
The Red Cross has so many different activities and lines of services for people to get involved with based on their experience, their interests — or both. If you're thinking about joining the Red Cross or one of other great local service organizations in our community, National Volunteer Week is a great time to start. I think you'll find that making a difference in the lives of those in need will change your life as well.
To learn more about becoming a volunteer, visit redcross.org/Volunteer Today. I hope to see you on our team and let's all give a bit back to others.