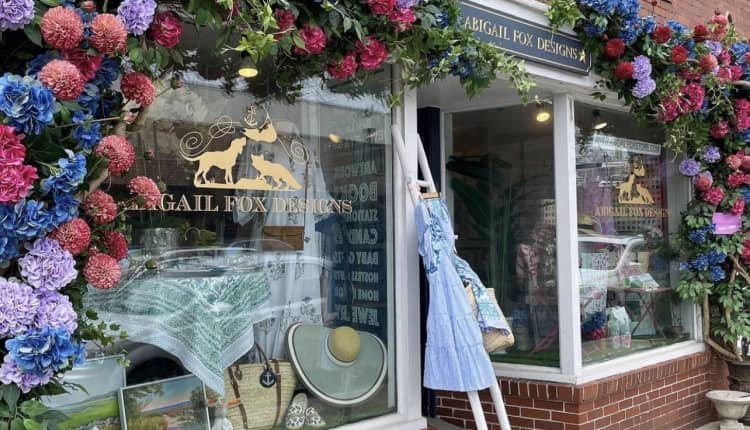 In late March Abigail Fox Designs erected a temporary floral display outside her store front to celebrate spring's arrival. She has done this before and by all account's fellow merchants, customers and residents have all enjoyed the splash of color harboring the change of seasons.
Well, someone did not like it. A complaint was lodged, and the building owner was told by the town the display needed to come down. Ms. Fox was dismayed. She had worked hard to create the display out of silk flowers, and it was not inexpensive. The town's response was the rules are the rules and she should have applied for a sign permit.
A sign permit? For flowers? Apparently, any "eye catching device" is considered a sign and needs a permit according to town regulations. When you think about this it actually makes sense. An "eye catching device" could be a huge mylar blow-up clown type balloon you see in front of used car dealerships. That would certainly not fit with the character of our community. But still, flowers?
When Ms. Fox was informed about her "eye catching device" needing to be removed she did what any one of us would do – she told her friends. Soon, an online petition began and then the word really spread. As of earlier this week, there were nearly 2,000 signatures. The community was involved with resounding opposition to the flower's removal.
We spoke with Katie DeLuca, the Director of Planning and Zoning for Greenwich this week and learned that if there is a silver lining to the complaint being filed, it is that the Town is already working with a consultant to update the P&Z sign and lighting regulations. Now Ms. Fox's flowers can be addressed as part of that process.
When we questioned how the floral display is different from say the Christmas decorations that businesses are encouraged to put up, we learned there is actually a holiday display regulation that says they can be up for no more than 40 days. It is a regulation that went through a public approval process to ensure it was something the community wanted.
That is a point that Ms. DeLuca emphasized to us that Planning and Zoning is not in place to tell you what you cannot do, but rather to ensure it is what the community as a whole wants. The importance of regulations going through a public approval process allows for that dialogue to occur. We have all heard "beauty is in the eye of the beholder," so this is quite possibly a good thing.
We applaud Ms. Fox, not just for the beauty of her display, but for her ability to rally supporters to her cause. For too long it feels like we have been in COVID exile, add to that the atrocities emerging from the war in Ukraine. It is nice to see that positive grassroots efforts are alive and well and can be effective. We thank Ms. Fox for that rallying cry.
We also want to extend our appreciation to Ms. DeLuca for genuinely wanting to work with Ms. Fox to find a solution that is acceptable for everyone and is best for our community. She and her department have worked hard over the past two years to help restaurants, and now she is trying to help local businesses like Ms. Fox's to find solutions when creative opportunities are presented. It might be easier to say "no, take it down," but that is not what is best for our community.
As we evolve and grow as a community, our regulations must as well. They are in place not to just protect us, but for us as a community to say what we want to have happen in our town. Thank you, Ms. Fox and Ms. DeLuca, for working together to find a solution. And thank you to our business community for supporting one another.