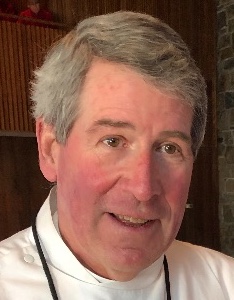 by Rev. Ted Pardoe
My first spiritual director was an Episcopal nun who lived with her sisters in a convent in upstate New York. Their religious community, the Order of St. Helena, moved to South Carolina into a newly built convent a number of years ago. I am an Associate of the community but the pandemic has prevented in person retreat opportunities. It is always a joyful experience to be present with the sisters in worship and in life in the convent. I look forward to the return of these visits in the coming months.
As we talked about my seeking a new spiritual director, sister ES (Ellen Stephen), suggested that a good Jesuit priest might be a good fit to discuss my "holy anger." I believe sister ES considered our passionate conversations about God's love, mercy, and justice to be indicative of a holy anger within me about these Biblical calls not being lived into in the world around us. I would not disagree with her assessment. It is an emotion that can support my faith journey as long as I stay in conversation with my spiritual director and others.
As it turns out, the spiritual director who I have been meeting with for many years now is a terrific Franciscan priest and monk in New York City. It is particularly healthy to meet on a regular basis with a spiritual director who is Catholic as a different Christian perspective from my own Episcopal Church. My holy anger is elevated as I look at what is going on in our town and country. We are a divided people. Divided especially by the partisan political nature of so many aspects of our society. We lack healthy connections with each other. We cannot see the full dignity of each other. This has led us into a culture of fear, distrust, tribalism, shaming and much strife. Our great history of civic engagement and communities of understanding is very hard to find.
Hard to find but not gone. There are many wonderful ways that people serve our community and neighbors who experience food insecurity and a range of other needs. Yet we need to reach farther to seek true engagement with one another to build back up honest connections that will serve each and every one of us in our community. We must hold up a spirit of caring that will result to make others feel valued.
A recent phone conversation went a good way to diminishing my holy anger about the situation in which we find ourselves. I spoke with a friend from seminary who is a leader of the Poor People's Campaign a National Call for Moral Revival. This fusion movement arises from Rev. Dr. Martin Luther King Jr. who in 1968 brought together poor communities from across the country at a rally in Washington D.C. In 2019 the Poor People's Campaign convened over 1,000 community leaders to continue the unfinished work of Rev. Dr. King.
My friend and her colleagues have brought a rich diversity of people of faith into the Poor People's Campaign. As she and her fellow leaders clearly point out, the 140 million poor and low-income people in our nation are from every race, creed, color, sexuality and place. The fusion movement seeks to rise not as left or right, Democrat or Republican but as people united in moral revival across our great country. While the Poor People's Campaign is laying this groundwork in over 40 states, Connecticut is not among them at the present time. Could there be an opportunity somewhere in this exciting action that is emerging?
Perhaps it might be with the poor and low-income people in our own town where we might all learn together to mend and re-build civic engagement and a true community of understanding.
With my holy anger addressed in my conversation with my seminary friend, I close by offering a prayer from the Episcopal Book of Common Prayer. It is for the Human Family;
O God, you made us in your own image and redeemed us
through Jesus your Son: Look with compassion on the whole
human family; take away the arrogance and hatred which
infect our hearts; break down the walls that separate us;
unite us in bonds of love; and work through our struggle and
confusion to accomplish your purposes on earth; that, in
your good time, all nations and races may serve you in
harmony around your heavenly throne; through Jesus Christ
our Lord. Amen.