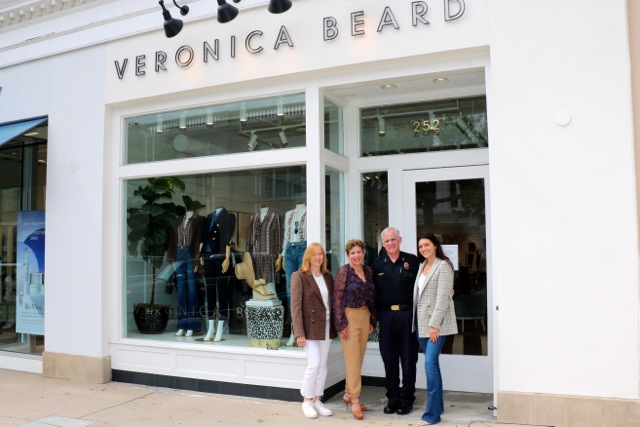 In 2018 the Greenwich Police Department (GPD) recognized a marked increase within the central business district of crime against area merchants. Criminals were visiting local businesses and committing crimes such as forgery, identity theft, fraudulent credit card and other financial transactions, and shoplifting. Some of these crimes became so prolific that in certain circumstances that they occasionally went unreported.
In response, the Department created an Organized Retail Crime Activity (ORCA) Team consisting of three dedicated officers with support from other members of the GPD. The ORCA team is tasked with countering the crimes afflicting downtown Greenwich. Working primarily in plainclothes in the central area, they have successfully established personal relationships with the employees of numerous businesses, including shops, stores, and financial institutions. As they developed trust among these diverse merchants, the officers assigned to ORCA slowly began to receive an increasing stream of information about suspicious individuals. Responding rapidly to these tips, ORCA officers can initiate discreet surveillance of the suspicious persons and take appropriate action once reasonable suspicion of a crime is established.
The result was hundreds of charges, large and small, brought against suspects and information shared with local business establishments to improve crime prevention procedures. To date, the ORCA Team has investigated 101 cases, resulting in 136 arrests for 311 felonies, 217 misdemeanors, and dozens of infractions, and a total of 803 charges. Many of these local arrests are tied to major regional cases investigated by federal law enforcement agencies, with some of the suspects connected to violent crimes committed elsewhere.
According to Chief of Police Jim Heavey, the ORCA Team has played an essential role in the redeployment of officers on Greenwich Avenue. Coupled with the use of patrol officers on bicycles, this is a superior use of their police presence that enhances public safety. "The Greenwich Police Department's goal is to address emerging crime trends and to align limited police resources with the needs of the community."
Heavey describes the primary objective of the professional crime rings as "not for personal usage of goods, but to turn the stolen property from retail stores into financial gain through re-sales. These criminal operations are responsible for tens of billions of dollars in losses each year nationally. Locally the losses can devastate a retail business."
The GPD's success in establishing good relationships with downtown merchants has literally become a two-way street. Various establishments on Greenwich Avenue are supporting the Greenwich Police Department's Scholarship Fund through celebratory Events for the GPD's 125th anniversary.  On Wednesday, September 22, Veronica Beard at 252 Greenwich Avenue will hold a kick-off event from 6:00 – 8:00 pm supporting the cause. Hosted by Chief of Police Jim Heavey, Sue Moretti Bodson, and Bobbi Eggers, the Veronica Beard shopping benefit will continue through Sunday, September 26, and 10% of proceeds will be donated to the scholarship fund when shoppers mention the GPD Scholarship fund. Erin Babiak, General Manager of Veronica Beard Greenwich, stated, "we are so honored to host the Shop for a Cause to benefit the Greenwich Police Department Scholarship fund. It is truly at the core of Veronica Beard's DNA to find these meaningful partnerships within our communities." Style, purpose, and community policing come together to support Greenwich Police Officers' college students. For more information, call Veronica Beard at (203) 745-2881.
About the Greenwich Police Department's Scholarship Fund
The Greenwich Police Department is asking for the community's support of the Greenwich Police Department's Scholarship Fund. Every contribution, however big or small, is so valuable for the future of our children. The Greenwich Police Department Scholarship Fund, incorporated in December of 1962, was granted tax-exempt status under Section 501(c) (3) of the Internal Revenue Code in November 1963. To donate, http://bit.ly/GPDSFdonate.
In 1963, three scholarships were awarded, which represented 80% of the fund's available resources at that time. Now almost 60 years later, there are approximately 20 applicants each year, supporting both college boarders and half scholarships to college commuters. They must be enrolled as full-time students and maintain an academic GPA of 2.75 or better.
The fund is governed by a Board of Directors, comprised of four individuals whose roles in the community ensure the Board's self-perpetuation. These individuals are the Chief of Police, the Greenwich High School Principal, a Town Attorney, and a highly reputable and concerned volunteer from Greenwich's business community. The Office of the Chief of Police is responsible for the day-to-day administration of its activities. Scholarship awards, however, are awarded after review and a vote by the Board.