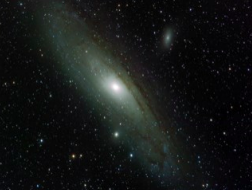 On Saturday, September 25, from 2:00 – 3:00 p.m., Laurie Averill and Jim Mazur from the Astronomical Society of New Haven will teach us about phenomena in the night sky. Learn about objects both near and far that are visible with the naked eye, binoculars, and telescopes.
Jim Mazur and Laurie Averill are active members of the Astronomical Society of New Haven, sharing their enthusiasm for astronomy through presentations at local libraries and views of the interesting objects at the Society's observing events. Jim has been an amateur astronomer and astrophotographer since elementary school and displays his images on his website www.skyledge.net. Laurie's interest in astronomy increased when she started dating Jim. She also volunteers as a Solar System Ambassador, a program of education and outreach about NASA missions sponsored by the Jet Propulsion Laboratory of CalTech.
This is a Zoom program and requires registration at https://nhfpl.libnet.info/event/5235376
(if you register and can't make it, please cancel). We'll send out the Zoom link about a week before the event.