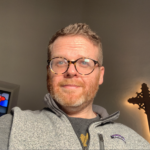 By Shawn Garan
As we await the birth of our third child I am reminded of our twins birth 10 years ago. Back then, we had tried to have children even when the doctors said it was unlikely. We had almost given up when we got the miraculous news that my wife was pregnant with twins. Their birth brought us so much joy but 12 months later we were told that our son had autism. As a person of faith I was so vexed by this. Why would God give my wife and I this gift and then allow for this to happen? I wrestled quite a bit to find an answer. These days it is that answer that continues to speak to me as the world we live in seems so unstable. Why does God allow for this instability and where is God when we need them the most?
It was in my prayers 10 years ago that I felt the weight of truth come over me, as if God had spoken directly to me saying, "this world is the way it is and my world is not the way this is." There are many passages in many sacred texts that speak about the world to come and about how God's ways are not our ways. There are promises of bliss in the afterlife and it is very clear, God is awaiting a day of restoration but that day is not yet here. My son has autism now, the world is going through a pandemic now, and the future is uncertain now. So where is God right now?
In one of the most famous passages of the Bible, Psalm 23, we read a story about a king before he was a king. We read a story about a human being who walked in dark valleys that felt like death, we read a story about a human being who asked the same questions we ask in times of uncertainty. He asked a question and he didn't hear an audible voice, he never met the God he was praying to, he simply resolved to believe that God was in the one place he needed him to be. King David, the author of this Psalm, believed that if God wasn't going to swoop in and make everything better, then God must be right there with him.
It made me think that, if God is the Great Parent of all, then my son is also God's son with autism. It made me think that if human beings are suffering a pandemic, then God is right there suffering with us too. I have concluded, just as the Psalmist did, that God is walking every step with me, experiencing every joy, every defeat, every moment of despair, and every moment of uncertainty. And in those places God is with me, "leading me beside still waters" and "restoring my soul." As the Psalmist states, "God leads me in right paths" even when that path is the "darkest valley" and I don't need to fear because "your rod and your staff — they comfort me." That is what the Psalmist spoke 3000 years ago and I find it comforting to know that in times of instability, while God may not make hard things just go away, God is the one who walks with me.
I have many questions to ask that Great Big God out there but for now, I will walk through what I must walk through knowing that I am not alone. I will look for that rod and staff to guide me, trusting that the eternal home where my souls end up, is where my story ends.
Walton, J. H., & Keener, C. S. (2019). Nrsv cultural backgrounds study Bible: Bringing to life the ancient world of scripture. Zondervan.