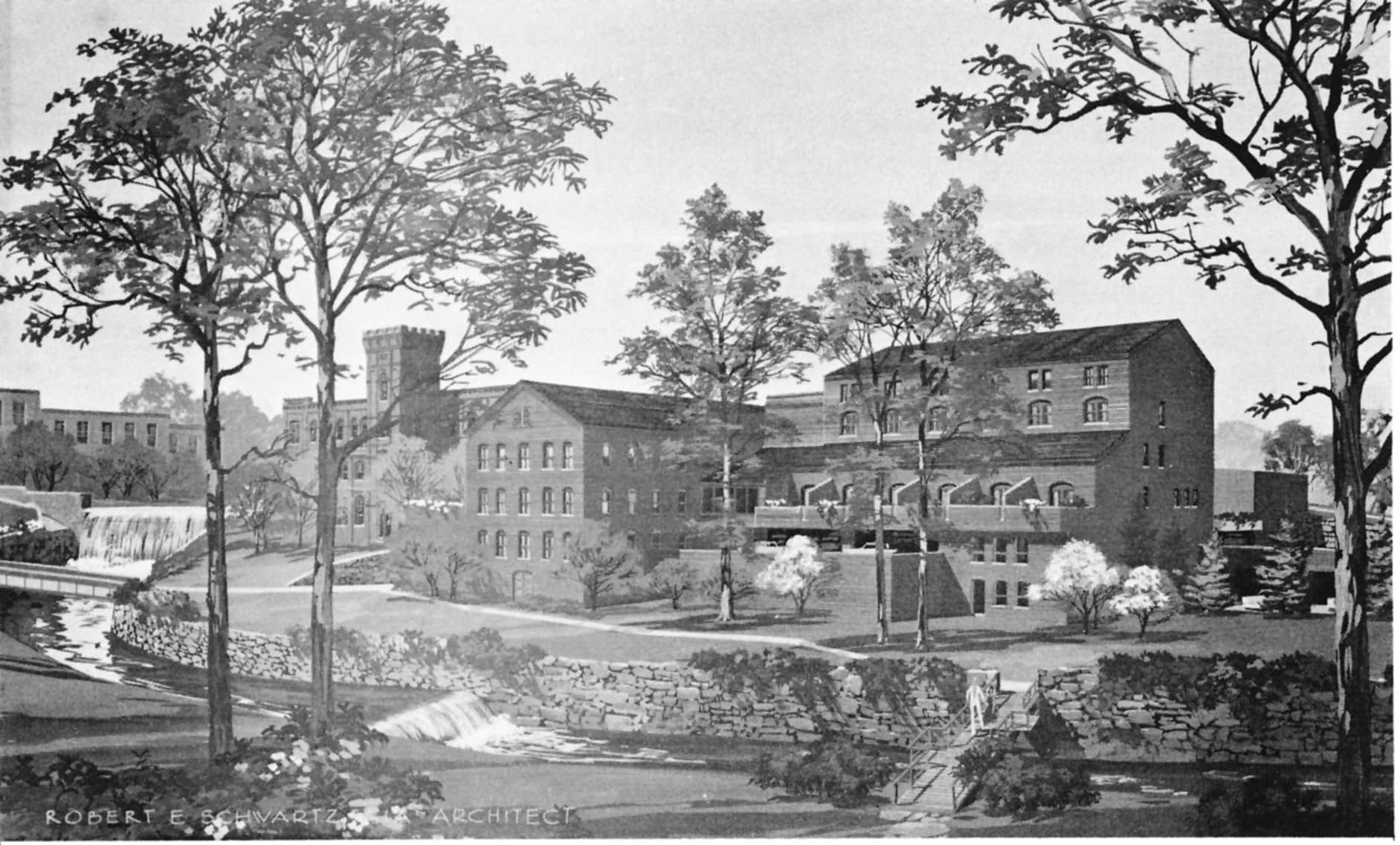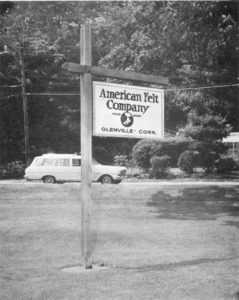 By Mary A. Jacobson
Today, one may walk in Glenville to a unique repurposed mill along the Byram River and its picturesque waterfall without realizing the richness of the industrial history of that site. From 1899 to 1978, the American Felt Company (AFC), once considered to be the largest producer of felt in the U.S., operated there.
From 1974 to 1992, interviews were conducted by seven different volunteers of the Oral History Project with 15 individuals associated with the American Felt Company. They encompassed everyone from machine operators to plant manager, each with his or her own perspective of living in Greenwich and working in the plant. The interviews speak to a time when everyone knew their neighbor; when manual labor was endured and respected; and when one's pride in country, community, family, and occupation was central to one's life.
Felt was an ubiquitous product. It was found in everything from pianos to locomotives to refrigerators to the popular "poodle skirts" of the 1950s. Wool was the predominant fiber in the production of felt. The process began with compressed bales of wool delivered to the plant from around the world. "Pickers" would pull them apart to remove the burrs and specks. "Picking" was followed by other labor-intensive processes called "carding," "hardening," "hydro-extracting," and "shearing" before achieving the final uniform surface texture of felt.
The children of Glenville had vivid memories of their fathers working at the mill. Sophia Riakowski recalled her dad working at AFC in 1908, taking care of the boiler rooms. "He used to shovel the soft coal into the furnace to keep the furnace going and going . . . as young kids we used to take a wheelbarrow and wheel it close to the furnace so that my father wouldn't have to keep going back and forth. It was wicked, and it was awful, awfully hot in there."
For housing, Andrew Sczesny, who worked in the cutting department of AFC from 1940 to 1978, explained, "The company had these homes, and they rented them out to the people that worked in the mill, for the company only. They only had to pay one dollar a month for one room. Of course, if there were three or four rooms,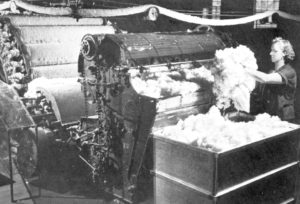 four dollars a month. They were glad to pay even though they didn't make too much money at the time. They had a place and they didn't have to go far from their home to get to the job."
During the Depression, AFC kept two shifts going. Chief inspector Michael Zygmont remarked, "That kept many of the people in Glenville alive." However, help
was plentiful and "if you didn't do your job to their satisfaction, they'd hire somebody else because help was plentiful…When I started in 1933, we worked 55 hours a week. Fifty-five hours for $16.60 a week…When the NRA (National Recovery Act) came into the picture, we worked forty hours a week and made fifty cents an hour. So that was twenty dollars a week, and we didn't know what to do with our time."
World War II had a big impact on AFC. According to plant chemist and marketing manager Tom Gillick, "Virtually the entire production of the plant was taken over by the military, and then came the Marshall Plan and lend-lease. So, we were re-equipping armed forces around the world." For example, every soldier's canvas canteen cover had a felt lining.
After the war ended, there was a great demand for new products. As Tom Gillick explained, "American industry, with its new ideas and products, had been put on the back burner during World War II. Now, they were all trying to build more automobiles and refrigerators and everything else. All these G.I.s were coming home and wanted to start families. So, there was tremendous demand for every type of felt we could make. We were running twenty-four hours a day, seven days a week."
However, by 1967, AFC became a wholly-owned subsidiary of The Ruberoid Company, which made roofing products, and then of GAF (General Aniline and Film Corporation), which produced industrial chemicals. After ten years, according to Gillick, GAF "made up its mind that it was going to dispose of the business, and the business was sold."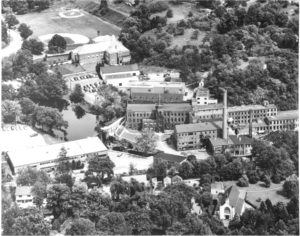 In the 1980s, developers Ralph Schacter and Sy Schwartz, through careful restoration and renovation, turned the salvageable areas of the AFC plant into "The Mill," with its restaurants, apartments and offices, keeping the historical integrity of the structure largely intact. Today, "The Mill" is undergoing another substantial renovation as its buildings are being carefully updated into high-end apartments and new businesses.
As developer Ralph Schacter observed, "Nobody makes anything anymore in Greenwich…The mill is very important historically for the people, that something was done here in Greenwich, one of the last factories that produced something."
The American Felt Company interview transcripts may be read at the Greenwich Library Oral History Project office and are available for purchase. The Oral History Project is sponsored by the Friends of the Greenwich Library. Visit the OHP website at glohistory.org.
Mary A. Jacobson, OHP blog editor.