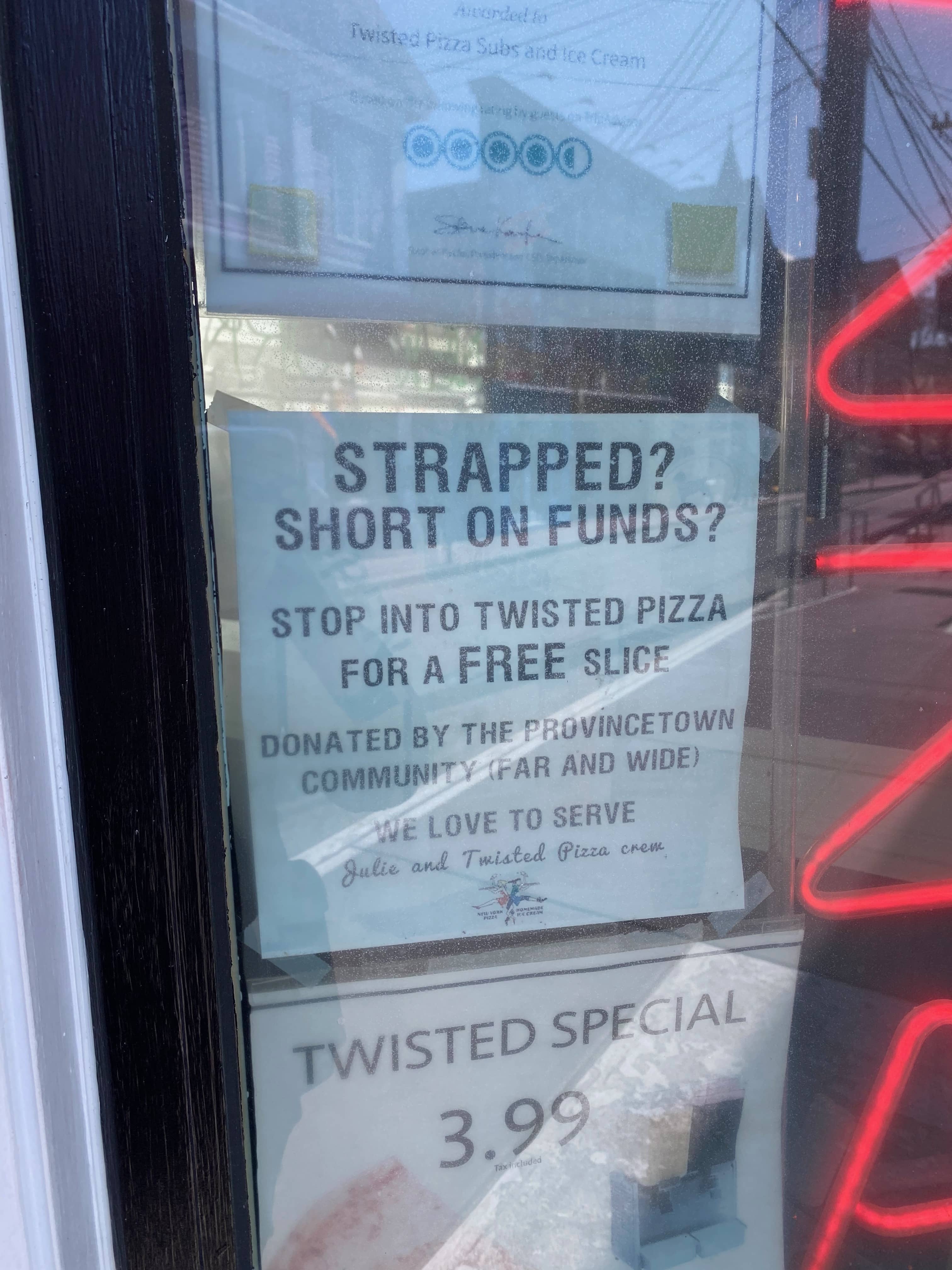 By Rev. Dr. Heather Wright
Pizza Store Sign: Kindness on Display
Sometimes all it takes is a sign in a window to restore my hope in humanity. My husband and I were away for four days in Cape Cod, our first trip together since pre-COVID. We loved walking the empty beaches and trails of the national seashore. We drove up to Provincetown, at the top of the Cape. Walking along Commercial street, we decided to stop for ice cream at Twisted Pizza, Subs and Ice Cream. That's where a simple white piece of paper with bold black font taped on the glass window caught Mark's eye. He taped on the glass as we left to be sure I saw it. It read, "Strapped? Short on funds? Stop into Twisted Pizza for a FREE slice. Donated by the Provincetown Community (far and wide). We love to serve, Julie and Twisted Pizza crew." Although there were other official award signs on the window, an act of kindness to strangers in need was the real claim to fame.
Not only is it food we hunger for these days. As we gradually emerge from COVID, I have heard from many who are hungry for community and a little kindness. Those human needs have been undernourished the past 14 months.
As people of faith from both Hebrew and Christian Scriptures, we are called to love. God is described as the One who exemplifies perfect love, or is Love. The word describing God, Chesed in Hebrew, means loving kindness, loyal and faithful love. In the Christian Scriptures, we hear a lot about God's love, which is also translated grace and compassion. God loves us and invites us to offer this love to one another.
As we see in God, we are invited to offer lovingkindness, to be slow to anger and abounding love, to be steadfast to one another as God is to us. That includes being able to forgive, to try to see life from others' perspective even when we might be hurt or angry, and to cherish the gift of others in your life as a gift from God.
We can call on God on those days when it is hard to love in our human strength, to ask for God's help to be more like God as faithful lovers of one another. This attitude of the heart is particularly important as parents. There are moments our children, and even our spouses, are not always easy to love but that is when we need prayer and divine encouragement the most. It allows us to remember God loves us so we can draw from a deeper well to love those around us.
This pizza sign was a reminder to honor others' humanity and dignity. This simple spoke some honest truths. When it comes to someone not having enough food, "there but for the grace of God go I." When we see another less fortunate than ourselves, it reminds us of our own vulnerability which is hard when things feel out of control. During this past year, we have all felt vulnerable and even unsafe. We are invited to see in the other person the dignity and humanity that we would want them to see in us no matter our circumstances.
This store owner and crew understood the return on this kind of investment. There are benefits to being generous. When we do, we are blessed back. There is satisfaction knowing that we have been part of making the world a better place. We help in repairing the world by how we treat one another. Self-giving is a creative act. I sat with a group of our church's Care Ministers this week. They shared wise words of insight from past experiences of caring for others. They agreed with one another on how much we receive if we give of ourselves.
There's no better way to get over the challenges of COVID isolation, loneliness and fear, than to reach out to another person with compassion. It could be the stranger that you pass on the street, or in the grocery store, or it may be a phone call or note to a neighbor. Offering to assist someone in carrying their burdens, inversely makes our own lighter and easier to bear. This is part of what the Lord requires of us, as described by the prophet Micah, "to do justice, love mercy, and walk humbly with your God" (6:8).
Everyone is hungry for a little kindness right now. May you experience joy as you answer that call.
(Picture of the sign attached as IMAGE if you'd like to use any of it – feel free)