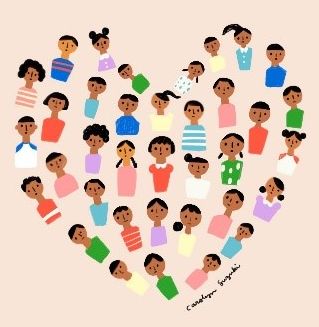 By: Marek Zabriskie
In 1967, a year before he was assassinated, Dr. Martin Luther King, Jr. published a book with a prescient title, "Where Do We Go from Here: Chaos or Community?"
It was a tense time in American history. The following year, political unrest, violence and rioting in over 100 cities erupted following the assassinations of Dr. King and Senator Robert Kennedy.
Now is another tense moment in our nation's history, following the appalling events of January 6th, when five people were killed and scores were injured, leading to our President's second impeachment.
Today, the title from Dr. King's book is the question in all of our minds – where do we go from here: chaos or community? I recently found some clues in the third chapter of 1 Samuel.
We read that Eli served as the high priest of the shrine of Shiloh, which was like our National Capitol for it housed Israel's Ark of the Covenant, containing Israel's most sacred laws, the Ten Commandments.
Eli was old and could not control his own sons – Hophni and Phinehas, whom the Bible calls "scoundrels, who had no regard for the Lord." (1 Sam. 2:12) They slept around, extorted money and confiscated property.
Eli was assisted by a young boy named Samuel, whose mother Hannah had been childless until Eli invoked God to grant her a son. She dedicated her son, Samuel, to God and brought him to the shrine at Shiloh to serve alongside Eli.
One night as Samuel slept in the room with the Ark, which held Israel's chief laws, and Eli slept in a nearby room, God called to Samuel in a vision. The Bible tells us that visions from God were rare in those days, but "the lamp of God had not yet gone out." (1 Sam. 3:3)
When God called his name, Samuel awoke and ran to Eli thinking that his mentor had summoned him, but Eli told him to go back to sleep. This occurred three times.
Finally, Eli instructed Samuel that if he heard his name called again to reply, "Speak, Lord, for your servant is listening." (1 Sam. 3:9). When Samuel did this, God revealed to him the shocking news that would make the "ears of every one that [heard] it… tingle." (1 Sam. 3:11) God revealed that Eli's dynasty would be destroyed and his sons would die.
The next morning, Eli insisted that the frightened boy reveal God's message. Eli listened, accepted the vision, and broadcast God's judgment against him to all of Israel, and noted that Samuel was an authentic prophet. That took courage, integrity and wisdom.
Sometime later, Eli's sons were killed in a battle. When Eli heard the news, he fell backward off his chair, broke his neck, and died. Samuel's vision came true. Meanwhile, Samuel went on to anoint the first two kings of Israel, Saul and David, which changed the course of history.
This lesson reminded me that we are living in a time where all of us are having trouble listening. We are bombarded with news and information, but in order to serve God faithfully, we must turn down the static of human voices in order to hear God clearly speak to us.
We also need wise leaders with integrity, like Eli, to guide us through these turbulent times. Were it not for Eli, Samuel would not have recognized God's voice.
Furthermore, every leader must be able to hear the unvarnished truth, like Eli, who listened to the painful proclamation that his family dynasty was coming to end due to its inherent corruption. The story reminds us that lack of integrity always has its consequences.
Finally, it was striking to see that all of Israel came to know Samuel as a trustworthy leader. We should never underestimate the impact of one trustworthy leader can make nor the harm that one or two immoral leaders can evoke.
Today, the world is too dangerous for anything but the truth, too fragile for anything but love. Jesus said, "Take my yoke upon you and learn from me." Christians are called to shoulder God's yoke, and not the yoke of any political party or leader, but the yoke of God's unconditional love.
The trademarks of Christian conduct are honesty, integrity, humility, and compassion. All Christian authority derives from these virtues. Power is sought, but authority is bestowed, and can be maintained only with integrity.
In this season of Epiphany, we would be wise not to seek our salvation in the trappings of politics but instead to dial down the static of our news feeds and attune our ears to God. We would be wise to pray as Samuel did, "Speak, for your servant is listening," and hear God's voice inviting us to the way of love and the vital work of reconciliation in a time of great divisions.