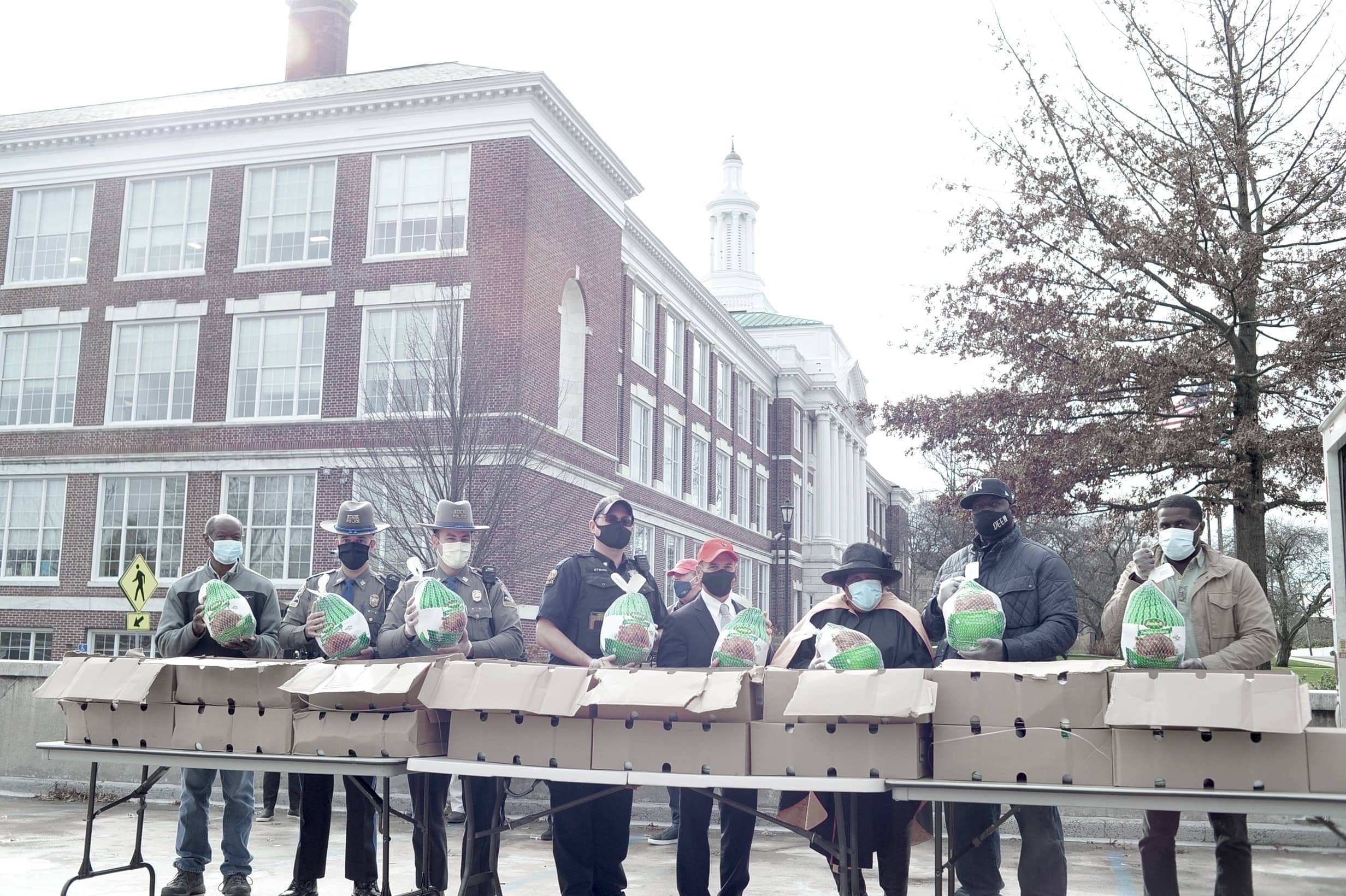 By Richard Kaufman
Sentinel Reporter
Several tables full of turkeys were lined up in the parking lot of Greenwich Town Hall on Monday morning, as members of the community and law enforcement gathered to try and help those in need this holiday season.
First Selectman Fred Camillo, along with a few Connecticut State Troopers and Greenwich Police officers, helped hand out turkeys as part of a drive organized by Vincent O'Banner, Director of statewide programs for Dedication To Community (D2C). D2C is a national non-profit organization which aims to improve economic mobility for the underserved.
O'Banner retired from the Greenwich Police Department as a detective in 2014. He said the turkey drive served as a way to help families enjoy Thanksgiving during the pandemic, and to help build relationships between police and the community.
"It's about building those positive, sustainable relationships with the community and police… Right now, the focus is on getting that better, and helping people that are in need [during the pandemic]," O'Banner said.
He added that although Greenwich is known for being an affluent community, those work and live in town know that there are people who need help.
"People are losing their jobs, people don't have money to get food, so we're just trying to do our part," he said.
Greenwich's Department of Human Services passed out fliers at Wilbur Peck and Armstrong Court to let people know about the turkey drive. All of the turkeys were purchased by D2C with money from donations, O'Banner said.
Afterwards, O'Banner and the officers went to Bridgeport for another turkey drive; they'll hold one in Stamford on Wednesday.
Camillo helped hand out turkeys, too, and said the holidays are all about giving back.
"This time of year always reminds us that not everybody has a roof over their head, not everybody has food on their table," Camillo said. "There's a lot more people every year that are in need than you think. This year it's much worse with the loss of jobs and everything else. I can't say enough about Vinny O'Banner and the state troopers for coming here today and doing this. It's certainly a reminder of the times we live in and the present state we're in right now."
Camillo added that the face-to-face interaction between law enforcement and the community is "extremely important."
"This type of goodwill goes a long way," he said. "It's part of the idea of what we're doing on getting a cop back walking the beat on Greenwich Avenue, which is going to be really great. You saw it this summer, and it's going to be something you'll see even more going forward."
Camillo went on to say that Greenwich has been fortunate in that there's a good relationship between the department and community.
"We haven't had those unfortunate instances we've seen around the country, but that's why you keep doing this. It's why you never stop striving to be even more involved with your community. We certainly are blessed here with our first responders in Greenwich."