November 20, 2020
At the River House it's keeping that caregiving going in a time of Covid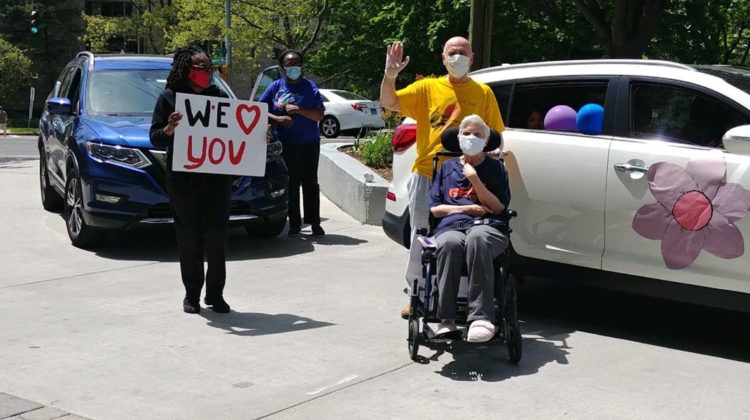 By: Anne W. Semmes 
It takes an especially caring community in a pandemic to embrace the most vulnerable citizenry of our town, aging adults with primarily dementia-related diseases. It takes caregivers who are health savvy, with abilities to engage and entertain, with empathy. And it takes a creative and cautious overseer of such a caring community, Donna Spellman, MS, the executive director of the River House Adult Day Care Center in Cos Cob.
"The level of honesty and pure caring that is exhibited here is beyond explanation," says Spellman. "The fact that we make an impact on the quality of life for the families that we serve each and every day just motivates me to do more."
Mike Leach is publisher emeritus and editor at large of Orbis Books. He recently celebrated his 50th anniversary with his 74-year-old wife Vickie who has advanced Alzheimer's. "She has lost the ability to walk or talk or hold a spoon." But at River House, he tells, "She is in the midst of caring people who talk to her and hold her hand and laugh with her," allowing Mike needed at home ease to read his paper, do errands and edit books, his full-time job "back in the day."
But then last March River House shut down when Covid hit bigtime, and the Leaches lost that onsite caring. Entrepreneuring Spellman soon stepped up with her "Distance Care Program" to bring needed support to the Leaches and the other River House client families. "She motivated an entire staff to enthusiastically and joyfully bring River House back to life," says Nancy Thode who chairs the River House board.
"What I will always remember in the loneliness of this pandemic," says Mike Leach, "was the day the doorman of our apartment building called us down, saying, 'There's a party for Vickie outside!' Down the elevator we went, me in my slippers, Vickie in her wheelchair, to behold four cars in the driveway with River House staff in front of them holding signs and balloons bursting with love for Vickie and me."
Once again it's a time of spiking Covid, and Spellman and her staff of 16 have been doubly diligent, with masks, and the six feet apart rule having limited River House's onsite clients to 24 instead of the usual 50. But last Friday Covid came uninvited when someone in the River House community tested positive with Covid. Thus, River House's onsite program has shut down again.
"We've been doing so many great things," says Spellman, "and we were so excited, but it just goes to show that despite the greatest attempts at safety, how easy it is for somebody to get this."
This Monday, as on every Monday Spellman and her staff were being tested, this time with some clients – with River House now in quarantine for the next two weeks, to reopen the Monday after Thanksgiving. "And the last day of the quarantine is actually the day before Thanksgiving," says Spellman, "At least we can eat turkey in peace."
Fortunately for the presently 40 clients Spellman's Distance Care Program carries on, as it has been since last March. Those client activity packets will arrive by mail, she says, "because we cannot deliver them (due to quarantine), and that should carry everyone through Thanksgiving."
Those 40 clients will also receive their daily meals cooked by a caterer that Meals and Wheels has stepped up to deliver. And that includes Stamford where some 40 percent of clients reside with the rest in Greenwich. The Leaches, former Greenwich residents, now reside in Stamford.
Greenwich's Francine Wilkens and her 92-year-old mother Eileen who suffers from dementia can also attest to the benefits of the Distance Care Program. "The weekly deliveries of activities for my mother have made a huge difference," she shares.
"Francine is referring to the weekly activity packet that our homebound clients receive," says Spellman. "We assemble watercolor paints with prints that we think each person might enjoy, along with worksheets (crossword puzzles, word searches, riddles, etc.), also assembled for each specific person. Sometimes we include materials for games that families can play together, conversation starters and other activities that people can do while at home that will help to keep their minds and bodies active."
Included too are regular Zoom calls for Wilkens' mom, Eileen. "They provide a social emotional link to other River House participants that helps break up her day," says Wilkens, "Thanks to all those selfless people who bring smiles, laughter and song to her every day. They are amazing, caring people."
In the 43 years since River House's 1977 founding, Senior Health Aide Liz Minott has provided 24 years of caregiving. "I love my job," she says. She calls River House her "second family." Lisa Hobbs, who oversees the music therapy program cites River House as, "the best possible place for me to learn how to make a difference in people's lives," and in so doing, "they're making a difference in mine."
So, what does that daily caregiving cost at River House? "The cost per client per day is $100," says Spellman. "But we have a number of grant programs that provide subsidies and scholarships. No person is ever turned away due to a lack of ability to pay. Our mission is: adult day care that works for ALL families."
And the age range of the River House clients? "The average age is 83 with our oldest client 96 and our youngest 48," tells Spellman. One long standing client holds the record of 10 years attending River House. "There was a time," adds Spellman, "when we had significantly more women than men – currently we are almost at a 50/50 percentage of men and women."
In the six years Spellman has served as executive director, and especially now in a restricting pandemic, she expresses gratitude to her staff and Board for having allowed her "to think creatively, be innovative and inventive."
The current spike in COVID she says, "is only making us even more vigilant and committed to not letting our guard down in any way. We continue to wear masks at all times, wash our hands constantly, sanitize constantly and maintain at least a six-foot distance between everyone."
Board chair Thode sees in Spellman's Distance Care Program an example "for similar organizations that provide face to face services which currently remain idle. With creativity and carefulness these people could be finding ways to get back to 'business.'"
For Spellman her job is all about the clients and their families. "They are wonderful people who I have the pleasure to get to know quite intimately, which I feel is an honor. We share stories, learn from each other, lean on each other—it is truly quite humbling. To know me is to know my adoration for River House!"