November 12, 2020
Debbie Reynolds relives the history of her family and church in new book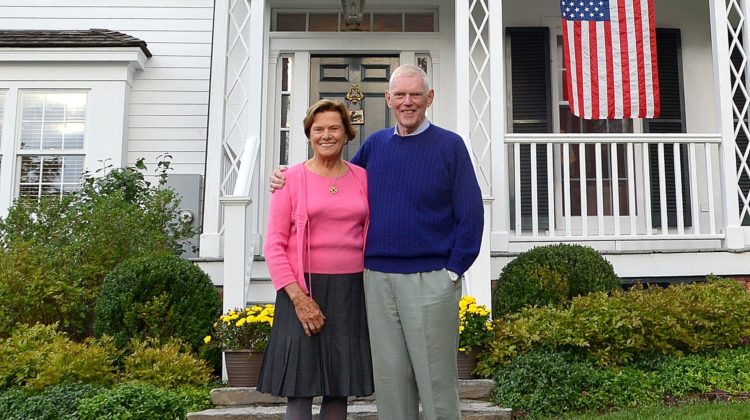 By: Anne W. Semmes 
Long time Greenwich resident Deborah "Debbie" Toll Reynolds is heavily invested in her family and her church. She has found a way to honor them both in a well-researched and illustrated history, "Examining Our Roots: From the Beginning of The Town of Greenwich To Stanwich Church in 2020."
"I love history," Reynolds tells, "I've been studying Greenwich history for years and years." She married Greenwich history in 1956 when she became Mrs. Russell Reynolds, Jr., whose family traces back over 350 years. The intriguing part of that history plays out in the religious settling of the northeastern Stanwich corner of Greenwich.
"The Reynolds family came to Greenwich in 1650," says Reynolds, 10 years after the Feaks and Captain Patrick had bought that Old Greenwich land from the Indians in 1640. But what Reynolds lays out is how those neighborhoods/towns were formed with the influx of farmers.
"The Colonial Legislature required that a town must maintain an 'orthodox' minister of the Congregational Church," she writes. Thus, was formed the First Congregational Church of Old Greenwich, then the Second Congregational Church in the Horseneck (Greenwich) area, and then the Stanwich Congregational Church. These ecclesiastical communities Reynolds explains were "a way of government in the early days," while under British rule. And going to church was mandatory. The law was, "that every person should attend public worship on Sunday Fast Day and Thanksgiving under penalty of five shillings, and that the inhabitants of each Town or Society, were to be taxed to support its ministries."
What of those whipping posts and stocks Reynolds writes of – were they in practice? "There is absolutely no record of it at all." She points instead to the peace making that came from those ecclesiastical communities. Citing "a very bad time" in the early Stanwich Congregational Church "where everybody was backbiting and telling stories," a church member offered his nearby house for members to talk things over. "They reached a decision to forgive each other and live peaceably."
"You know, I teach the Bible," says Reynolds, "So, the most important thing for me, whether it's the Bible or whether it's Greenwich history is placing myself in the history, to really get back into feeling like I'm there. That's my special thing." Certainly, she sleeps in that history, as her Taconic Road home is the Old Parsonage (circa 1848) of the Stanwich Congregational Church, where over a dozen Pastors did reside including one who married Russ Reynolds' grandmother and grandfather.
In 1938 the church was forced to sell the Parsonage for $12,000, Reynolds tells, building a smaller one up the road on Taconic, which would lead to the Reynolds buying it in 2004. Behind the house a barn complex "lovingly and historically restored" once held the pastors' horses and cows and carriages.
Reynolds tells of a recent walk she took with husband Russ on Carrington Drive off Stanwich, to the site of the original Nathaniel Reynolds farm. "It's beautiful, nice flat land." Nathaniel Junior had built his house nearby, dating from 1750 – "It's kept up lovingly," says Reynolds. "Through their community meetings they would decide who's going to do the roads, fences, and grazing areas. The Reynolds were constantly being called upon to do the surveying. Everyone shared in those jobs.
"And then all of a sudden, things change – the farms get broken up and sold off."
The railroads arrive making a commute to New York City possible. "Entire farm properties with home and ancillary buildings," she writes, "large amounts of land, animals and farm equipment were sold at auction for shockingly low prices."
Reynolds has a hand drawn map in her book of the historic Stanwich area she reckons to have been about 4 by 4 square miles. There are four Stanwich Congregational Church sites – the earliest circa 1721 on North Stanwich Road, its successor built nearby in 1804 but burned down in 1923, a takeover of a Methodist Chapel becomes Stanwich Church, still in existence but outgrown, and the present one on Taconic Road, built in 2006. A constant exterior look throughout is that New England colonial church of white clapboard with steeple.
Reynolds cites former Pastor Neely Towe as the creative director of the new church design. "Every little detail she thought of and was interested in, and it's a beautiful church. She was going to get this thing right, and she sent out a lot of people, Russ and I included, to look at all the old churches. It has a center section and two side sections and a balcony that curves around the whole church from front through the back, so that the church could be cozier on the bottom and the balcony takes the overflow."
What is not included in the book is the extraordinary discovery Debbie and Russ Reynolds made some 10-20 years into their marriage of the early intertwining of their ancestral roots. It seems that both of their ancestors arrived in Boston in the early 1630s. "They went to Watertown which is right next to Boston to get themselves organized, to get land," tells Reynolds. Sometime between 1635 or 1636, their ancestors had in fact, "their home lots next to each other."
"So, isn't that the most amazing thing?" notes Reynolds. Most definitely, as Reynolds harkens from California.
Free copies of Deborah Toll Reynolds' "Examining Our Roots: From the Beginning of The Town of Greenwich To Stanwich Church in 2020," can be picked up at Stanwich Congregational Church, 202 Taconic Road, Greenwich.