November 12, 2020
Cos Cob VFW brings a rare gathering together for its Veterans Day celebration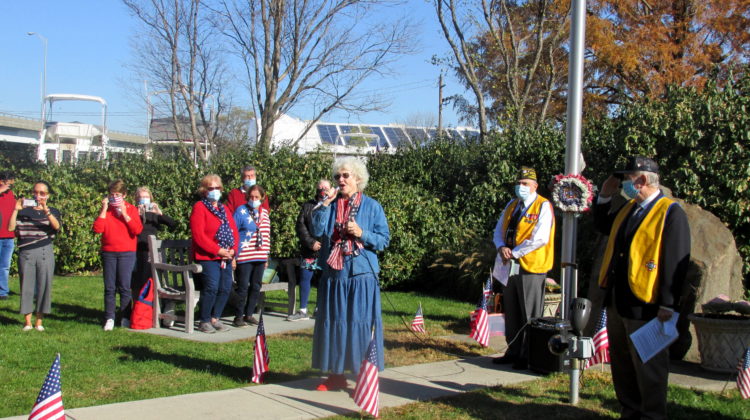 By: Anne W. Semmes
There were some 60 or more allowed to attend the sunny Saturday morning Cos Cob VFW Post 10112's annual Veteran's Day ceremony in the Cos Cob VFW Veteran's Memorial Site on Strickland Road. Cos Cob Post Commander Joe Musich welcomed one and all, followed by the "Salute to Colors," and singing of the National Anthem by noted town vocalist Stephanie Kies.
Holding hands over hearts were town officials, First Selectman Fred Camillo, House Rep. Kimberly Fiorello, State Rep. Harry Aurora, and former State Rep. Livvy Floren. In the crowd Police Chief Jim Heavey stood by a group of Cub Scouts and Girl Scouts.
The Ringing of the Memorial Bell tolled for the loss this year of three Post 10112 members, former Post Commander Joe Gregory, and Lou Caravella, both WWII veterans, as well as Frank Francis who served post Korean War. Membership in the Post now numbers, between 38-40 noted Post Service member Tony Marzullo.
Especially invited to the ceremony were a number of Cub Scouts from Pack 23 unable to participate in their annual Veterans Day ceremony at North Mianus International School of Dundee, due to the pandemic. Learning this Bill Cameron, Post Adjutant Officer, had invited them. Seen amongst the group were the first female Cub Scout members.
"Today, we confront Covid-19," spoke Cameron. "Even without this plague, we are
losing our honored veterans by the droves. Many of our older veterans are now again fighting for their lives. They may be weakened by advanced years, old injuries and past or present persistent illnesses in addition to the virus."
"What can we all do for these heroes of WWII, Korea, Vietnam and the Middle East conflicts?" asked Cameron.
"First, we can pray for them and for us. God removed the 1918 Flu, and He will do it again."
"Second," he continued, "when we meet a veteran, we can thank him or her for their noble service and wish them good health. Third, we can honor our glad and the efforts of our founding fathers who created this beautiful country. Fourth, we can proudly standby our police forces, our health care workers and all our essential workers who daily are the selfless community heroes.
"Fifth, just as the veteran answered the call to serve our country in the military, each of us following their example can right now volunteer our time and talents to help and serve within our own community."
Cameron then offered a hopeful image to those gathered. "When a short time from now a young child seeing an old cloth mask hanging on a wall will ask what is it? The child will be told that the face mask was a symbol of one of the worst global pandemics that the world has ever seen named Covid-19."
"Take a look around you at our veterans gathered here today," Cameron concluded, "and draw from their strength and bravery so that each of us can increase our own resilience."