September 25, 2020
Introducing Coline Jenkins' Women's Rights Pioneers Monument in Central Park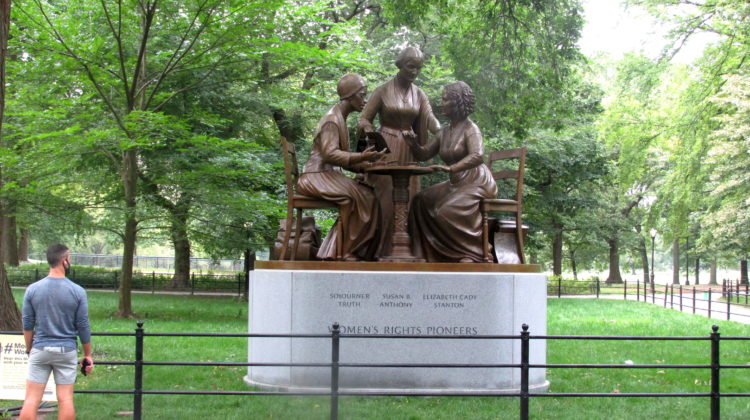 By: Anne W. Semmes
Coline Jenkins of Old Greenwich has been at the forefront of celebrating the 100th anniversary of women gaining their right to vote. She was there in Central Park on Women's Equality Day, August 26, for the unveiling of a three-women statue on the prominent Mall or Literary Walk – also featuring Shakespeare, Robert Burns and Sir Walter Scott. The three-women statue which includes Jenkins' great, great grandmother, suffragette Elizabeth Cady Stanton, and other women's rights activists Susan B. Anthony, and Sojourner Truth, has finally broken the bronze ceiling of no women statues in Central Park.
To get them there Jenkins has done some heavy lifting, figuratively, to help bring that statue to where it is. On a personal tour to New York last week to see that statue, Jenkins shared her proactive process over a seven-year period resulting in this triumph that so reflects her inherited gene of finding ways to lift up women to their inalienable rights.
It was in 2013 that Jenkins got the call from New Yorker Myriam Meidzian who on a walk in Central Park with husband Gary Ferdman, discovered no female statues, yet 23 of men. Their Elizabeth Cady Stanton and Susan B. Anthony Statue Fund was born, with Jenkins and pertinent others enlisted. Calls with their female statue wish to the New York Parks Department and the Mayor brought "no direct response."
Later in 2014 Jenkins learns of a talk to be given by the Commissioner of Parks Dept., Mitchell Silver. Jenkins travels the distance and gets her cue hearing Silver say, "The Mayor and I believe in equality and equity." Confronting him afterwards, she declares, "Do you know Central Park has no statues of women?" He responds, "I didn't know that…I'll look into it." A month later Silver gives the green light to Jenkins and the Statue Fund.
"We secured the perfect site at 77th and Central Park West," tells Jenkins. And it seemed so on a visit years ago with Jenkins, the site being across the street from the New York Historical Society with its statue of Theodore Roosevelt astride a horse heralding equality with an American Indian and an African American. That Park entry site came with a Central Park Conservancy ruling – only entry sites for new statues in the Park.
To move the process forward came critical fundraising, with the Statue Fund becoming the non-profit Monumental Women.org, and the need to find a sculptor, etc. But, missing was a required Project Manager for such a public site. Who to call? Who else, Jenkins thought, than the former Architect of the U.S. Capitol, Alan Hantman. Jenkins had worked with Hantman doing some heavy lifting some 20 plus years ago moving another three-women suffragette statue – "The Portrait Monument" of Lucretia Mott, Elizabeth Cady Stanton, and Susan B. Anthony, from oblivion in the Capitol basement into the Capitol Rotunda.
Hantman directed Jenkins to Richard Southwick, Director of Historic Preservation with premier project managers, Beyer Blinder Belle (BBB), that list restorations of Grand Central Terminal, Empire State Building, presently the Frick Museum, and now "The Women's Rights Pioneers Monument."
We met up with Southwick behind his mask on Broadway outside the BBB offices, thanks to restrictions of Covid.
"We labored really hard to get this Mall site. It's very prominent," Southwick relates. "We argued, for a constituency of 4 billon of the [female] population of the world (of 8 billion), they [Central Park Conservancy] should make an exception to not having a statue in the park. They finally came around."
"Three women should be seen in the round," he tells, "All the other statue bases are rectangular. But this one has an oval base. It speaks to the issue of collaboration that is so important to the theme of the sculpture."
Also behind a face mask was Kat Moynihan, BBB associate and studio administrator, who tells of the artist selection process. "We had 91 entries from all across the country – all accomplished professional artists." The winner was Ridgefield artist, Meredith Bergmann with her design featuring only Elizabeth Cady Stanton and Susan B. Anthony. "There were disagreements over the design from different stakeholders," says Moynihan. The cry came from the Mayor's office to add a woman pioneer of color, so Sojourner Truth was added.
"Meredith did an amazing job of modifying the design," says Moynihan. "It's a great beginning. We have so far to go as a city, as a country, as a world to realize the historic contributions of women, black, Asian, Native American – that diversity has gotten us to where we are."
We were finally on our way to Central Park Mall to see the Women's Rights Pioneers Monument. But we had to make a rest stop in the Department of Parks office building, "The Arsenal." Who should appear in the entry but the man who initially gave the green light, New York City Parks Commissioner Mitchell J. Silver. On his way out, he promised to send a quote on his having given that green light.
We found the statue well framed beneath an American Elm tree. There were the three women collaborating around a small table fashioned after Stanton's own table now treasured by Jenkins. Stanton is writing, with pen in hand, Truth is speaking with her knitting in her lap, while Anthony stands with her traveling bag, "bringing documentation of injustices to help focus their discussion." The sculptor further explains: "The monument represents an indoor space because much of women's political work originated in the home – in the 19th Century women were not commonly seen in the public sphere."
A young woman arrives taking photos and Jenkins easily engages. The woman has read that there were no women statues in the Park. "There is even a dog statue," she cries with a smile, but no women!" Jenkins leads viewers to a Monumental Women sign with a code to copy into their iPhones to bring up the voices of Meryl Streep as Elizabeth Cady Stanton, Jane Alexander as Susan B. Anthony, and Viola Davis as Sojourner Truth.
The passersby include all ages and all genders stopping and taking in the statue scene but it's time to make the journey home. Jenkins needs to collect herself for an RTM meeting, an activity of hers for over 30 years. "I've been in a legislative process to act locally, regionally, nationally, and internationally," she says, "You need to be an engaged citizen."
On the ride home, the quote from NYC Parks Commissioner Mitchell J. Silver surfaces on this reporter's iPhone. "As the first sculpture in Central Park depicting real women, the statue of Susan B. Anthony, Elizabeth Cady Stanton, and Sojourner Truth highlights the importance of equity – in our parks and beyond. This project ended a 60-year moratorium on new permanent statues in Central Park, and we are happy to do so with this tribute to brave and dynamic women whose work still impacts us more than a century later. Parks and public spaces are fundamental to the practice of democracy, and this statue will help reinforce those principles for generations to come."