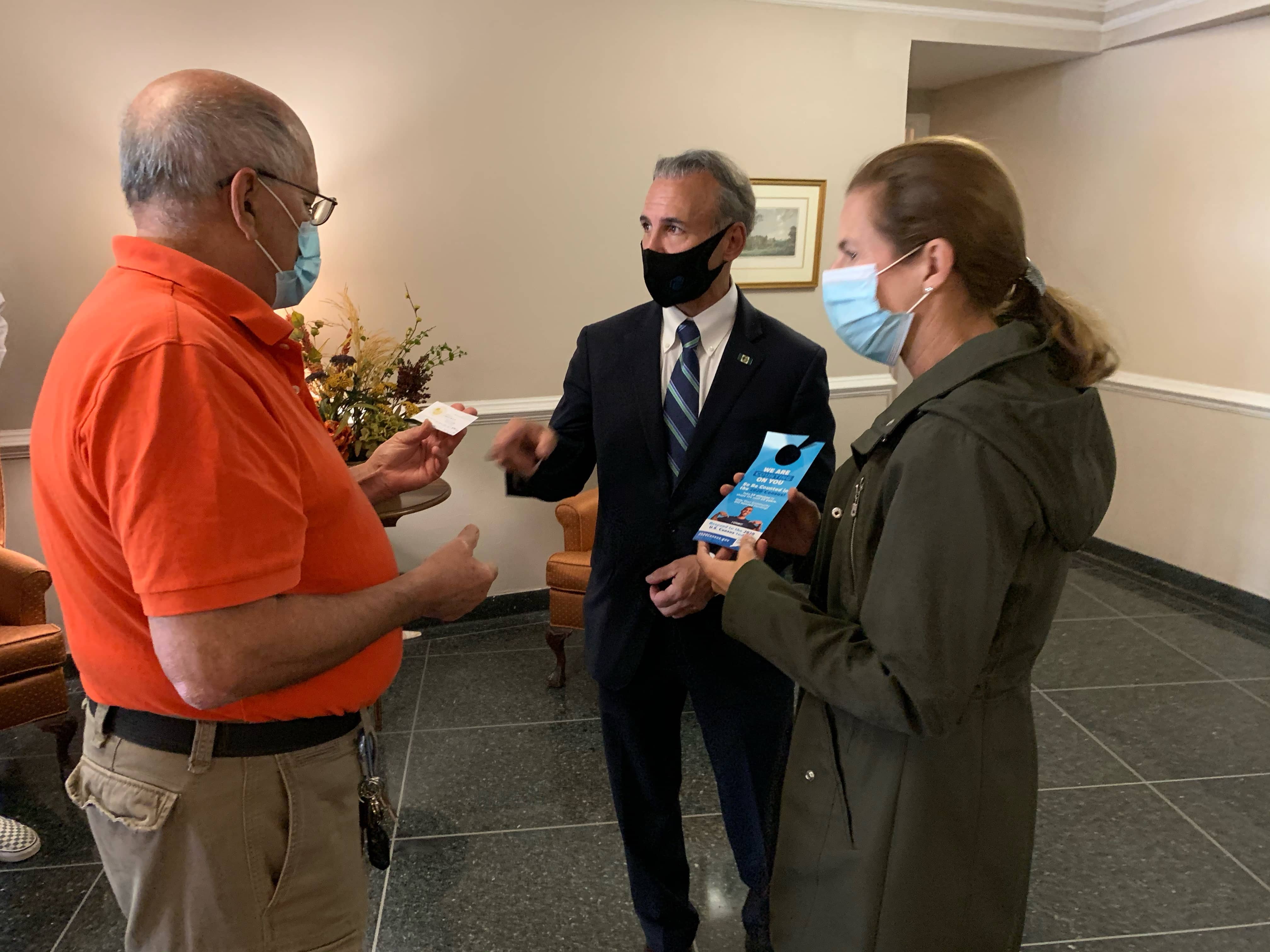 By Richard Kaufman
Sentinel Reporter
The final push to complete this year's census is on, as local and state officials are making rounds to encourage residents to get counted before the Sept. 30 deadline.
On Monday, Lt. Gov Susan Bysiewicz joined Greenwich First Selectman Fred Camillo, and State Reps. Harry Arora (R-151) and Stephen Meskers (D-150) to knock on doors at Greenwich Close Apartments across from Town Hall.
Tyler Fairbairn, the town's Director of Community Development and the head of Greenwich's Complete Count Committee, was part of the group, too, along with Greenwich Communities Executive Director, Tony Johnson. Greenwich Communities, formerly known as the Greenwich Housing Authority, owns the apartment complex.
Bysiewicz has been touring the state in recent weeks, visiting hard-to-count areas. Greenwich Close Apartments were chosen based off of low count data.
"Some people think that it's only extremely urban areas and the very big cities that have hard-to-count areas, but that's not true. Twenty-two percent of the people in our state live in hard-to-count areas. Hard-to-count areas tend to be apartment and multi-family housing areas, and communities of color and immigrant communities," Bysiewicz said. "Our focus over the past two months has been on visiting hard-to-count neighborhoods with our local, state and federal leaders and our complete count committees to try to encourage folks to either respond themselves or open the door when the census enumerators show up."
Bysiewicz said that as of Monday morning, 98.1 percent of households in Connecticut have either self-responded to the census, or responded to enumerators knocking on doors. The state enumeration rate is 28.1 percent, and the self-response rate is 70 percent, up from 69.5 percent in 2010, the last time the census was conducted.
Greenwich's self-response rate is slightly above the rest of the state at 70.2 percent.
"That number is good," said Camillo. "But we're going to keep going." Camillo hoped to encourage people to participate, and thank those who have already been counted. He said census outreach to the community will continue through schools and churches around town.
Arora, who is running for re-election in the state legislature, said there is always room for improvement on the numbers.
"We've tried hard to get the message out. We need to do more; there's always a little more to do. I feel very good about the 98.2 percent [in the state], but we need to get to 100 percent," he said.
Meskers, also running for re-election, said he has run into several census workers while passing out campaign material. Meskers said he hopes people realize how important getting counted really is.
"I think people don't recognize the importance of the census and the appropriate allocation of federal dollars," he said. "Being counted is very important so we can get our fair share of infrastructure dollars, healthcare dollars, and aid for vulnerable populations in Greenwich."
Bysiewicz noted that there could be an extension on the Sept. 30 census deadline because of a lawsuit filed in California.
Residents may complete the 2020 Census online at www.my2020census.gov. For people who do not have access to a computer, you can complete it by calling these numbers:
English: 1-844-330-2020; Spanish:1-844-468-2020; Chinese (Mandarin) 1-844-391-2020; Chinese (Cantonese) 1-844-398-2020; Haitian Creole: 1-844-474-2020.