September 12, 2020
The American Dream – Alive and Prospering on Greenwich Avenue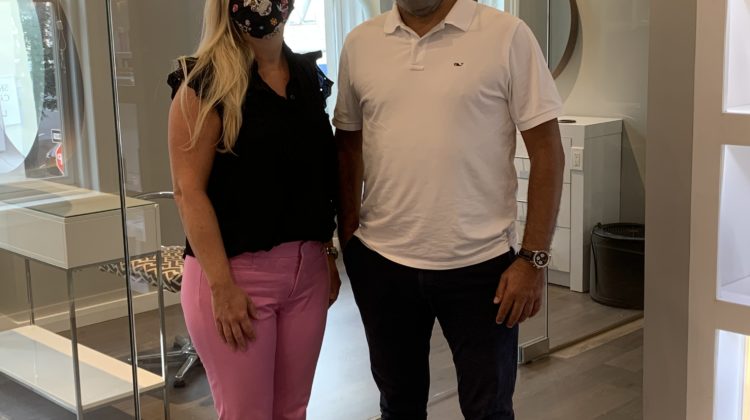 By: Richard Kaufman 
Jaafar Tazi wanted to live the American Dream.
After working in hair salons in Morocco and training in France, Tazi moved to the United States and worked on Newbury Street in Boston. He later came to Greenwich in 1998 and worked at a salon before he decided to open his own business 10 years later.
In 2008, Jaafar Tazi Hair Salon opened its doors at 149 Greenwich Avenue.
Over the years, Tazi's work has appeared in various magazines and fashion shows in Fairfield County and throughout Manhattan. In 2017, Tazi opened up a second location in nearby New Canaan.
For Tazi, it's all about connecting with clients and using years of experience.
"We are 100 percent focused on hair — coloring, cutting and styling. For us, what makes us stand out is the experience. We know the market very well and the demands of the Greenwich clientele very well. Building a good relationship with the clients is important," he said. "You get in with every part of the community."
The staff at Tazi's salons gets continuous training. New hires are trained for nine months, and can achieve different levels all the way up to Master Stylist.
"It's fun work to do. It's great," Tazi added.
The past six months have been difficult for small businesses, especially places like barbershops and hair salons. Tazi was able to reopen on June 1 at 50 percent capacity, meaning that he can use 11 of his 22 stations.
Tazi credited his management team with following state guidelines closely, and making sure clients feel safe at all times.
"We make sure we communicate with the client after they leave about their experience and see if there's anything we need to change or adjust," Tazi said. "All businesses are trying to survive this. We're lucky because we have a very established business in this town, and we have big support from our clients."
Tazi has been a client of the First Bank of Greenwich (FBOG) since the bank opened about 10 years ago. He turned to the FBOG for help after the pandemic arrived in Connecticut.
"After the pandemic hit, they were really efficient and really good [with handling the Payroll Protection Program]," Tazi said. "I was banking with another big bank at my other location in New Canaan, but they were not as helpful as the FBOG. I switched, so now both of my businesses are now with the FBOG."
Emily Newcamp, Vice President and Retail Banking Manager for the FBOG, said Tazi has been a valuable customer over the years.
"He's been with us since the beginning. We're all about supporting local businesses. It's so nice he's been a customer for so long," she said.
When asked about his journey from Morocco to Greenwich, Tazi said he wouldn't change a thing.
"If I could do it again, I wouldn't do it any different," he said. "I hope the American Dream stays here."