July 31, 2020
Beverly Smith's garden path to the history of Merritt Parkway's Lake Avenue Bridge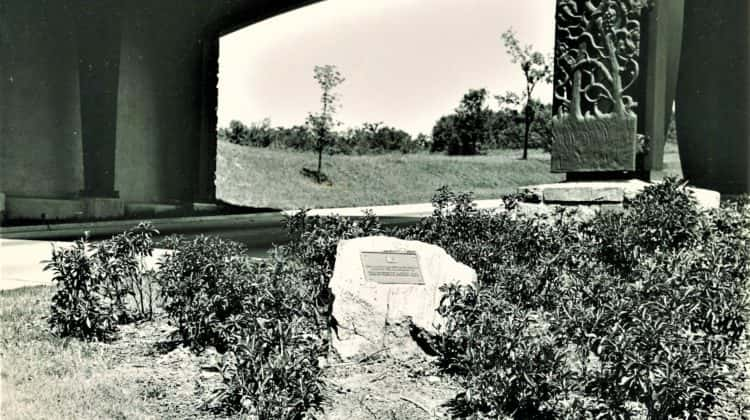 By Anne W. Semmes
Beverly Smith is a prize-winning gardener. Her three-quarter acre garden in Cos Cob, with its 95-plus "deer don't eat" varieties of plants, she designed and maintains herself. She's proud that her garden has been featured in the Greenwich Botanical Center's annual Grandiflora Garden Tour. She's also a member of the Riverside Garden Club and serves as its historian, and she has become bewitched by the Merritt Parkway's Lake Avenue Bridge.
Step back to the Fall of 2018, when Smith had her assignment as RGC historian, "to pull together a history of RGC for its June 2019 Centennial party." In her research she came upon two intriguing 8″ X 10," black and white photos, circa 1940, of the Lake Avenue Bridge that showed a large rock with plaque inscribed: "This planting has been made possible through the cooperation of the Riverside Garden Club." The rock appears surrounded by laurels.
Smith drove out to the Bridge to find that plaque on its rock beneath the Lake Avenue overpass, but found, "The median had become narrow to provide more roadway space, so the plaque and rock were gone."
She began investigating the history of the Merritt Parkway – yes, named for that long serving Republican Congressman Schuyler Merritt, from the 4th Congressional District. But she was looking for the involvement of other southwestern Fairfield County garden clubs. "I found a photo of Fairfield Garden Club's plaque," she tells, but she found no other Greenwich garden club involvement. Neither did she find what those original plantings would have been at the Lake Avenue Bridge site. She did find online, at the National Park Service National Register of Historic Places on the Merritt Parkway that, "Flowering trees and shrubs, especially 'Thousands of Dogwood, Laurel Plants,' were donated by ten Fairfield garden clubs and civic groups in the two months just before completion of the full length of the Parkway." That Parkway completion was in 1934.
Along its stretch of 37 and a half miles with 68 bridges, Smith found the Lake Avenue Bridge of special design. In those 1940's black and white photos she saw the black metal grille design of the bridge, but then in her Fall of 2018 visit she saw its faded blue painted design. She was thrilled to see its 2019 restoration with its original elegant black and gold painted design.
She came to learn that the grapevine and grapes design was based on the Connecticut State Seal, with its three grape vines in the center, supporting and bearing fruit. (On that seal is the state motto, "Sustinet Qui Transtulit," or "He who is transplanted still sustains").
Turns out that Lake Avenue Bridge design is an award winner reports Wes Haynes, executive director of the Merritt Parkway Conservancy, "It has earned a national award for excellence from the National Scenic Byways Foundation and a state award for merit from Preservation Connecticut (formerly Connecticut Trust)."
Haynes, who coincidentally just gave a Greenwich Library virtual talk on "The Merritt Parkway's Marvelous Bridges," shares that, George Dunkelberger, the architect of all the Parkway bridges "had conceived of using the grapevines from the State seal, then engaged a young Irish immigrant metal artisan, Kenneth Lynch, to design the actual grapevine pattern and relief." Lynch had to his credit the famous gargoyles on the Chrysler Building in New York. But Lynch did face WWII steel shortages in realizing his design, Smith would learn.
Haynes cites a recognizable Art Deco motif in Lynch's grille design. "There is much more of what architectural historians today call Art Deco in some aspect of nearly all of the Merritt's bridges – to the extent that some call the Merritt the largest art deco construction in the country." (Dunkelberger had only referred to them as "simply modern.") Haynes named numerous bridges as exhibiting "Art Deco principles" with "details derived from the 1925 exposition of decorative and industrial arts in Paris that launched the "art deco" movement.
Regarding his knowledge of garden clubs involved in the plantings – he knew of no record of those involved in but felt it "safe to say that most if not all clubs in the towns the Merritt passes through did. It is an important part of the Merritt's story, for after years of contentious planning, Fairfield County residents were finally won over by the promise of the modern yet beautiful road they demanded, an object lesson of local democracy in action, with the Garden Clubs among those leading the effort."
The 2014 History Press publication, "The Merritt Parkway – The Road That Shaped A Region," states that "Of the nearly 70,000 trees and shrubs required to landscape the parkway, 47,700 were mountain laurel." And, "Many organizations, Fairfield County Garden Clubs and individuals donated plants for the parkway."
Historian Beverly Smith in her research has distinguished her Riverside Garden Club in being the only documented Greenwich garden club to date having contributed toward that Parkway landscape, with the Lake Avenue Bridge.
Her Centennial book grew to 165 pages. "We benefited from Greenwich Historical Society's archives," she says. She also salvaged parts of RGC's aging scrapbooks, scanning articles, handwritten pieces, and typewritten pages.
"I have been interested in history for decades," she tells. "And those two black and white photos of that boulder and plaque intrigued me," she says, "so I went on an adventure into history. Research is fun for me and the reward is having success."