July 29, 2020
Camillo to Hold Special Meeting Next Week to Discuss Enforcement of COVID-19 Guidelines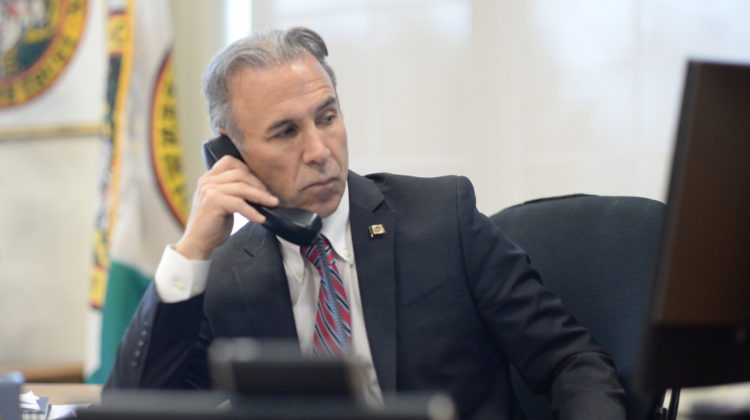 By Richard Kaufman
Due to an uptick in coronavirus cases in young people and increased complaints from around town about large gatherings and parties, First Selectman Fred Camillo is prepared to respond.
"We're done with warnings," Camillo said on Tuesday. "We're going to take action."
Camillo will call a special meeting of the Board of Selectmen, likely on Wednesday, Aug. 5 with the town's attorney, Greenwich Police chief, James Heavey, and a representative from the Health Department.
"My goal is to look at all of the enforcement tools we have at our discretion under a state of emergency and under the executive orders of the Governor (Ned Lamont), and see how we would enforce those protocols and guidelines that we have already there," Camillo said.
The orders currently limit indoor gatherings to 25 people, and outdoor gatherings to 100 people. Social distancing and mask wearing is required.
"Anybody guilty of violating the measures of the COVID-19 executive orders will have to answer for it. We're not looking to go out and make people's lives miserable. There's been ample warnings given for days, weeks and months." Last week, Camillo issued a statement appealing to younger residents about following the four W's: Watch your distance, Wipe down surfaces, Wash your hands, and Wear a mask
As of Wednesday afternoon, according to the town Health Department, there have been 918 Greenwich residents who have tested positive for COVID-19 since the pandemic began, an increase of 47 since last week.
According to the town, about half of the 47 new cases are teens/young adults.
"Younger kids think they're immune to it and they can fight it. In many cases they are, but the concern has always been they're going to come into contact with people who have compromised immune systems," Camillo said.
A breakdown by age group for the 47 new cases since last week is as follows:
Three cases for those 1-10 years of age; 24 cases, age 11-20; four cases, age 21-30; one case, age 31-40; two cases, age 41-50; six cases, age 51-60; one case, age 61-70; three cases, age 71-80; two cases, age 80-90; and one case, age 90-100.
The Health Department, through contact tracing, has been able to determine that many of the teen/young adult cases can be linked to large parties held in town between July 15-19.
Contact tracing is an important tool for municipalities to alert people who might have been exposed and see where the virus has spread, but it's only as effective as the information that's given. The Health Department said many of the new cases — younger patients and their families — aren't revealing where they've been, and those who have submitted concerns to the town about large gatherings have also been hesitant to give specific details.
"I'm getting lots of calls and text messages, and I know other people are, too [about large gatherings]. We're telling everybody that it's great you're reaching out, it's great that you care, but if you don't give us names and addresses and contact information there's nothing we can do," Camillo added. "We want to do contact tracing — that's critical. If people are afraid to come forward because they think they're going to get in trouble, that's not the case and I want to make sure people understand that. We want to talk to you because we want to be able to contact trace and make sure that we stay ahead of this so the public stays safe."
Lt. John Slusarz of the Greenwich Police Department said that as of earlier this week on Monday, the department had not responded to any large gatherings that needed to be broken up.
"Mr. Camillo is echoing what all the healthcare people are talking about. You have to wear the mask while you're out, that's what's reducing the spread. We have to keep it up and not get complacent," he said.
Slusarz said that if anyone is concerned about an activity or an organization not following guidelines issued through COVID-19 related Executive Orders and emergency declarations, to call the department's non-emergency number at 203-622-8004. 
Those with information or questions can call the town Health Department at 203-622-7836.
Camillo called Lamont's executive orders "simple guidelines to follow." 
"For people to ignore that, you're putting people at risk. It becomes a very selfish act, and it's criminal," he said, noting that Lamont has left it up to the town's to determine how they want to handle infractions. 
"This isn't an empty threat. There have been ample warnings. You have these parties at your own peril if we find out about it and you have not followed the guidelines."
Tags:
Covid-19
,
greenwich
,
town hall
,
Town of Greenwich