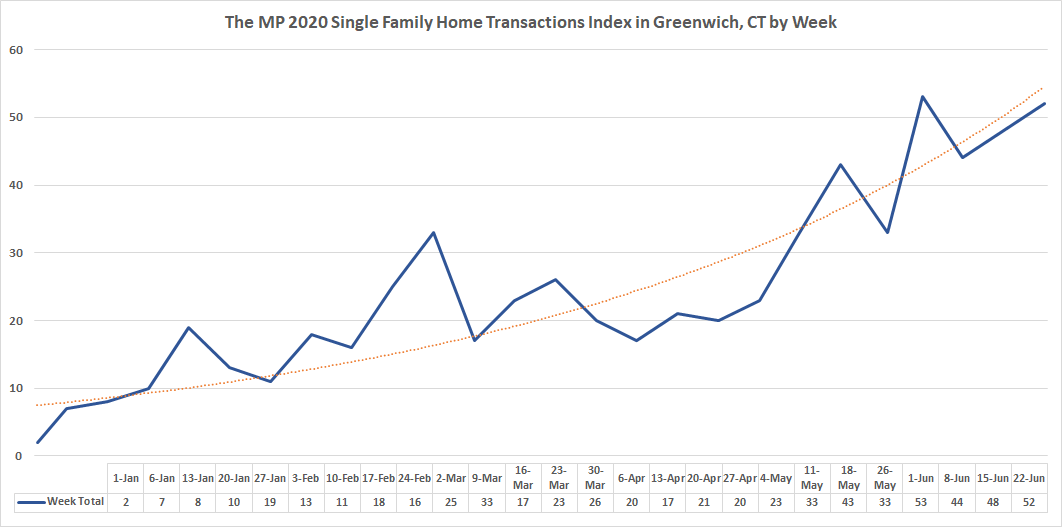 By Mark Pruner
High-End Sales have a Good Month
At the end of May we had 299 sales and contracts, then June came along and sales and contracts surged to 423 houses sold or under contract; an increase of 41% in one month. The story at the upper end is even more dramatic. Above $3 million we went from 68 sales and contracts at the end of May to 111 sales and contracts in June, an increase of 63%. By far our most dramatic jump was closed high-end sales over $5 million which are up 271% in just one month, but more about that later. 
These numbers are actually understated as I'm writing this early Wednesday morning, July 1st, before we get the numbers for June 30th which will roll in over the next couple of days. This jump in sales is being driven by three factors. By far the largest is the continued flood of Covid buyers from New York City, which seem primarily fall into two categories. Most of these buyers are younger families who are looking in the $1 – 2.3 million range. These buyers have been cooped up in a New York City apartment, and often a nice apartment, with multiple children. More square footage, a yard, parks, and beaches look pretty attractive to them.
A second less obvious sub-group of Covid-motivated buyers from New York City are newlyweds and DINKs. Often couples that met in New York City would move in to whichever person had the nicer apartment and live there until the first or second child came along. I've showed houses to lots of couples with where the wife is pregnant and wants to be settled in a new place before the baby is born. In the meantime, they would live in New York City enjoying all of the restaurants, cultural activities, and nightlife that NYC is so famous for. In the Covid era, all those activities are either gone or still dangerous to enjoy. As a result, many couples are skipping the NYC Dual Income No Kids period and moving directly to Greenwich. I'm working with three couples just like that. 
The second big group that is increasing sales in Greenwich are Greenwich upsizers and renters. Our Greenwich residents that have been waiting for the post-recession market to turn are seeing it and getting out ahead of what looks like will be a continuing increase in market activity. Right now, most houses are priced at 2019 and pre-Covid 2020 prices. These folks have another month or two to enjoy these prices. After that we are going to see the closing prices of our 164 contracts. Many of these contracts which were signed after bidding wars involving multiple buyers and based on word of mouth are going to go for over list price. 
Indicative of this hot market is that in June 29 of the listings never made it to their one month anniversary. When we finally find out the sales price after closing, these prices are going to start the price resetting process. Another sign of a hot market is that our average days on market for sales and contracts is taking a big jump up. Nine of the 164 contracts were actually on the market for more than 1,000 days and 27 were on the market for a year. When the stale inventory is selling you know it's time to get moving if you need a house. 
The third thing that is driving the high-end Greenwich market is the state's new Gold Coast conveyance tax. Last year the Connecticut legislature increased the conveyance tax on sales over $2.5 million by 1% effective July 1, 2020. As a result, we saw a lot of deals that would have closed in July and August get pushed up to June. On a $10 million dollar sale, the seller would save $75,000 by closing on June 30th rather than July 1st. 
This was all the motivation many high-end buyers needed to closer sooner. As I mentioned above, sales above $5 million were up 271%. We went from 7 sales over for $5 million and only one sale over $7 million at the end of May to 19 sales at the end of June. Of the 12 June over $5 million, 7 of them over $7 million or an increase of 600%.
The high-end sales number will go even higher in the next couple of days as the final June sales come in. Unfortunately, this also means that July will likely be a poor month for high-end sales as the June accelerated deals aren't there for a July closing. Right now, we have 12 contracts for houses listed over $5 million, all of whom will be helping to fund the Connecticut treasury by paying the higher conveyance tax. 
One of the fun things to do is take these high-end June sales and annualize them. When you do that our months of supply over $10 million drops from 70 months of supply to 17.5 months of supply. From $6.5 – 10 million the drop in months of sales is from 60 months, or 5 years of supply, to 10 months of supply. Would that we could keep these June sales rate up all year round. Even with our present sales rate, things are still looking up for future sales over $3 million. When you include contracts over $3 million our months of supply is lower than when you only look at sales. This indicates an improving market though we may have to wait until August to see the number of sales increase. 
On the inventory side we are still down 20% from last year, but fortunately we are seeing lots more inventory come on the market, particularly in backcountry and mid-country where we particularly need new listings. I just put on 14 Gray Oaks Lane for $3.65 million and it has been getting good interest as mid-country seems to be the new sweet spot in the COVID-era, not too far from town, but with good acreage. 
When all sales are reported, June 2020 house sales will be a better month than June 2019, when we had 60 sales and a better month than June 2018 when we had 66 sales. We still have a ways to go to reach our 10 year average of 86 sales, but the trend is definitely in the right direction.
Mark Pruner is a Realtor in Greenwich, CT with Berkshire Hathaway. He has been the Greenwich Sentinel Real Estate page editor since 2015. He grew up in Old Greenwich and has lived in backcountry Greenwich for the last 20 years. He can be reached 203-969-7900 or mark@bhhsne.com