June 29, 2020
Greenwich Hospital to Host Virtual Town Hall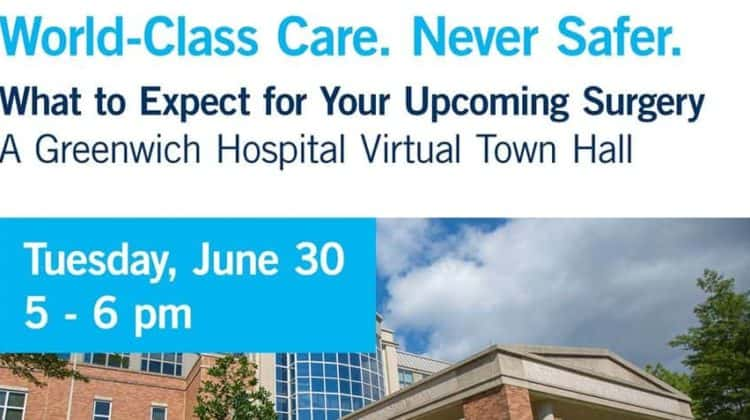 Have you been delaying medical care? Concerned about your safety in a healthcare setting? Greenwich Hospital will answer your questions at a virtual town hall "What to Expect for Your Upcoming Surgery" on Facebook on Tuesday, June 30 from 5 to 6 p.m.
Community residents can send their questions in advance via email to YNHHpublications@ynhh.org. Write Greenwich Surgery Town Hall in the email subject field. They can view the town hall at facebook.com/GreenwichHospital/
Greenwich Hospital and all of its off-site locations are once again fully open. New safety measures and procedures are in place to protect patients and staff, which allow the hospital to remain fully operational and treat patients with the coronavirus.
The panelists include:
Peggy Lennon, executive director, Surgical Services will serve as moderator.
Carol Ann Doherty, BSN, RN, nurse manager, Surgery/Orthopedics
Steve Hindman, MD, director, Orthopedics
Helene Kimmons, BSN, RN, nurse manager, Ambulatory Surgery/PACU, Pain Management
Gavin McLeod, MD, interim section head, Infectious Diseases
Alfonso Tagliavia, MD, director, Anesthesiology
Tags:
covid19
,
greenwich
,
Greenwich Hospital
,
panel
,
surgeries
,
virtual town hall