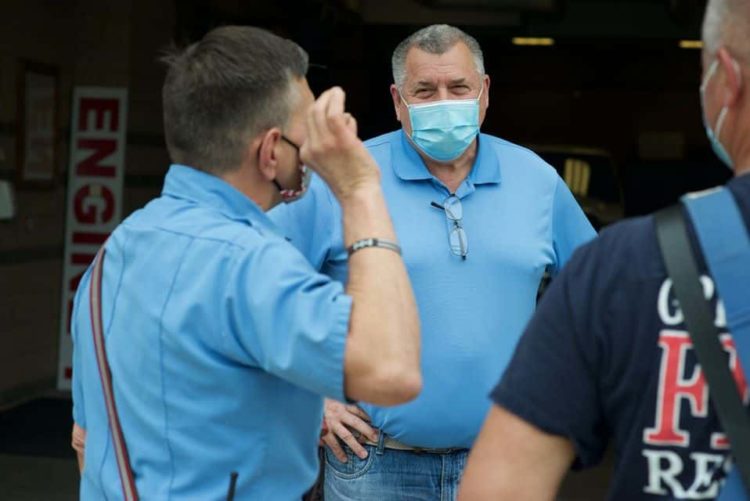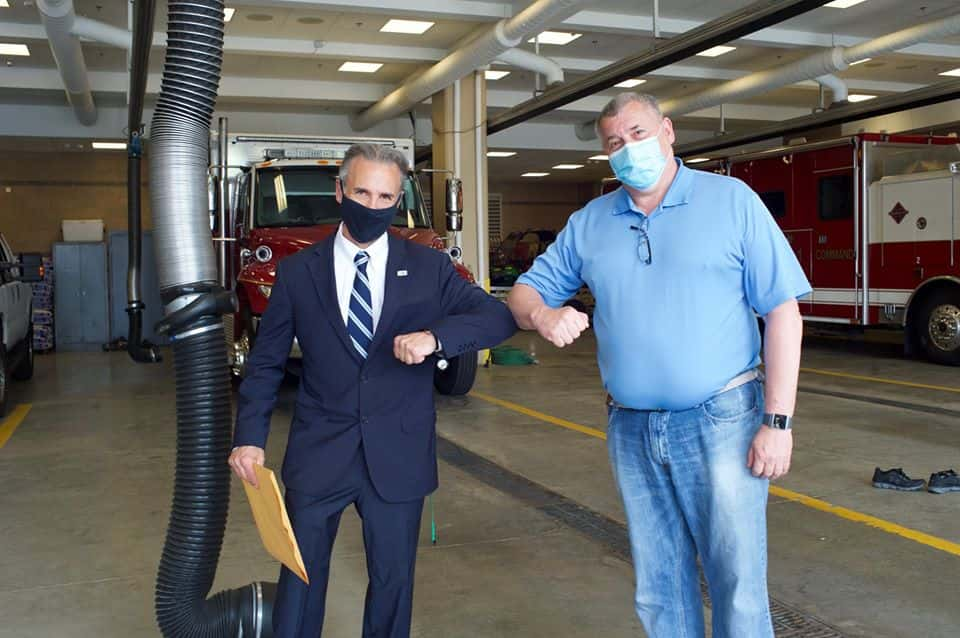 By Richard Kaufman
Sentinel Reporter
After 48 years in fire services, Greenwich Fire Department Chief Peter Siecienski has hung up his turnout gear. 
On Friday morning, the department and members of the community trickled onto the apparatus floor at headquarters to wish Siecienski luck in retirement. During the informal gathering, Siecienski received a proclamation from First Selectman Fred Camillo, and a pass to play golf at the Griffith E. Harris Golf Course.
Siecienski, 63, was born in Greenwich but began his fire career as a volunteer in Danbury, where he eventually became chief. In the fall of 2006, he became the assistant fire chief in Greenwich, and was later promoted to chief in March 2007.
He said that now is the right time to step away because the department is in good hands.
"We work very hard on succession planning so we have a very smooth transition. It was pretty evident to me as we got a couple months into the pandemic, that the officers that we have in this place have shown exceptional leadership," he said. "This is a nice time I think to cut out."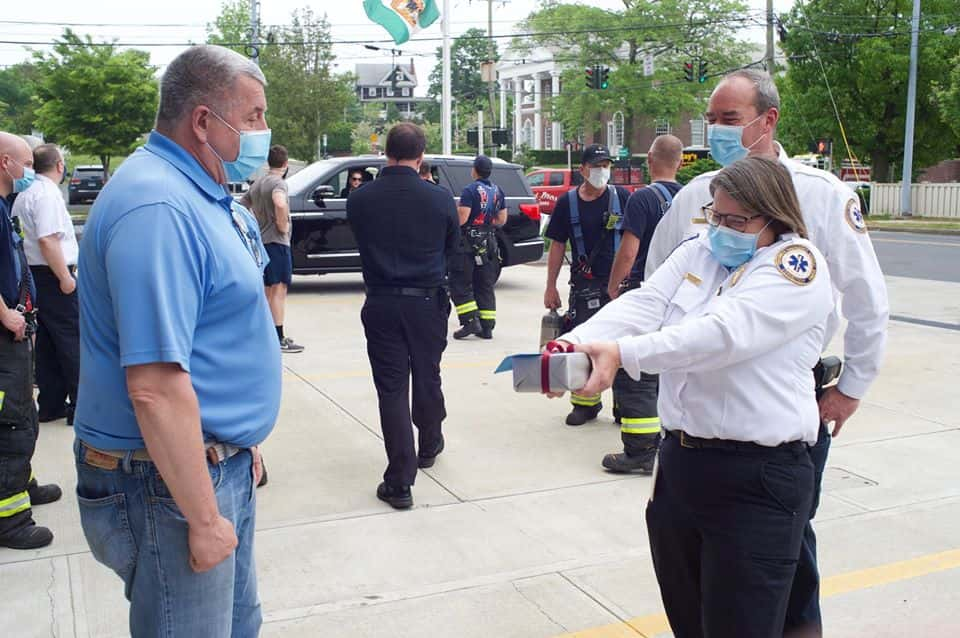 Over his tenure, Greenwich has made great strides in protecting the community. Siecienski was instrumental in eliminating two firefighter companies, and placing a company officer on each piece of apparatus. He helped oversee improved insurance rating for property owners, the purchase of new pieces of apparatus, the renovations at the Glenville Fire Station, downtown headquarters, and now the Byram Fire House.
"People like to point to buildings and apparatus, but those  aren't really successes," Siecienski said. "All the firefighters went home at night or in the morning to their families. We did not lose a firefighter. Those are what successes are to me."
Siecienski also pointed to the fact that for 13 years, the department and community qualified for national recognition by having no fire deaths. However, in 2006, a woman died in a house fire on Windsor Lane in Cos Cob.
"Did we not penetrate enough with good fire prevention messages to make sure people didn't reenter houses? That to me is a setback and a failure," Siecienski added.
Although no firefighters died in the line of duty over the last 14 years, several have succumbed to illnesses and suffered injuries, which Siecienski said has been hard to deal with. 
Effective June 1, Assistant Chief Robert Kick will take over as the Interim Chief. He called Siecienski's impact "immeasurable" on the department and the community. 
"He'll be sorely missed, but with that being said, he prepared everybody properly all through the ranks. It's a seamless transition. There's no hiccups, no changes in levels of service by any means. That's really how you have to develop the department so one or two of us can go away and it can still run seamlessly the next day," Kick said.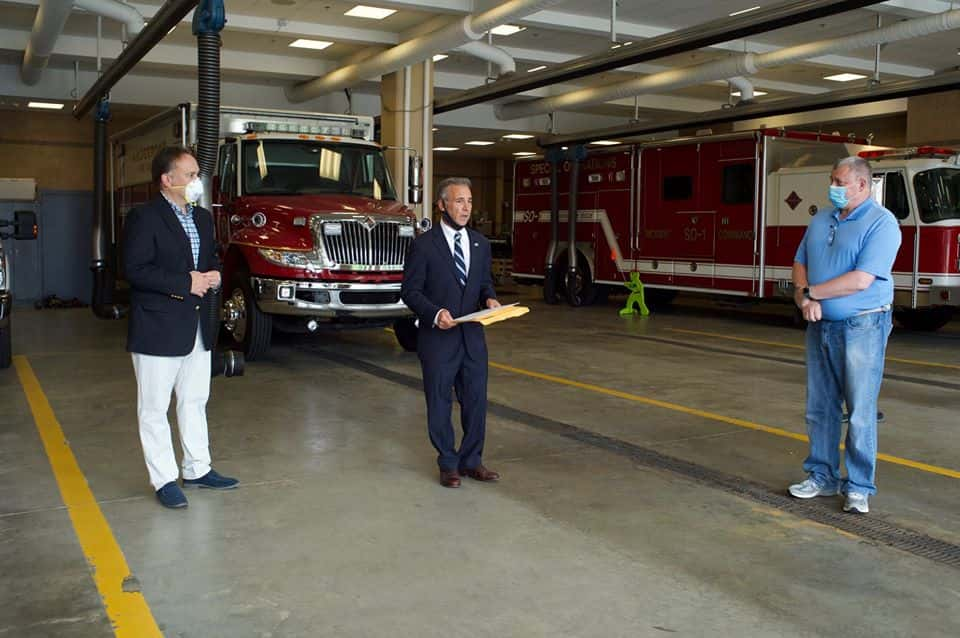 Camillo spoke about Siecienski's personality and demeanor.
"His smiling face and personality really helped us through some tough times here," Camillo said. "He always made me smile, he always made me laugh, even through the serious times. You knew that his experience and leadership was looked at as a calming effect on a lot of people, including the men that served under him."
Former First Selectman, Peter Tesei, was at headquarters to wish Siecienski well. Tesei served as the town's chief elected official for 12 years.
"You were such a tremendous partner during my time and I enjoyed every minute of our collaboration. As a professional leader in the fire services, you accomplished a great deal in this town," he said.
Siecienski said he plans on playing golf, and spending time with his family and new puppy in retired life. 
"It's been a good run. I've enjoyed my tenure here. The town has been very supportive of the fire department," he said.