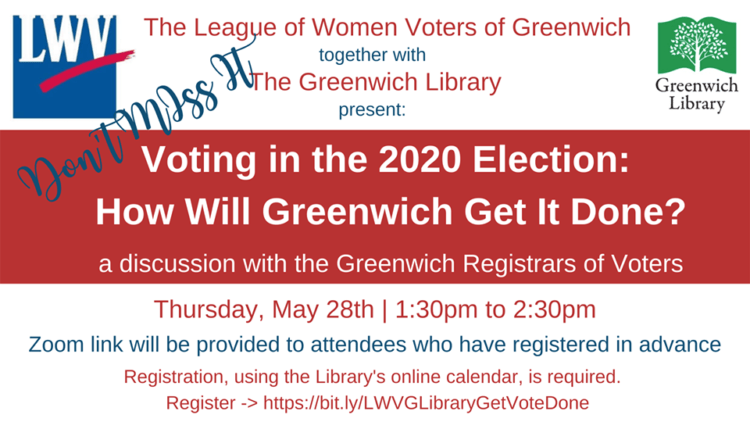 In light of the ongoing pandemic in Connecticut and around the country, many people in our community may be wondering what effect it will have on our elections, on voting and on the upcoming primary in Connecticut. To help explain the changes and current status of elections, Greenwich Library has partnered with League of Women Voters Greenwich (LWVG) and the Greenwich Registrars of Voters to hold a virtual discussion with Greenwich Registrars Fred DeCaro III (R) and Mary Hegarty (D).
The virtual discussion will take place via Zoom on May 28 at 1:30 p.m. Attendees can register through the Library's online calendar (greenwichlibrary.org) to receive a link and password.
"The right to vote is a fundamental principle of our democracy," said Sandra Waters, President of the League of Women Voters of Greenwich. "When more Americans can participate in our elections, the outcome better reflects who we are as a country. In the setting of the ongoing pandemic, we are fortunate to have capable Town Registrars developing a plan to ensure that every Greenwich voter can safely vote in the 2020 election."
The discussion will begin with introductions by DeCaro and Hegarty and information about Greenwich's Registrar of Voters office, followed by a review of the effects the pandemic has had on our elections since March—the primary has been postponed twice, for example. DeCaro and Hegarty will also discuss what other states are doing about their primaries and highlight important factors the state and our local municipality must consider when rescheduling elections and conducting them during a pandemic crisis. For instance, how will you ensure the safety of poll workers? Will campaigning outside of polling places be allowed? How will polling stations be sanitized before and after an election? Will you need more staff to count absentee votes?
The discussion will also look forward to the future, with a focus on where CT is headed in 2021 and 2022 in terms of elections and voting. Will an amendment to the state constitution be needed? How do we make sure party nominating conventions are conducted and access to the ballot is not impeded for minor party or unaffiliated candidates?
For more information, visit greenwichlibrary.org