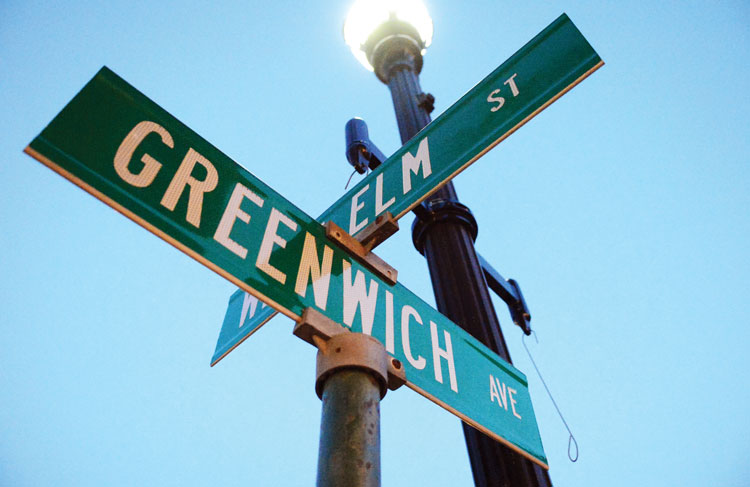 By Richard Kaufman
Sentinel Reporter
Businesses and restaurants began to partially reopen in Town on Wednesday under Phase 1 in the state of Connecticut, and First Selectman Fred Camillo was out and about making sure the day went smoothly.
While it wasn't crowded today in downtown Greenwich, Camillo said he did see a few people as he toured Greenwich Avenue. Camillo reminded residents that if they do go out, to bring a mask.
"I think people are still a little cautious," Camillo said during his Wednesday press briefing. "It's getting warmer, and it felt good to be out there. Everybody is appreciative of seeing other people; it's been a long two months. We want to make sure this is extremely successful, but we also know it's the beginning of something different."
Camillo has long expressed a desire to connect Greenwich Avenue with the waterfront to create somewhat of a pedestrian mall. With the pandemic, new plans have emerged to help businesses, restaurants and residents in the new normal.
"Our plan is to do this with the whole Avenue. This will coincide with our original plan to connect Greenwich Avenue to the waterfront; that's still in the works," Camillo said. "With the pandemic, we've had to push that back a little bit. This really will fit in nicely longterm. We plan to close it down this summer. Right now we're going to focus on two blocks."
Beginning from where Starbucks is near Havemeyer Place on down, the Avenue would open for foot-traffic only. Plans for traffic redirection and other logistical issues are slated to come before the Board of Selectmen during their next meeting on May 28. At the same time, the Town is currently working on plans for the other Avenue blocks.
"Each block presents a different issue. We're fairly confident, especially with our fire and police on board every step of the way, that we'll get this done," Camillo added. "We'll do it in a fairly reasonable time so every single block can take advantage of this."
Camillo called the idea "transformative" for the Avenue, and hopefully for other parts of the Town. He said bringing back the days of when there was a pedestrian mall is something he's heard about since he was a kid.
"We're going to try and recapture some of that in the modern day. We have to encompass all of the issues in the modern day, too. We'll get there. I think doing it in this fashion, crawling before you can walk, we'll do it in a very measured way," he said.
Details on how local businesses, including restaurants, can reopen safely and in accordance with Gov. Ned Lamont's Executive Orders can be found here. Information – including details on how to obtain temporary outdoor dining certificates – can be found on the site as well.
Planning and zoning officials along with Camillo, Police, Fire, Public Works and Risk Management department representatives continue to meet as they finalize plans for expanded outdoor dining opportunities for restaurants.
Update on coronavirus in Greenwich
As of Wednesday according to the Greenwich Health Department, there are 755 Greenwich residents who have tested positive for COVID-19, up from the 751 reported cases on Monday, May 18.
Greenwich Hospital is reporting that there are 20 COVID-19 positive patients being treated in several different Hospital units. So far, 494 patients have been discharged from the Hospital and continue their recuperation at home. There have been 6,715 people tested at the Hospital outpatient test site with 1,873 testing positive. These numbers reflect patients who live in Greenwich as well as those from other municipalities in Connecticut and in Westchester County.
According to the Connecticut Department of Public Health, 45 Greenwich residents have died from COVID-19, as of Wednesday, May 20.
Reopening Town Hall
Greenwich Town Hall will reopen June 1. The building will be reopened to visitors on an appointment-only basis. Appointments – available from 8 a.m. to 3:30 p.m. – must be made in advance with individual Departments. Walk-ins will not be permitted.
Visitors will be greeted at the front door by the individual with whom they have an appointment. Visitors must wear face masks to gain entry to the building. As operations begin to resume at Town Hall, residents are encouraged to continue to conduct business online or via telephone.
Employees will receive training in sanitizing work stations, proper social distancing and safety protocols, as well as cloth face masks, next Wednesday through Friday, May 27 – May 29.
Town Hall meeting and conference rooms will remain closed for meetings. Town Boards and Commissions will continue to conduct meetings virtually until further notice.
The Greenwich Senior Center – 299 On The Ave, as well as the Greenwich Library system and the Perrot Memorial Library remain closed until further notice.
Parking enforcement
Enforcement of parking meters, daily parking fees at commuter lots, two-hour timed and 24- hour parking restrictions remain suspended until further notice. The Parking Services Department will continue to enforce laws regarding no parking zones, fire hydrants, crosswalks and handicapped parking spaces.
Skate Park Update
The Greenwich Skate Park will reopen Saturday, May 23, weather permitting. The park will be open Monday through Friday, 3:30 to 7 p.m., and 12:30 to 7 p.m. on weekends. To ensure social distancing, face masks will be required and a maximum of eight (8) skateboarders will be allowed at one time. Tickets may be purchased online. Details on admission and operating procedures can be found here.
Griffith E. Harris Golf Course Update
Hours of play have been expanded at The Griff. Effective today, May 20, hours of operation are 7 a.m. to 6 p.m. The pro shop is now open to allow customers inside the facility. There is a maximum limit of eight (8) people, including staff. Details on playing at The Griff can be found here.
Other resources for residents and businesses and other helpful tips
Kids in Crisis is providing a 24-hour helpline staffed by trained crisis counselors to help families, and anyone concerned about the well-being of a child. Call: 203-661-1911.
For residents with questions about COVID-19, please call the Greenwich HealthDepartment's phone lines: 203-622 -7865; 203-622-7703; 203-622-7614; 203-622- 7842 and 203-622-7836.
To reach the Domestic Abuse Services staff at the YWCA, please call the 24/7 hotline at 203-622-0003.
Residents, who need assistance with basic needs, including food, can call the Department of Human Services at 203-622-3800.
Members of the public are encouraged to sign-up for the Town's Emergency AlertNotification System at greenwichct.bbcportal.com/Entry
The American Red Cross in Connecticut has a Virtual Family Assistance Center to support Connecticut families struggling with loss and grief due to the ongoing coronavirus pandemic. People can visit http://www.RedCross.org/vFAC to access a support hub with special virtual programs, information, referrals and services to support families in need. The hub will also connect people to other community resources provided by 2-1-1, CT VOAD, and other partners. People without internet access can call 833-492-0094 for help.
If you are concerned about an activity or a group not following COVID-19 protocols, please call the Greenwich Police Department's non-emergency phone number: 203-622- 8004.
Don't have a face mask? Many people with COVID-19 are asymptomatic or pre-symptomatic, meaning they can transmit the virus without knowing they have it. Easy to follow instructions to make cloth facial masks can be found here.