May 13, 2020
Greenwich to Reopen Several Tennis Courts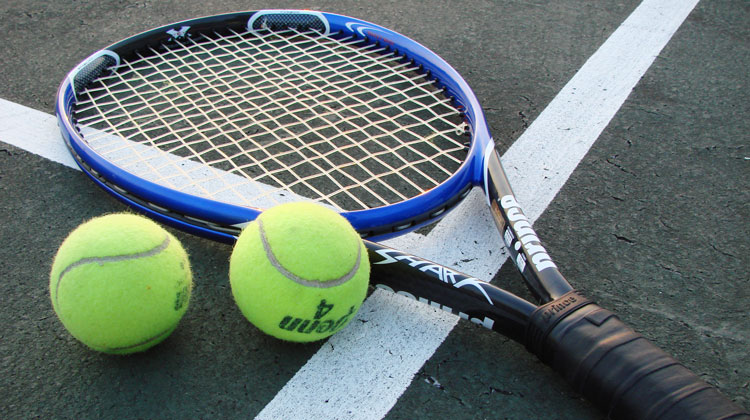 By Richard Kaufman
Sentinel Reporter
On the heels of partially reopening parks and marinas last week, First Selectman Fred Camillo announced on Wednesday the reopening of several tennis courts around town, giving residents another outlet to get out and enjoy the weather.
Beginning Friday, May 15, tennis courts at Binney, Bruce and Byram parks and at Greenwich High School will be open for singles-only play. Doubles tennis and pickle ball will not be permitted. The courts will be available via online-reservations for residents with either a 2019 or 2020 tennis pass. Further details on tennis court use can be found here.
The decision was made after careful consideration and review by Camillo and his Emergency Management Task Force and the Parks & Recreation Department.
In the next few weeks, Camillo said the town will continue to work with Gov. Ned Lamont, various parts of town government and the Greenwich community on the reopening of the economy and certain businesses. "We're looking at a very intense endeavor to make that happen and allow businesses to avail themselves to any outdoor business capability," Camillo said.
But preparing for reopening has a lot of moving parts, and isn't as easy as it looks, Camillo remarked.
"You have to go out and triple check everything, and make sure you're doing it with fire, police, emergency operations, GEMS, Health, Planning & Zoning. There are a lot of partners. If one of those partners has an issue with something, that could pretty much kill that one concept," Camillo said. "I think everybody is aware that businesses need to get going and we can't keep things shut down. How do we do this in a way that's helpful to them, that's healthy for the people, that's safe for the wellbeing of the residents? All of those things have to be kept in mind and at the forefront of everything we do."
Update on coronavirus in Greenwich
As of Wednesday according to the Greenwich Health Department, there are 736 Greenwich residents who have tested positive for COVID-19, up from the 729 cases reported on Monday.
Greenwich Hospital reports that as of Wednesday, there are 40 COVID-19 positive patients being treated in several different Hospital units. So far, 459 patients have been discharged from the Hospital and continue their recuperation at home. Overall there have been 5,966 people tested at the Hospital outpatient test site with 1,802 testing positive. These numbers reflect patients who live in Greenwich as well as those from other municipalities in Connecticut and in Westchester County.
According to the Connecticut Department of Public Health, 42 Greenwich residents have died from the coronavirus, as of Wednesday, May 13.
Red Cross Support Program Offers Virtual Care
The American Red Cross in Connecticut is launching a Virtual Family Assistance Center to support Connecticut families struggling with loss and grief due to the ongoing coronavirus pandemic.
Many families have experienced a disrupted bereavement and grief process due to restrictions related to COVID-19. To help, the Red Cross has specially trained mental health, spiritual care and health services
Click here to access a support hub with special virtual programs, information, referrals and services to support families in need. The hub will also connect people to other community resources provided by 2-1-1, CT VOAD, and other partners. People without internet access can call 833-492-0094 for help. All of the services are provided free of charge and are confidential.
Filling Out the Census
Camillo is urging residents to do their part and get counted in the 2020 Census.
"It's critical when it comes to our representation at the state and Congress, and also funding on the local and state level. It's very important," he said.
For people who do not have access to a computer, they can complete the census by calling these numbers: English: 1-844-330-2020/Spanish:1-844-468- 2020/ Chinese (Mandarin) 1-844-391-2020/ Chinese (Cantonese) 1-844-398-2020/Haitian Creole: 1-844-474-2020.
Other resources for residents and businesses and other helpful tips
For residents with questions about COVID-19, please call the Greenwich HealthDepartment's phone lines: 203-622 -7865; 203-622-7703; 203-622-7614; 203-622- 7842 and 203-622-7836.
To reach the Domestic Abuse Services staff at the YWCA, please call the 24/7 hotline at 203-622-0003.
Residents, who need assistance with basic needs, including food, can call the Department of Human Services at 203-622-3800.
Members of the public are encouraged to sign-up for the Town's Emergency AlertNotification System at greenwichct.bbcportal.com/Entry
If you are concerned about an activity or a group not following COVID-19 protocols, please call the Greenwich Police Department's non-emergency phone number: 203-622- 8004.
Don't have a face mask? Many people with COVID-19 are asymptomatic or pre-symptomatic, meaning they can transmit the virus without knowing they have it. Easy to follow instructions to make cloth facial masks can be found here.
Tags:
Covid-19
,
greenwich
,
Greenwich Hospital
,
Greenwich Town Hall
,
Town of Greenwich